British charities working in Nepal discuss better coordination and collaboration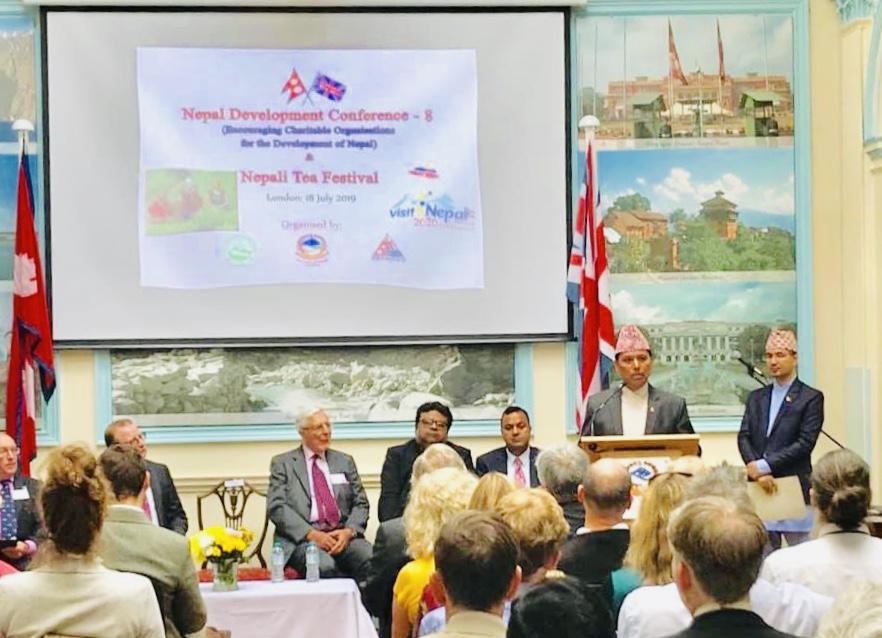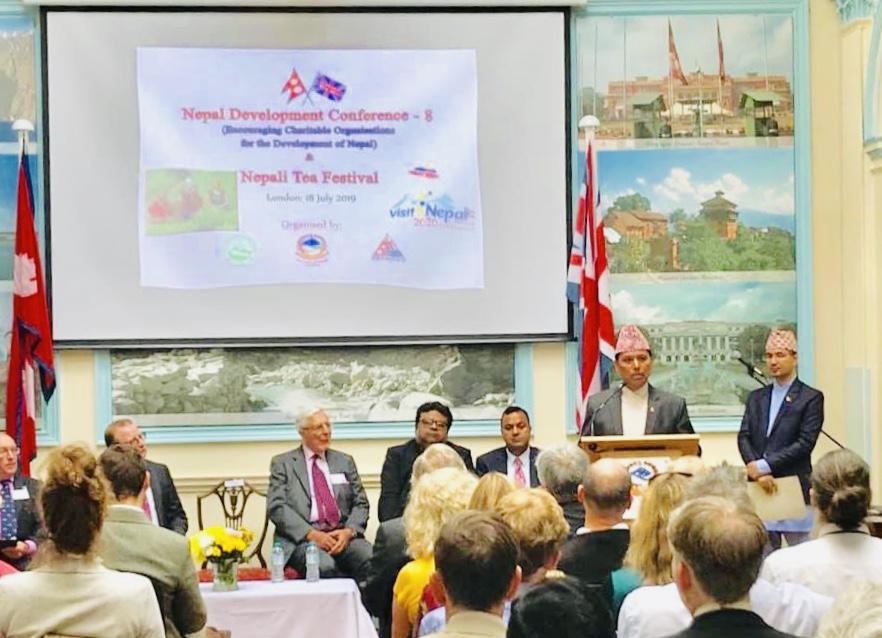 Bhagirath Yogi , London– British charities working in Nepal have had a day of networking and collaboration thanks to an event hosted by the Nepali Embassy in London on Thursday.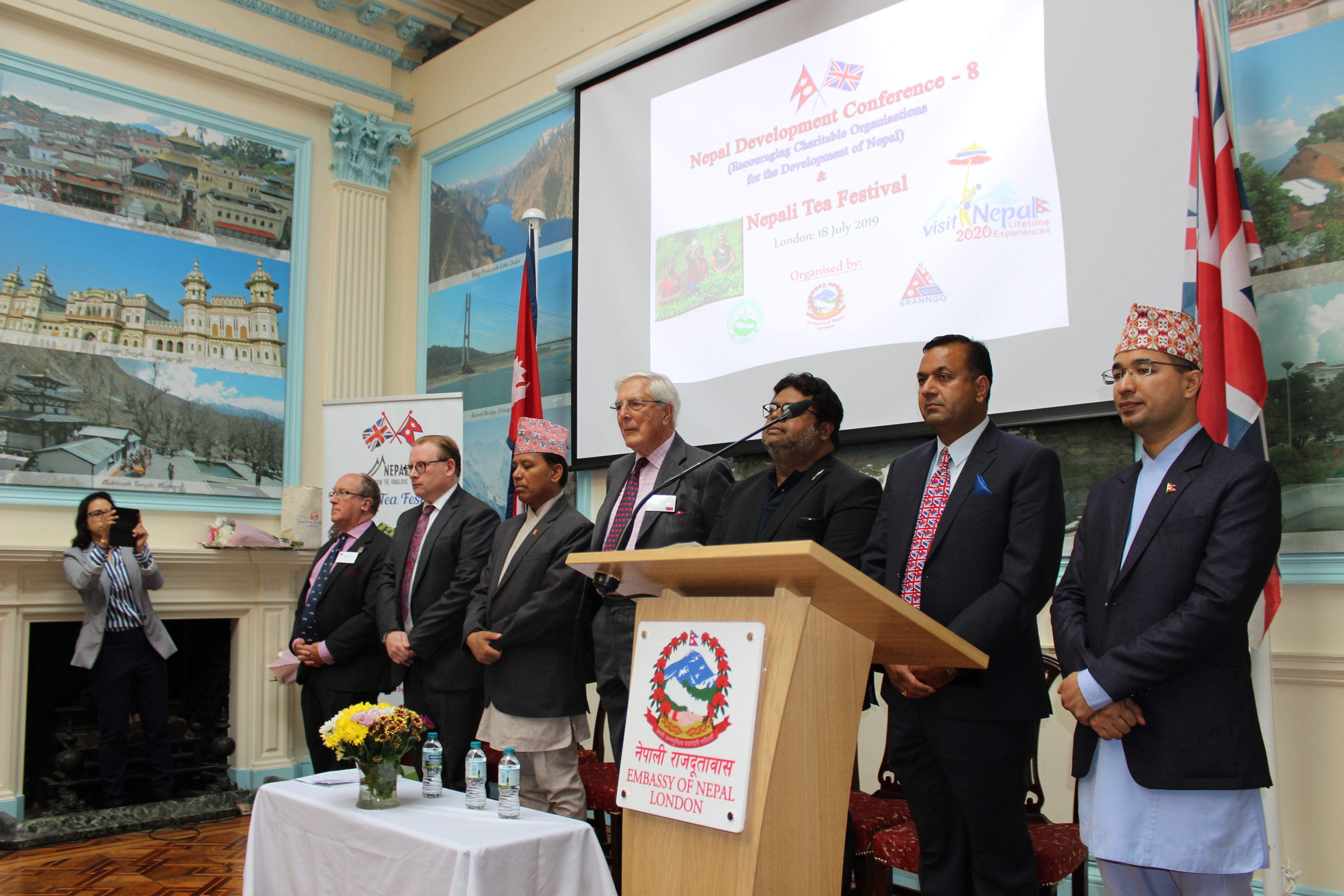 Addressing the event, David Thomas, coordinator of the Britain in Nepal NGOs (BRANNGO) said the aim of the group was to get UK charities and other organisations working in Nepal to communicate, collaborate and cooperate. He said over 100 British charities were working in Nepal but only 42 were members of the BRANNGO. He called upon other charities working in Nepal to join in as well. He said the network will create working groups as per the Sustainable Development Goals (SDGs).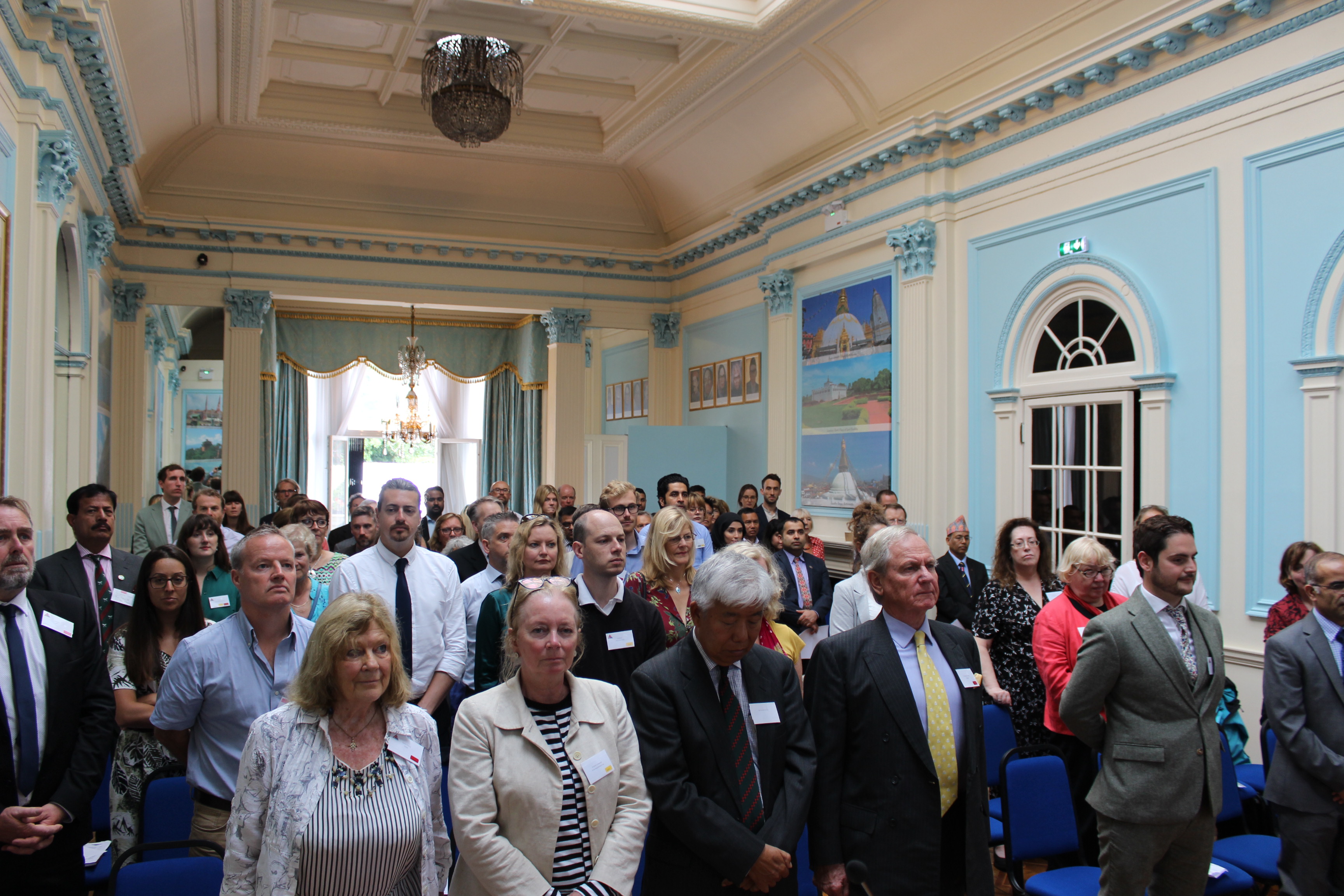 Chief Guest of the event, Marcus Jones, MP, said nearly 1,500 Nepali diaspora – mainly former Gurkhas—had settled well in his constituency in Nuneaton. He said some of them had launched their own businesses and were making significantcontribution to local economy.
He expressed deeper sympathy to those who had lost lives due to recent floods in Nepal and said Britain and the British people were ready to help Nepal in need.
He said UK was largest bilateral donor to Nepal and that the UK aid to Nepal amounted to around 100 million pounds a year.
He also commended BRANNGO for the phenomenal work they were doing in Nepal and for supporting the developmentof Nepal.
Former Ambassador of UK to Nepal and President of the Britain Nepal Society,  Andrew Sparkes, said the Society had 400 members. Everybody who is interested in Nepal can join us, he said.
He advised British charities working in Nepal to get in touch with the British embassy in Kathmandu. He said the British government was supporting girls' education in South Asia and that five projects were running in Nepal. He called upon the British government to spend more money on programs like Chevening scholarships . He also advised the embassies to do away with the cocktail party diplomacy and try to have a sense of what's going around the country.
Dr Gillian Holdsworth, co-chair of the Britain Nepal Medical Trust (BNMT) UK said the Trust had been working in Nepal for over past 50 years to improve health of the local population. She described how BNMT doctors and nurses had travelled to Nepal and worked in eastern Nepal establishing anti-tuberculosis clinics and treating local population nearly five decades ago.
She said 49,000 new TB cases are still reported in Nepal annually and approximately 50 percent of them are positive. She said BNMT was introducing Gene expert machine and using drones on a pilot basis to transport laboratory specimens in Pyuthan district.
Vice President of the Non-Resident Nepali Association, Kul Acharya, said the NRN members— through the organisation as well as individually—  were carrying out charitable activities worth millions of dollars. "We would like to explore three main areas of collaboration namely skills transfer, capacity building and employment generation. Similarly, sectors we would like to focus on are health, education, women's empowerment and emerging issues like climate change.," he added.
He also thanked the British public for donating 87 million pounds in response to the Nepal Earthquake Appeal of the Disaster Emergency Committee (DEC) in 2015.
Former MP and President of Nepal-Britain Chamber, Rajendra Khetan,  said the civil society and private sector should come together, adopt a whole village or a whole areaand develop them as a model. He also advised British NGOs to collaborate with provincial governments of Nepal.
Former Director of the Hong Kong-based The Kadoorie Charitable Foundation, Christopher Lavendar, said the Foundation was implementing a number of projects related to livelihoods, environment conservation and employment generation in Nepal.
"Our main focus is community aid. In partnership with Gurkha Welfare Trust, we are building water supply system, micro hydro and repairing footbridges for the benefit of rural communities," said Lavendar adding, "In an imperfect world, we have imperfect solutions.
Major Yam Bahadur Gurung, a consultant with the Foundation, said the Foundation was supporting income generating activities like banana plantation, home gardens and micro credit for local communities in Nepal.
Welcoming the participants, Nepali ambassador to the UK, Dr Durga Bahadur Subedi, said the government of Nepal was determined to implement liberal and transparent economic policies.  He said Prime Minister K P Sharma Oli's visit to the UK last month contributed to further strengthen bilateral relations between Nepal and the UK.
Dr Subedi said British civil society organisations have contributed to promote people-to-people relations and make it vibrant. He also assured Embassy's full cooperation to the British NGOs operating in Nepal. He also urged British NGOs to support the Visit Nepal Year 2020 campaign that aims to bring in some two million tourists to Nepal next year.
On the occasion, Deputy Chief of Mission at the Embassy, Sharad Raj Aran, made a presentation on tea produced in Nepal. Branded as Nepal Tea, the tea plantation in eastern hills of Nepal is providing employment to nearly 70,000 women, officials say.
Ambassador Dr Subedi also responded to queries from participants during the event.