Indian PM defends Kashmir move, talks of 'high jump' in the economy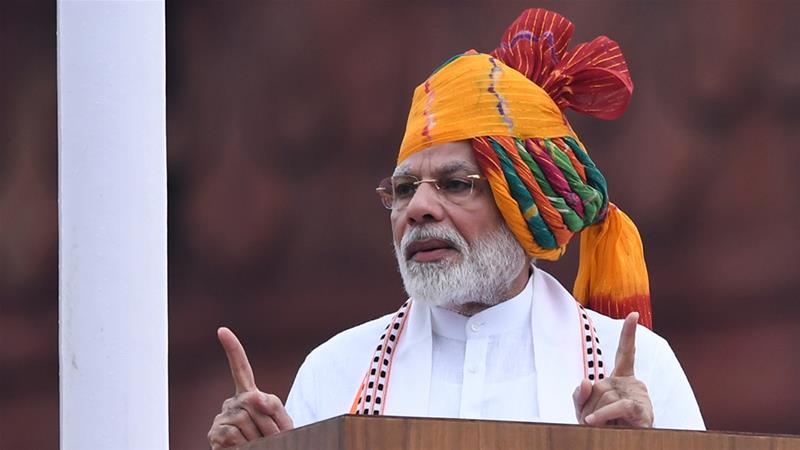 London – Indian Prime Minister Narendra Modi has defended his government's controversial decision to revoke special status of Jammu and Kahsmir state.
In his first Independence Day speech on Thursday delivered to the nation from the Red Fort, New Delhi, after being elected to the second term in office, Mr Modi said, "One Nation, One Constitution.  This spirit has become a reality and India is proud of that."
His government had revoked the special status of Kashmir early this month so as to "fully integrate the only Muslim-majority region with the rest of the country."
Telephone and Internet services remain largely suspended in most of the region and many Kashmiri leaders have been put under house arrest.
"Today, the Government in India is stable, policy regime is predictable. The world is eager to trade with India," said Modi adding, " India does not want incremental progress. A high jump is needed."
In what seemed to many as following US President Trump, Mr Modi said, "We think differently and it is India First for us. Politics comes and goes but steps in the interest of the nation are paramount."
He also announced a Ministry for Jal Shakti and said the government would encourage people to conserve water.
Prime Minister Modi also talked about his aim to turn India into a $5-trillion economy within five years, by spurring wealth creation, boosting exports and tourism, and spending 100 trillion rupees (£1.1 trillion) on infrastructure, Reuters news agency reported.
However, he did not address the weakening economy and calls by industry for a swift package of government measures to stimulate demand.
The Indian premier said he would invest 100 trillion rupees in infrastructure over the next five years and a further 3.6 trillion to improve water infrastructure and pipe clean water to every home.