NRNs organise a protest in front of Indian High Commission in London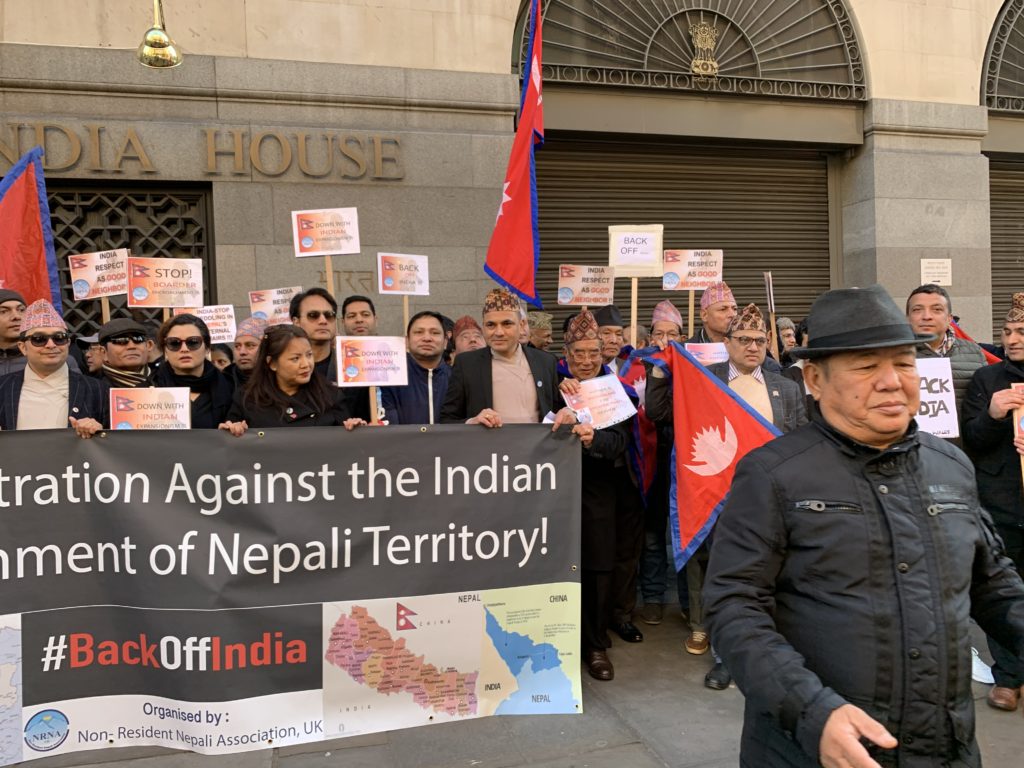 London — Members of the Non Resident Nepali Association organised a protest in front of the Indian High Commission in London on Monday against alleged encroachment of Nepali territory at Kalapani area.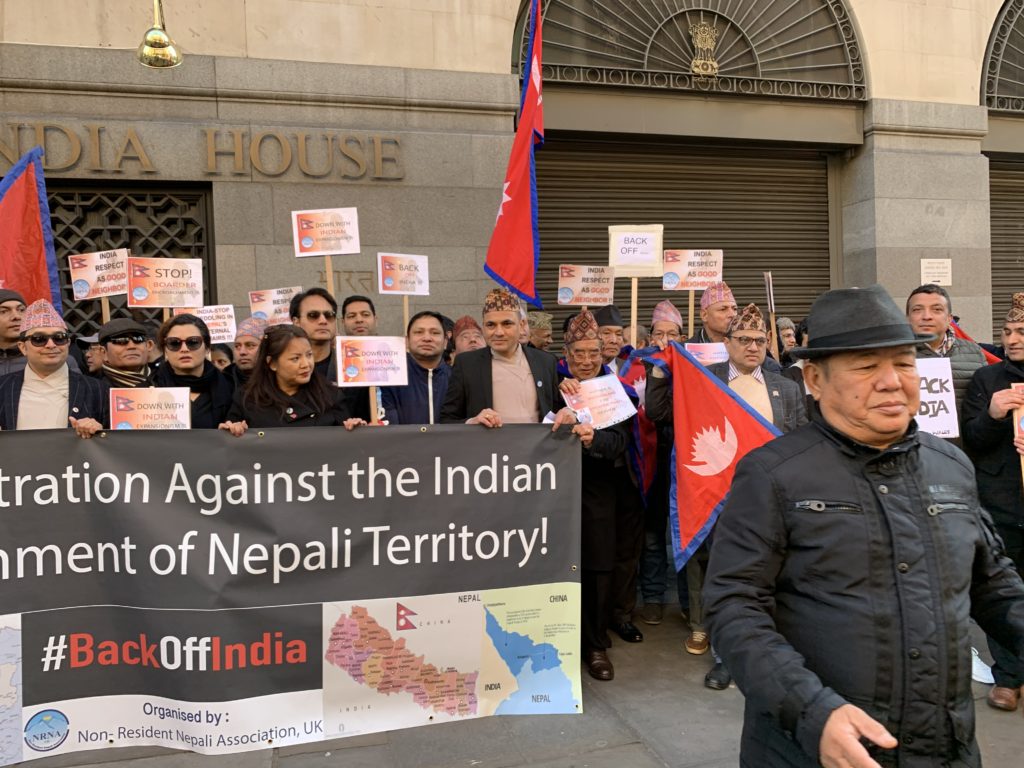 They were carrying placards that read "Back off India" "Stop Encroaching Nepali Territory" etc. The government of Nepal has sent a diplomatic note to the Indian government asking the Indian government to withdraw its military from the sensitive Lipulekh Pass and Kalapani area, which lies at the Nepal-India-China tri-junction.
President of the NRN UK, Mrs PoonamGurung, led the protests. She also read out the memorandum before trying to  hand over it to the Indian High Commission. However the High Commission office denied to accept the memorandum,  reporter of SAT,  Everest Gautam said.
Copy of the Memorandum provided to press by NRNA UK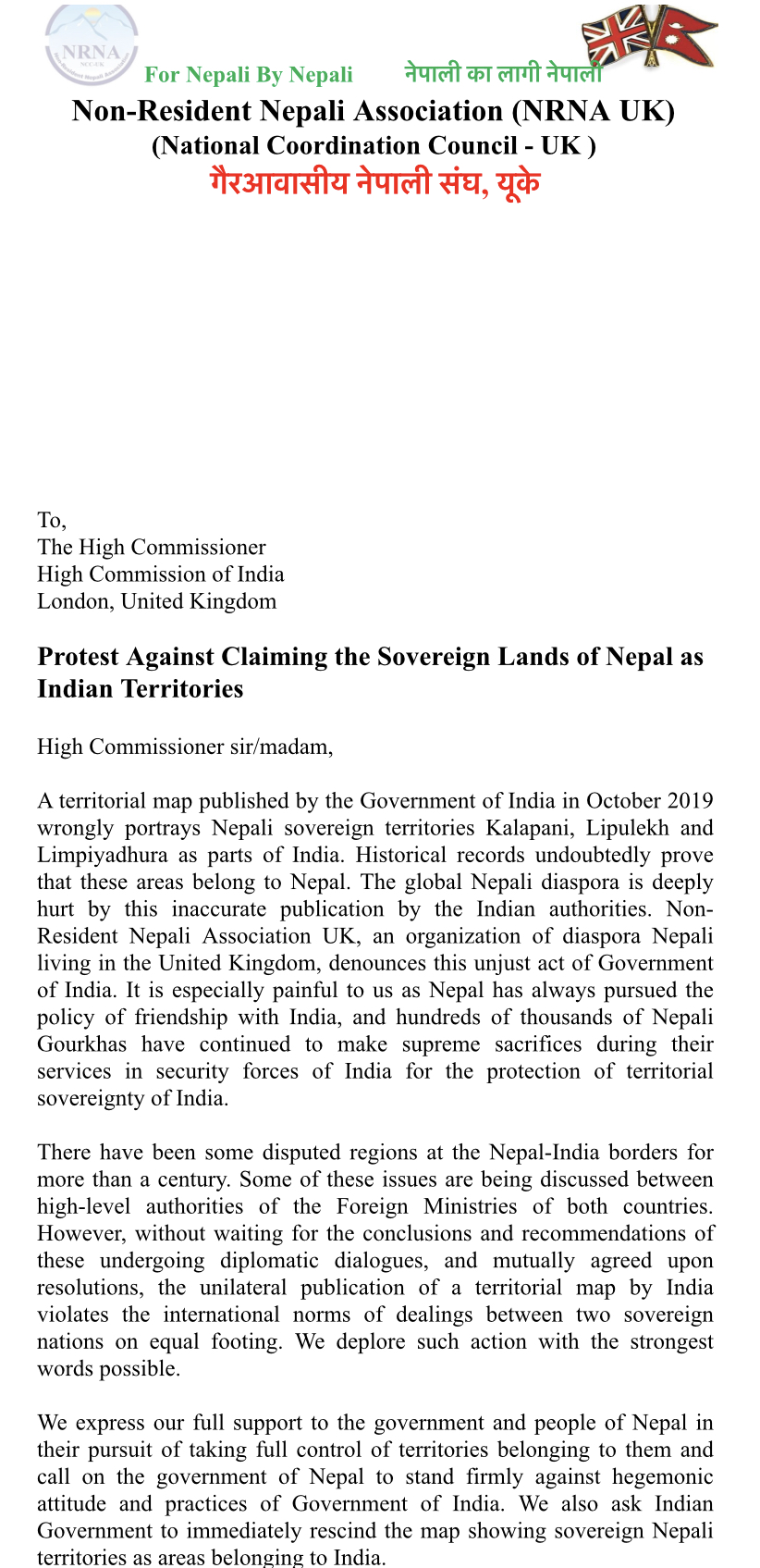 Non-Resident Nepalese living in Germany, Japan, Switzerland and Belgium have also organised similar protests in front of Indian missions there.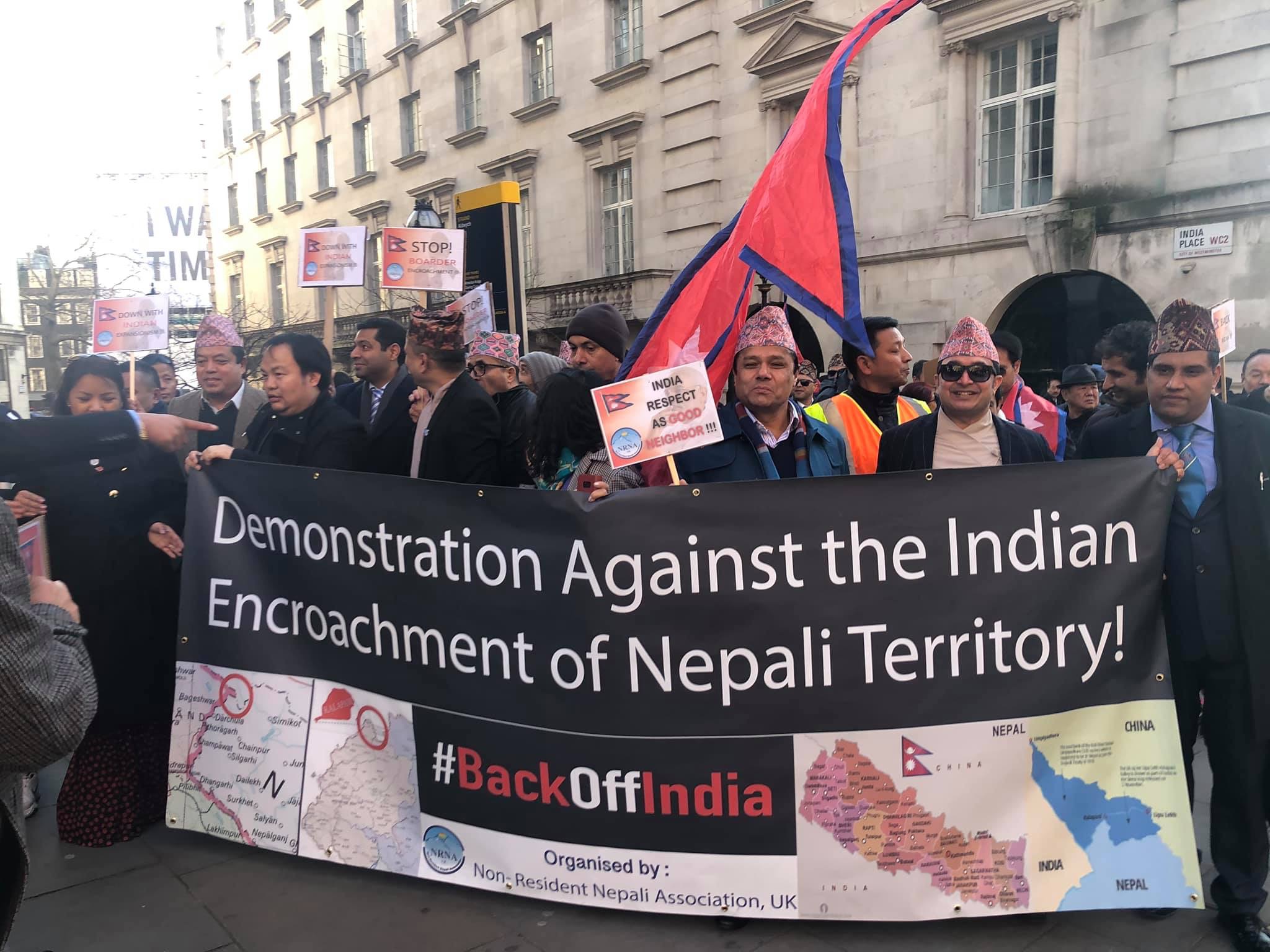 Both Nepal and India claim Kalapani as their territory. The region has been occupied by Indian security forces since 1962, and the region has been disputed ever since.
Kalapani is a 35 square kilometer (13.5 square miles) area in Nepal's far western region. Once serving as a trade route between India and what is now southwestern China, the strategic area was "occupied" by India after New Delhi withdrew its border forces following its war with China, according to Buddhi Narayan Shrestha, former director general of Nepal's Department of Survey.
The area borders the Indian state of Uttarakhand.
Nepal and India have held a series of talks to resolve the boundary dispute, but Kalapani and the Susta area in southern Nepal remain two major sticking points in negotiations, according to Gokul Prasad Baskota, Nepal's communication and information technology minister.
However, an Indian Foreign Ministry spokesman claimed the region was part of India.
"Our map accurately depicts the sovereign territory of India. The new map in no manner has revised our boundary with Nepal," said Raveesh Kumar, a spokesman of India's Ministry of External Affairs.
He reiterated India's "commitment to find a solution through dialogue in the spirit of our close and friendly bilateral relations."
"At the same time, both countries should guard against vested interests trying to create differences between our two countries," he said.
India and Nepal share  1,800-kilometer (1,118 miles) long open border, with thousands of people from both countries crossing the frontier for work and travel every day.
Relations between the two countries were strained after Nepal blamed India for imposing a border blockade in 2015, which crippled supplies to the landlocked nation.