'Long way to go to achieve gender equality'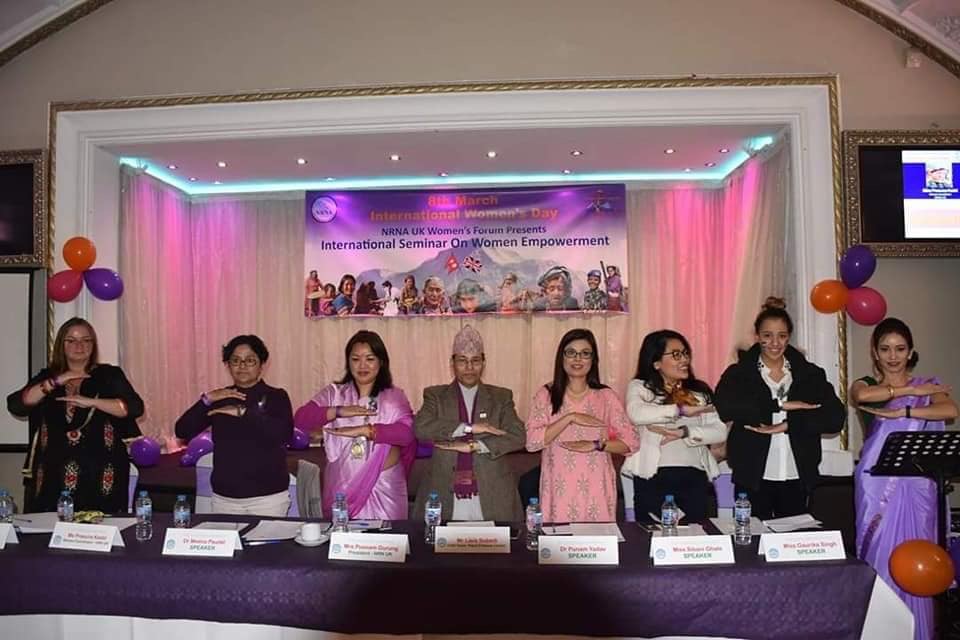 Bhagirath Yogi, London- Nepali women have a long way to go to achieve gender equality, experts have warned.
Addressing a seminar on women's empowerment organised by the NRNA Women's Forum on the occasion of the International Women's Day on Sunday, sociologist Dr Meena Poudel said market and media were shaping the attitude towards women. "Market and media make women naked and profit out of it.
Making a presentation on the theme, 'Socio-cultural construction of personhood in contemporary Nepal,' Dr Poudel, who now works for International Organisation of Migration and is based in Libya, said that Nepal is moving from feudalism to capitalism and is in a state of transition but our situation is more complex. "The biggest criterion is moral perfection defined by the society. Our society expects women to uphold their ijjat (honour) and it is related to women's sexuality."
Dr Poudel said that Nepali women were still pursuing the agenda set by (pioneering women leaders) Sahana Pradhan and Mangala Devi Singh. "Nepal's political process is not moving in the right direction. Until and unless you address these issues by prioritising socio-cultural transformation, changing laws alone won't change things," she added.
"Where's equality?" asked Dr Poudel. "It's only rhetoric. "There is legal subordination, economic dependency, cultural obligations to preserve ijjat , and social position (of women is) lower than that of men. She called upon Nepali media to come up with positive narratives.
Visiting Fellow at the London School of Economics and Political Science (LSE), Dr Punam Yadav, said how she had an opportunity to pursue higher studies despite being born in a Yadav family in the terai. Deliberating on her research, Dr Yadav said women are not always victim, they can also benefit from war. They have not been able to prior to the war because of their gender role and "The conflict also created a situation when women get new opportunities and were empowered."
In order to bring changes, you have to ask questions, said Dr Yadav. "When we ask questions we are seeking new knowledge. Women could drive in Nepal, but we did not have a single woman tempo driver until 1996. Now many women drive tempos in Nepal and this change has been accepted by the society," she added.
Dr Yadav further said that there have been a lot of positive changes at different levels and sectors in Nepali society. "Madhesi women are now being recruited in the Nepal Army and they are well respected in the family. From ghumto (veil) to uniform should be seen as a positive development," she added.
Women's Participation
Prior to 1990, women's participation in the political process was low. By 2008, women's participation was only around 8 percent. But after 2008, 33 percent of all elected seats were reserved for women. "These changes came post war and due to changes in political discourse," said Dr Yadav adding, "women in terai still have ghumto (veil) on their faces but they are also being recruited in the army and police and our society has accepted that. These are the changes we must take into account."
Inspirational of Nepal and Dignity without Danger,' Reader at Liverpool John Moores University, Dr Sara Parker said   she first went to Nepal in 1986 and has witnessed first hand socio-economic transformation Nepali society has gone over the years.
"I went back in 1992 and stayed in Sikles village, Kaski district, for six months as a teacher.  There were no female teachers at the school in Sikles in 1992, today more than 50 percent of the teachers are female and local. It's so important to have that support locally."
Talking about Chhaupadi, Dr Parker called upon media and political leaders to pay more respect to local culture and traditions. "In social media, I saw local women fighting with police who were trying to pull down their cowsheds. You have to see it in a much broader context. Media should try to look into context," she added. "There is no one single narrative. You have to work with local people to find local solution. We need to talk what does dignified menstruation mean. No woman should be at risk of abuse, rape or death because of her period. All schools in Nepal should have a menstrual box," she added.
Taking part in floor discussions, Kamal Khanal from the Nepalese British Community UK, said he has two grown up daughters who have finished Universities. "Though I come from a Brahmin family, we have told them that they are free to enter into relationships with whomever they like. I told them  what we want is their happiness. Let's learn from our children," he added.
Former President of NRNA UK, Yog Kumar Phagami, however, said in the 21st century, inter-caste marriage is still not accepted in our families. He advised youths to talk to their parents. "Even in the UK, many marriages are taking place as decided by their parents. Youths should be aware and persuade their parents. Youth have more role to play vis a vis their parents," he added.
Youngest Olympian in 2018 Olympics, Ms Gaurika Singh, said that feminism is about equality, not undermining men against women. We heard from Chelsea Gurung, Nisha Gurung, young and old and we have very lively debate. Panel discuss ion on Inter-Generational Perspective on Contemporary.
A student and youngest speaker, Chelsea Gurung, said that we live in a  world where culture dominates. "We must rethink  stereotypes and give priority to young people like me. We  must change mindsets and behaviour to ensure equality," she added.
Respect Each Other, Celebrate Diversity
Speakers called upon women to respect each other, question society and challenge their own prejudices and work in partnership with different  groups to bring a stronger voice
They also advised to celebrate diversity.
President of the NRNA UK, Mrs Punam Gurung, said that international women's day afforded an opportunity to express far reaching values for our society and future generations. "It is a day to recognise and champion the political, economic and social achievements of women. Our efforts don't end today. Each for Equal campaign runs all year long," she added.
Chief guest at the programme and Second Secretary at the Nepali Embassy, Mr Laba Subedi, said we should observe women's day every day. "Yesterday, how our mum and grand mum lived their lives. To what extent can we transform our society so that our future generations can enjoy a society without discrimination," he added.
Amrita Giri Gajurel and Sushmita Thapa performed a drama. Laxmi Rai 'Lara'  and Nisha Rai introduced the panel members while President of NRNA UK Women Forum, Prasuna Kadel, thanked all the panellists and participants.