London Mayor urges Londoners to buy goods and services to help small businesses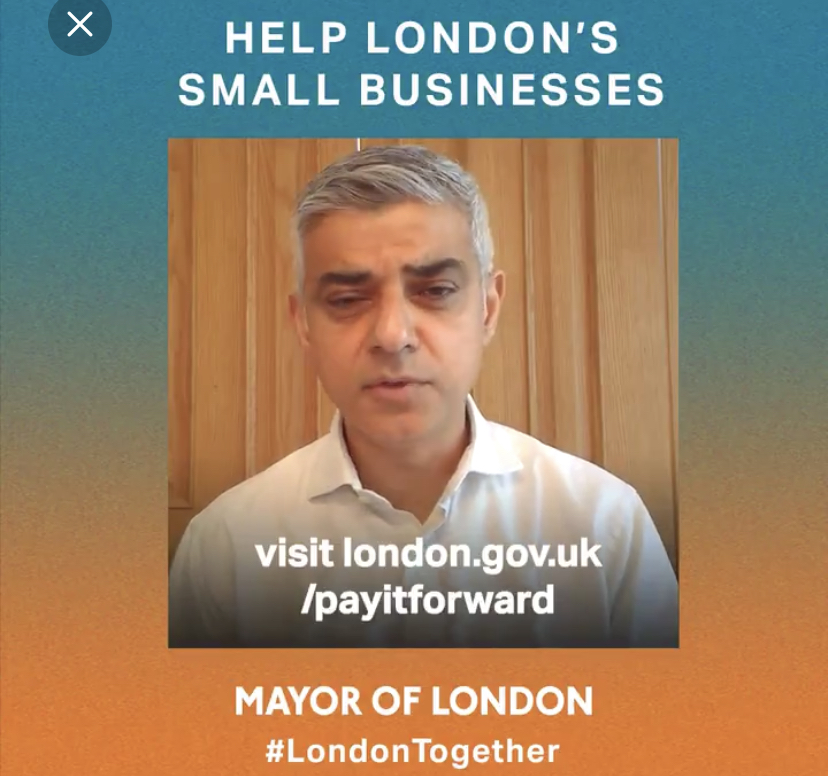 London — The Mayor of London, Sadiq Khan, has urged Londoners to buy goods and services in advance from small businesses to help them stay afloat during the necessary restrictions to fight the spread of coronavirus.
Do something incredible today and help a small business stay afloat during lockdown. Our #PayItForward crowdfunding scheme allows you to prepay for goods and services from a whole host of businesses to help them through this difficult time:

— Mayor of London (gov.uk/coronavirus) (@MayorofLondon) April 21, 2020
He has launched a new crowdfunding initiative – called Pay It Forward London – aimed at helping Londoners support businesses which are currently struggling, in industries including hospitality, retail and leisure.
Pay It Forward London is part of a wider package of help the Mayor is offering to small businesses, including the London Growth Hub which is delivering tailored one-to-one advice to small and medium-sized enterprises (SMEs) during the outbreak.
The London Mayor has announced that he will invest an additional £1 million into extending business support over the coming 12 months to help companies through the current crisis and period of recovery which will follow.
The scheme, which can be accessed via a dedicated page on London.gov.uk, lets Londoners pay for products or services which will be delivered once businesses return to normal or near-normal operation.
Crowdfunder – the platform which will deliver the initiative on the Mayor's behalf – is offering to waive its usual fees and cover transaction costs for SMEs affected by coronavirus. Members of the public can also nominate businesses and encourage them to sign up directly.
The scheme is particularly expected to benefit SMEs which sell directly to the public and have a physical presence, such as on a local high street or in a town centre – many of which have had to close their doors in recent weeks and are struggling with cashflow.
Despite the financial support schemes put in place by the Government, many businesses still face the prospect of paying rent and other bills without a steady source of revenue and find they do not qualify for or cannot access grants or loans.
London is home to almost a quarter of a million SMEs in sectors which could benefit from Pay It Forward London, including retail, food, hospitality and the creative industries, employing around 800,000 people.Many have seen their income fall dramatically as a result of the restrictions introduced by the British government to limit the spread of coronavirus.
The Mayor of London, Sadiq Khan, said: "Small businesses are facing enormous challenges as a result of the fight against coronavirus – not least a significant drop in their cashflow.
"Londoners value their local independent shops, restaurants, cafes, bars and other small businesses and I'm confident that this goodwill means many will be happy to pay for goods and services now so that they can continue to enjoy them when things get back to normal," he said.
CEO of Crowdfunder Rob Love, said: "If you're a small business whose livelihood has been turned upside down as a result of COVID-19, we are here to help. The power of Pay it Forward London is to keep small businesses trading, help them think about their recovery, and to put them in a position to bounce back quickly.
"The continued trading through Pay it Forward London by pre-selling goods and services, ensures businesses can stay connected with their customers and enables London's entrepreneurs to adapt their offering."
CEO of UK Hospitality, Kate Nicholls, said: "Hospitality businesses were the first to be hit hard by social distancing and the lockdown, and will feel the impact long after other businesses begin to reopen. Any help we can give them in the meantime will be vital.
"'Paying it forward' will provide very valuable breathing room and revenue to pay bills, and keep livelihoods and venues afloat. This valuable source of revenue will be critical for protecting jobs, right now and as businesses begin to open once again. It will mean that more restaurants, bars, hotels and pubs will survive and will be there to serve their communities once we get back to normal."
Federation of Small Businesses' London Chair, Michael Lassman, said: "A well-crafted 'Pay it Forward' policy could provide a lifeline to, hopefully, thousands of struggling small businesses who are struggling with cash flow in the current climate.
"Supporting these businesses at this time will pay dividends in the long run as it will help maintain jobs and sustain a the heartbeat of London's economy. We must support our small businesses in these difficult times and this would be a practical helpful step," he said.