NRNA UK urges for life saving info in Nepali language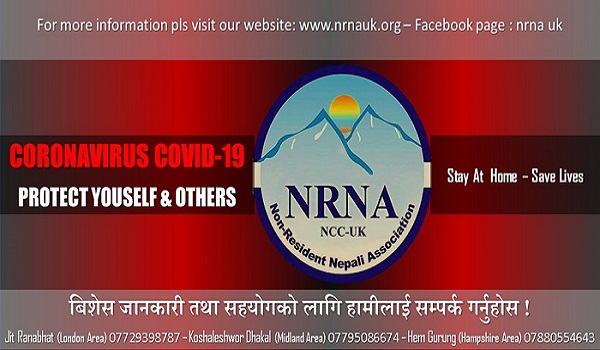 London – The Non-Resident Nepali Association (NRNA) UK has written to the Public Health England (PHE)– a British government authority—to publish life saving information in Nepali language also.
Talking to South Asia Time, Vice President of the NRNA UK, Narayan Kandel, said Gurkha veterans over 65 years of age were under high risk due to Covid-19 but were unable to access health information due to language barriers.
According to the NRNA UK, more than 60 Nepalese have died in the UK due to Covid-19, most of them elderly Gurkhas.
In its response, the Public Health England said that they have conveyed the request to the Government's Central Communications team and that they will respond directly.
A survey conducted by the Federation of Nepali Journalists (FNJ) UK chapter among the elderly Gurkhas early this month showed that most of them were unable to access health services due to the language barrier. While PHE published health information in around one dozen languages including Gujrati, Punjabi, Urdu and Bengali, no information is available in Nepali language.
In the meantime, the PHE has advised Gurkha veterans to inform their GP or NHS services if they need an interpreter. Some local Councils and Nepali organisations have translated leaflets published by the NHS into Nepali but they are not widely available.
A recent BBC Nepali report said that some 7,000 Gurkha veterans living in the UK were over 65 and were under high risk of Covid-19.
The Nepali embassy in London recently wrote to the Foreign and Commonwealth Office (FCO) of the British government requesting them to protect Gurkha veterans living in the UK from the risk of Covid-19.
"The British government is quite positive towards our request and has instructed respective agencies to take necessary measures," said Sharad Raj Aran, spokesperson of the Embassy.
Public health experts say many elderly Gurkhas are under high risks of Covid-19 as they belong to the BAME community and also due to their underlying health conditions.