Krishna Dahal announces candidacy for the ACCA Council Member Election 2020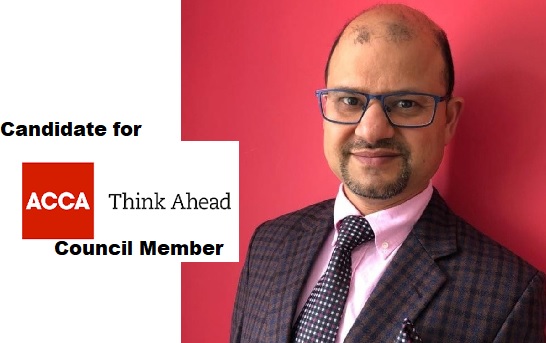 London — A well-known Accountant based in London, Krishna Prasad Dahal, has announced his candidacy for the post of ACCA Council Member in the elections being held later this year.
A passionate fellow ACCA member, Krishna is a senior statutory auditor and managing partner in an established audit practice firm in London. He holds over 20 years' experience in providing audit and advisory services to clients in the healthcare, communications, manufacturing, telecom, travel, mining, services, financial, trading and technology sectors. He advises many leading companies. He has extensive experience working with clients operating in the UK, Europe, Middle East and South Asia. He has experience in dealing with corporate governance, listing of companies in the stock exchange and other issues impacting high net worth clients.
In addition to his portfolio of UK clients, Krishna's international focus is on Nepal and India. He has very good networking with Professional Accountants around the globe and is always ready to volunteer for the community.
Since being qualified as an ACCA member in 2008, he is actively involved in ACCA community as ACCA advocate, ACCA mentor for many aspiring ACCA students, affiliates and members. He is involved in ACCA local and global committees:
as a member in Harrow, London Network Panel and
as an invitee member in Global Forum, corporate reporting
Prior to starting his career in the United Kingdom, Krishna worked as Chief of Internal Audit Department at a national level bank in Nepal and also served as an elected Council Member for The Institute of Chartered Accountants of Nepal (2003-2006).
Krishna started his accountancy career in New Delhi, the capital of India and qualified as CA member from The Institute of Chartered Accountants of India in 2002. He is still actively involved in the Indian Accountancy body in the UK Executive Committee since 2015 and currently works as the General Secretary in the UK Chapter of The Institute of Chartered Accountants of India.
Talking to South Asia Time regarding his candidacy, Mr Dahal said, 'Our profession is facing ongoing and future global challenges such as artificial intelligence, digitalisation of accounting work, regulations, standards and many more. I am passionate about long-term strategic vision to drive the Association towards a globally leading accounting body to face global challenges, transferring uncertainties into opportunities, branding, recognition and making ACCA accessible to all entrants, students and members around the world."
Collectively we should take a lead to formulate a strategy for upcoming global challenges and social expectations. I would like to contribute towards creating synergies to maximise use of the best practices and facilitate skill sharing with greater harmonization of the global accounting bodies and professionals, said Mr Dahal, adding, "We should further strengthen our system using online platforms, e- learning, digital books and employ local resources to make education more accessible and affordable. Simultaneously we must emphasise the continuous advancement of our course material to meet future expectations."
Full recognition and expansion to all regions
ACCA should play an intelligent role and put forward a solid marketing strategy to liaise with local accounting regulatory bodies to achieve the full recognition of our members in their respective countries for further expansion, said Mr Dahal.
"Our Association must consider providing competitive and affordable fee with respect to local body in the developing economies to motivate high caliber students and continue as members of the ACCA. This step will not only help in galvanizing the local economies, but also ensure that ACCA continues to be recognised as a global brand around the world," he added.
What is ACCA?
Association of Chartered Certified Accountants (ACCA) was founded in 1904 in the United Kingdom. ACCA is the global professional accounting body offering the Chartered Certified Accountant qualification (ACCA), having its head-quarters in London, United Kingdom.
ACCA is a global accounting body for more than 700,000 qualified members worldwide. It currently has more than 227,000 active members. The Association currently has 544,000 students and 1358 staff members all around the world.
ACCA works through a network of over 104 offices and centres in 52 countries – with 323 Approved Learning Partners (ALP) and more than 7,300 Approved Employers worldwide, who provide employee development. The term 'Chartered' in ACCA qualification refers to the Royal Charter granted in 1974 in the English Law for the professional registered accountants and registered auditors for United Kingdom.
What is this election?
This election is for non-executive director of Board of ACCA, it's called Global ACCA Council. Every year election is held for approximately one third of the positions being vacant in the Global Council.
Elected ACCA Global council members remain in the ACCA council for period of 3 years.
Online and postal voting for 2020 AGM and Council elections will open for active ACCA members on 1 October 2020. Online and postal voting will close on 12 November 2020 at 13:00 GMT.