Xi Stresses Building Xinjiang Featuring Socialism With Chinese Characteristics In New Era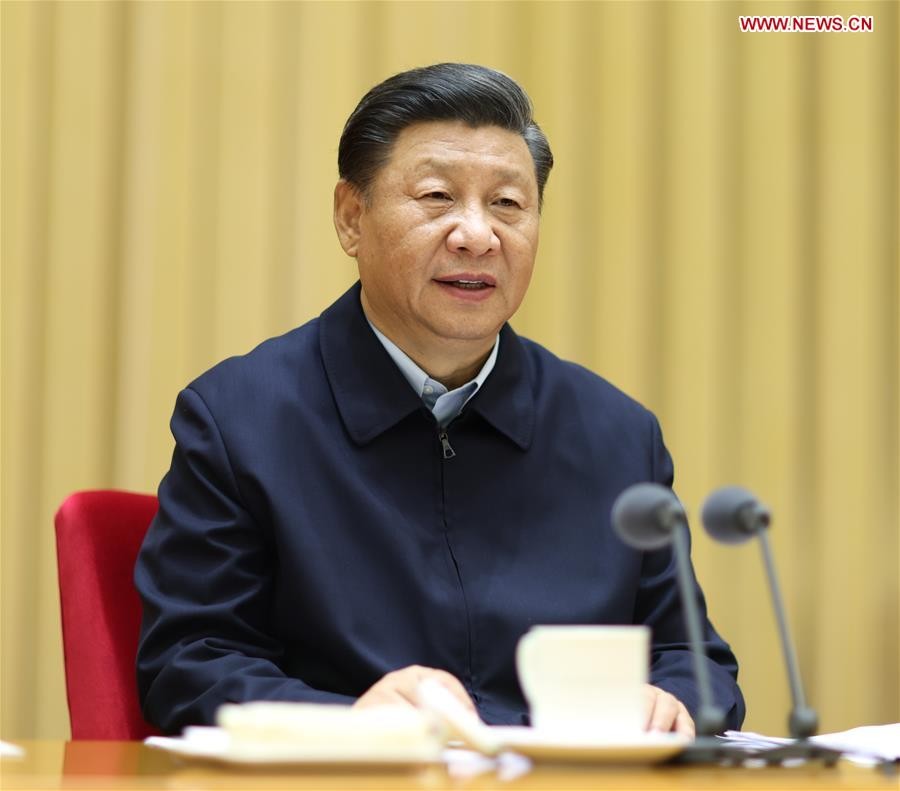 BEIJING, Sept. 26 (Xinhua) — President Xi Jinping has called for efforts to build Xinjiang featuring socialism with Chinese characteristics in the new era.
Xi, also general secretary of the Communist Party of China (CPC) Central Committee and chairman of the Central Military Commission, made the remarks at the third central symposium on work related to Xinjiang, which was held on Friday and Saturday in Beijing.
Xi underlined the need to fully and faithfully implement the CPC's policies on governing Xinjiang for the new era.
Xi demanded law-based governance and long-term efforts to develop Xinjiang into a region that is united, harmonious, prosperous, and culturally advanced, with healthy ecosystems and people living and working in contentment.
Thanks to strenuous efforts from all sides since the second symposium in 2014, major progress has been achieved in the work related to Xinjiang, Xi said, citing a series of markedly improving key indicators from 2014 to 2019, such as a sound economic momentum with an average annual GDP growth rate of 7.2 percent, people's living standards being significantly improved with an average annual 9.1 percent growth in residential per capita disposable income, and more than 2.92 million out of 3.09 million people being lifted out of poverty.
Such a sound situation where people live and work in contentment has laid a solid foundation for long-term peace and stability in Xinjiang, Xi said.
"Facts have fully proved that China's work on ethnic affairs has been successful," he said, noting the achievements are the result of the strong leadership of the CPC Central Committee, along with the concerted efforts of the whole Party and all the Chinese people including more than 25 million people from different ethnic groups in Xinjiang.
Facts prove that the Party's policies on Xinjiang in the new era, which were developed by the CPC Central Committee since the 18th CPC National Congress, are perfectly right and must be adhered to on a long-term basis, Xi stressed.
He demanded the entire Party make implementing the Party's Xinjiang policies in the new era a political task, always maintaining the correct political orientation of the work related to Xinjiang.
Xi noted that the banner of socialist rule of law must be held high to maintain lasting social stability in Xinjiang, ensuring that the requirement for fully advancing China's law-based governance covers all areas of the work related to Xinjiang.
Xi stressed efforts to focus on heightening a sense of identity of the Chinese nation to constantly strengthen ethnic unity.
The education on the sense of Chinese identity should be incorporated into the education of officials and the younger generation in Xinjiang as well as its social education, helping the officials and the general public of all ethnic groups develop an accurate understanding of country, history, ethnicity, culture and religion, to let the sense of Chinese identity take root in people, he said.
Noting that development is an important foundation for lasting peace and stability in Xinjiang, Xi stressed leveraging the region's geographical advantages to develop Xinjiang as a core area of the Silk Road Economic Belt and a hub of opening-up in the inland and border areas.
Xi urged efforts to consolidate the foundation and increase the efficiency of the industrial sector in Xinjiang, advance industrial transformation and upgrading, and boost urbanization in an all-round way while protecting the environment.
Stressing the need to coordinate epidemic containment with economic and social development, Xi called for ensuring stability on six fronts — employment, the financial sector, foreign trade, foreign investment, domestic investment, and expectations — while maintaining security in six areas: job security, basic living needs, operations of market entities, food and energy, stable industrial and supply chains, and the normal functioning of primary-level governments.
He also called for unremitting efforts to eradicate poverty and promote employment in Xinjiang.
Xi pointed out that the original aspiration and mission of the Party is to seek happiness for the Chinese people, including people of all ethnic groups in Xinjiang, and the rejuvenation of the Chinese nation, including various ethnic groups in Xinjiang.
He urged continuous efforts to foster a contingent of high-caliber officials from ethnic-minority groups in Xinjiang who are loyal to the Party and have both integrity and ability, saying that the officials in Xinjiang are trustworthy and capable.
Underscoring the great significance of Xinjiang-related work to the whole Party and the entire country, Xi asked for improvement in working mechanism in which the CPC Central Committee exerts the unified leadership, the central departments offer guidance and support, other provincial-level regions render support and cooperation, and Xinjiang plays its principal role.
Other senior Chinese leaders also attended the symposium, which was presided over by Li Keqiang. Li Zhanshu, Wang Huning, Zhao Leji and Han Zheng were in attendance, while Wang Yang spoke to sum up the event.