The number of Nepalis infected with Corona continues to rise: NRNA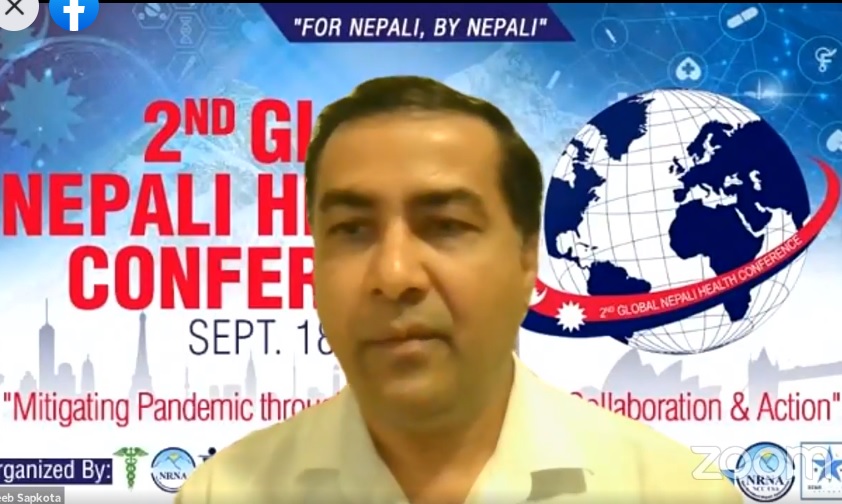 London — The number of Nepalis worldwide infected with corona virus continue to rise, the Non-Resident Nepali Association (NRNA) has said.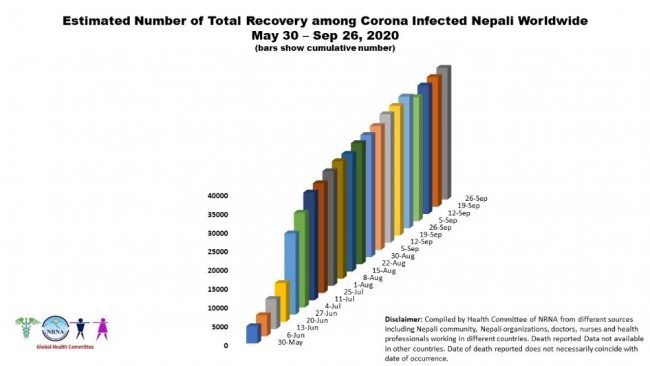 Chair of Health Committee of the Non-Resident Nepali Association, Dr. Sanjeeb Sapkota, said that over 35,000 out of an estimated 38,800 Nepalis infected from the Covid-19 worldwide have recovered, and that's 92 percent recovery.
"Unfortunately, the fatality number too continues to rise, as this week alone another 21 demises were added to the list of those who succumbed to the corona infection (14 in Saudi Arabia, 5 in Kuwait, 1 each in UAE and Uganda), bringing the total death among Nepali outside of Nepal to 265," said Dr. Sapkota.
When asked if people should worry about the news about the aerosolized viruses, Dr. Sapkota said, "Almost all of the virus coming out of an infected person lands within 6 feet (2 meters), however some negligible number of virus remain airborne beyond 6 feet, and the probability of the infection via these floating viruses beyond six feet is extremely rare."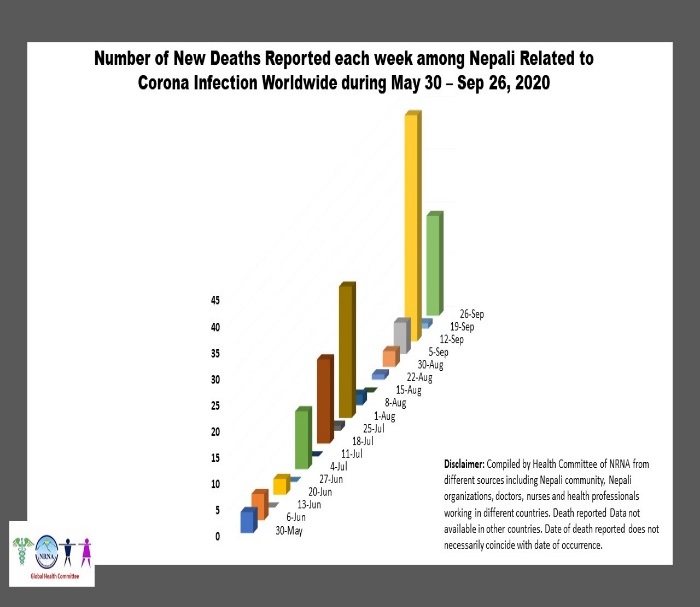 About the vaccine production and its availability among public, Dr. Sapkota said, "Currently there are at least 57 different genuine vaccine trials happening in different parts of the world, many in the United States, but also in Japan, Russia and China. Moderna, Biontech from Pfizer, Zydus, Curevac, Imperial College London, Takara, Arcturus are some of the major manufacturers. Each vaccine must go through these phases of development: preclinical testing, phase 1 safety trials, phase 2 expanded trials, phase 3 efficacy trials, early limited use, full public use. None of these vaccines have completed all these stages, but 5 have been approved for limited use (including 1 each in Russia and China), the rest are in different phases of the development. Each country has right and responsibility to either developing or pricing vaccines for its citizens.
When asked what public should be focusing on, Dr Sapkota said,
"The risk of infection remains high in the public places, and people need to continue avoid being closer less than 6 feet from any stranger; they should keep wearing a mask when in the public; not touch face before washing hands thoroughly with soap and water for 20 seconds; if infected do not wait;seek medical attention right away."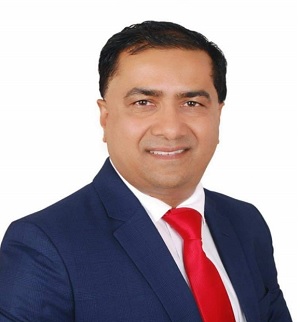 "Sadly, we have seen suicides among those who are infected or suspected of being infected. Maintaining mental health during this treacherous time is of utmost important. Both who are infected and the care providers should seek mental health counseling. Family members and friends need to watch for signs of suicidal behavior and thoughts among high risk people and stick with them and help them get out of such thoughts and behavior," said Dr Sapkota.
"While in lockdown stay active by household work, yoga, exercise and working in garden. Avoid being in closed spaces with strange unprotected people for long time, as virus lingers more in closed spaces," he added.