Air pollution can heighten Covid-19 risk in South Asia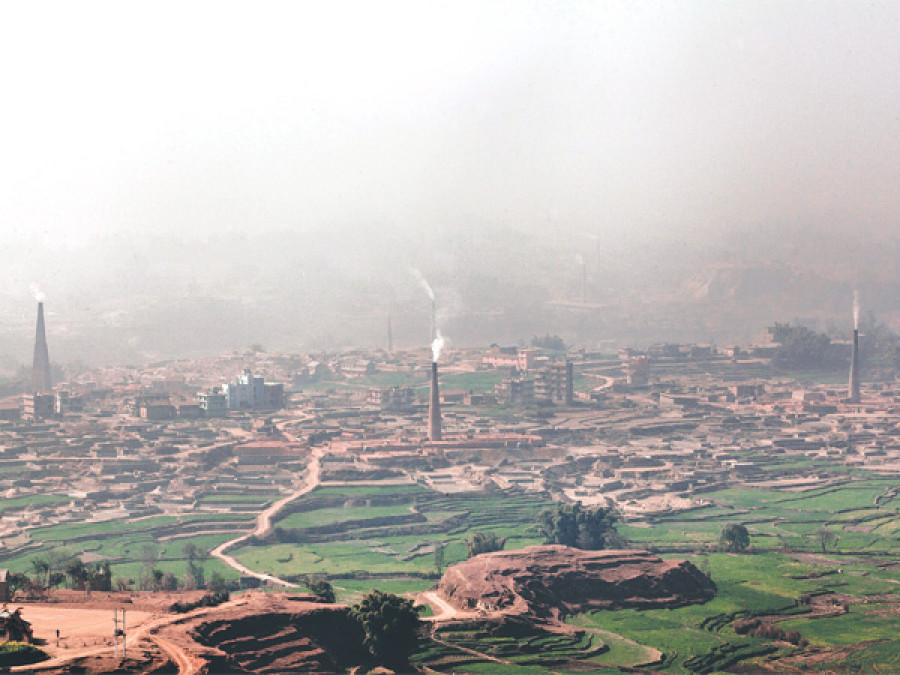 by Beth Walker, Soumya Sarkar, Zofeen Ebrahim, Ramesh Bhushal , India Climate Dialogue
The dramatic drop in air pollution after large swathes of South Asia shut down in response to Covid-19 was short-lived. Newly clean skies in cities from Peshawar to Guwahati stirred hope that action on South Asia's lethal air pollution was possible. But as lockdowns eased, pollution levels crept back up.
Now experts warn that bad air could worsen the spread and severity of the coronavirus pandemic this winter as South Asia descends into its annual smog season. Pollution levels peak every autumn and winter, when agricultural waste burning, industry, vehicle fumes and brick kilns combine to create a toxic soup.
Bangladesh, India, Nepal and Pakistan have overtaken China and become home to the most polluted cities in the world. Millions of people die every year from breathing in poisonous air, with life expectancy cut by five years on average. This rises to more than eight years in the most polluted areas of northern India. See: Toxic smog: the new normal in South Asia.
But governments have failed to act. In India, activists have rejected the government's National Clean Air Programme as insufficient. While some real-time data is available in India, cities in Bangladesh, Pakistan and Nepal still lack basic equipment for monitoring air pollution, let alone a robust strategy to address the sources.
Evidence of pollution and Covid-19 links
Emerging studies, currently undergoing peer review, suggest that long-term exposure to air pollution before the pandemic is associated with severe symptoms from Covid-19 and a greater risk of death.
Academics at Harvard University looked at fatalities from the virus and historic levels of dangerous particulate matter, known as PM2.5, across the US. They found that high levels of particulate pollution in the years before the pandemic were associated with an 8% rise in Covid-19 death rates. Another study in the Netherlands found that a small increase in exposure to pollution raised the death rate by up to 21%, though the World Health Organization (WHO) said the methodology used and the results would need to be evaluated and overall, more data is needed to understand the way air pollution can affect the development of the disease.
While the evidence from South Asia is still scarce, public health experts in India are echoing the warning given by the WHO and calling on the government to take immediate action.
"Our worst fears are that as the winters arrive and air pollution rises this could compound the Covid-19 situation. Already our health infrastructure is under tremendous stress," said T.K. Joshi, health expert at India's Central Pollution Control Board and member of the prime minister's Covid-19 task force.
Speaking about the connection between air pollution and the pandemic at a webinar organised by WWF India, Joshi said, "The quality of air has a bearing on a person's immunity. Air pollution is definitely going to make the situation worse."
India has been hit very hard by the pandemic, with the second-largest number of cases in the world after the US and its case load rising by around 70,000 a day at the beginning of October. After malnutrition, the WHO has identified air pollution as the country's most severe public health risk.
"The double whammy of poor air quality and exposure to the virus will certainly aggravate the existing public health crisis in India," said Poornima Prabhakaran, an epidemiologist and deputy director of the Centre for Environmental Health, Public Health Foundation of India (PHFI).
"The health effects of poor air quality are well-known and are significantly worse in vulnerable populations including extremes of age, pregnant women and those with pre-existing comorbidities. Chronic exposure to deteriorating air quality every year results in compromised lung function in exposed populations. These individuals are therefore likely to be more vulnerable in a pandemic," she explained.
Among the first patients hospitalised with Covid-19, pneumonia, sepsis, respiratory failure and acute respiratory distress syndrome were reported as the most frequent complications.
Other studies suggest high levels of particulate pollution in the air increases Covid-19 transmission. Arun Sharma, director of the University of Delhi's College of Medical Sciences, said, "High concentration of PM2.5 and PM10 (particulate matter of 2.5 micrometres or less, or 10 micrometres or less) provides more particle surfaces for the virus to stick to and get transported over greater distances." The virus can also potentially survive longer when attached to pollutants.
Sharma said, "It is clear that while authorities are battling the pandemic, they cannot push tackling the air pollution crisis to a later day. The two are intricately related and impact public health at large."
The complete version of this  article can be viewed in : India Climate Dialogue