Ex-Gurkha Rajan Chhetri nominated for a prestigious award in the UK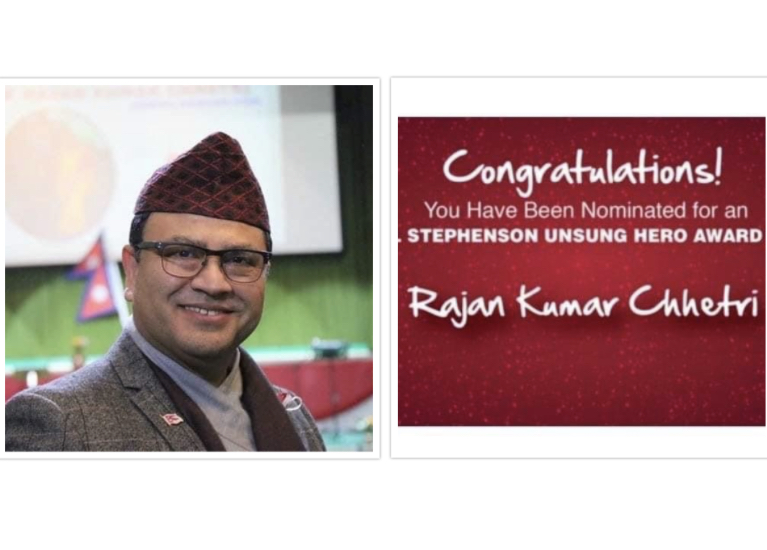 London — Past president of Chhetri Samaj UK , a charitable organisation working for the walfare of British Nepali community, Rajan Kumar Chhetri, has been  nominated for the prestigious Paul Stephenson Unsung Hero award 2020.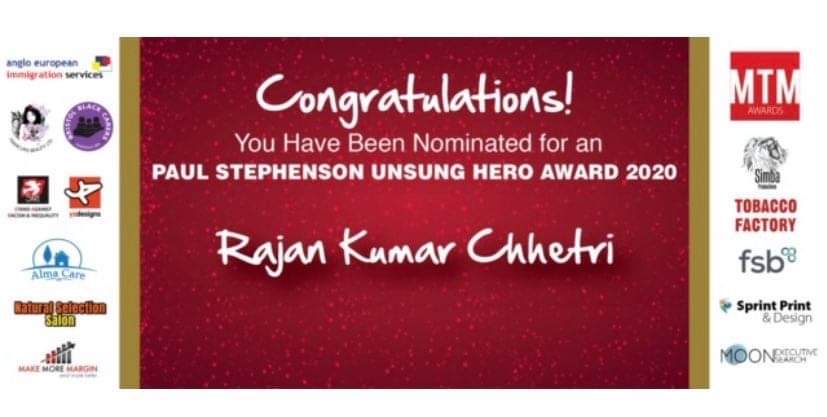 Chhetri is the first person from Nepali community to be nominated for the title. He has been nominated for the award for his contribution to the community since long.
Mr. Chhetri served in the British Army between 1985 till 2001. He is a local resident of Swindon, UK since 2005.  A  Nepali Association of Wiltshire (NAW) which was founded in 2006, where he served as a public communication coordinator in closer association with Swindon Borough Council and became President of the NAW in 2012.  During his tenure, he supported the local Nepali community.
During the earthquake of 2015, the organisation was able to collect 22,000 Pounds to support earthquake victims in Nepal.  Chhetri also  initiated to start the Nepali language and ICT course locally for the college students of  the local community. English language class was also commenced specially for the family of ex-Gurkha soldiers who were  having difficulty  to understand the language. Similarly, other training and development courses were commenced in order to uplift their professional skills.
Mr. Chhetri was also involved in the fundraising campaign for Bright Future organisation which was able to collect £8,000 to support the charitable cause of the organisation . The campaign was able to collect 10,000 Pounds and was handed over to the NHS. He has donated one ambulance to the hospital in his motherland located at Syangja,  Nepal. Similarly, he has supported to construct e-library in Nepal which was destroyed by the earthquake of 2015. Mr. Chhetri is a passionate social worker working closely with many charitable organisations in Swindon. He is also serving as the Vice president of  Swindon Chautari Lyons club.
Mr. Chhetri was also nominated as one of  the top 10 successful British Nepali charity workers listed by www.southasiatme.com.