Nepali chef, Santosh Shah, selected in Semi finals in the BBC MasterChef show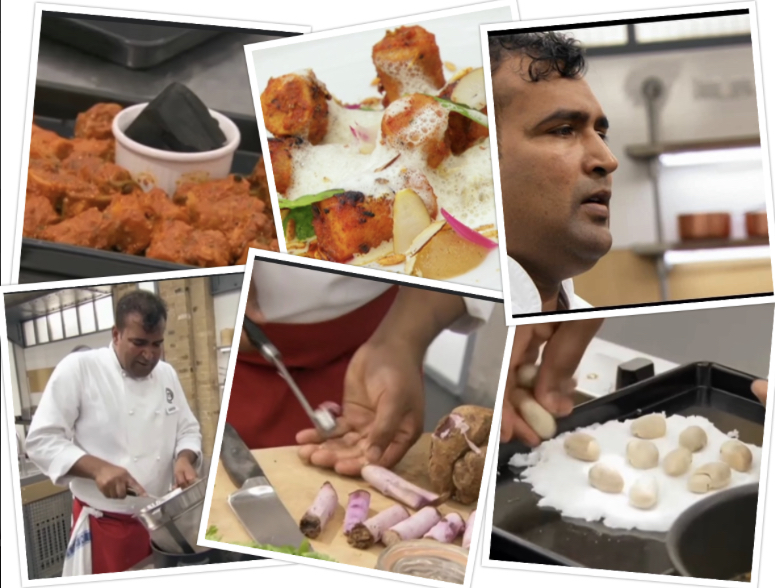 London – Nepali chef working in the UK, Santosh Shah, has been selected among top 8 in the  BBC MasterChef sTV show.
There were 10 chefs co-testing  together in this round.  All the contestants were divided into two groups — one group with  blue apron and the other one with red apron.
Santosh was selected in the red and contested from the red apron.
The Challenge was given to all the Chefs to cook their dishes inspired by travel and inspiration
In this round, Santosh proposed to do vegan food though all other contestants chose meat products.  His Inspiration was from a Michelin star restaurant  called  L'Arpege. Santosh went to Paris from London to see how it was possible to run a Michelin star vegetarian restaurant in a major Western capital.
He made  a starter plate  vegan food with 'Ban tarul' (Himalayan Yam). Yam grows at an altitude of 1,500-3,500 metre in the Himalayan region including Nepal. Other ingredients included roasted masala cucumber seed, apple chutney, salt baked jack fruit seeds, coriander chutney.
The judges were surprised to see Santosh making vegan food based on Nepali ingredients in such a crucial round and asked him why he wanted to take a  risk. A jubilant Santosh replied he did not care about winning rather he wanted to promote cuisine from his motherland.
The first 5 chefs who cooked better were  selected in the first round. Remining 5 had to cook again and 3 were selected. Two chefs were eliminated from this round.
Santosh was picked by the judge at the first round among the 3 to be selected at first.