Mayor Khan urges Londoners to accept COVID-19 vaccine invitation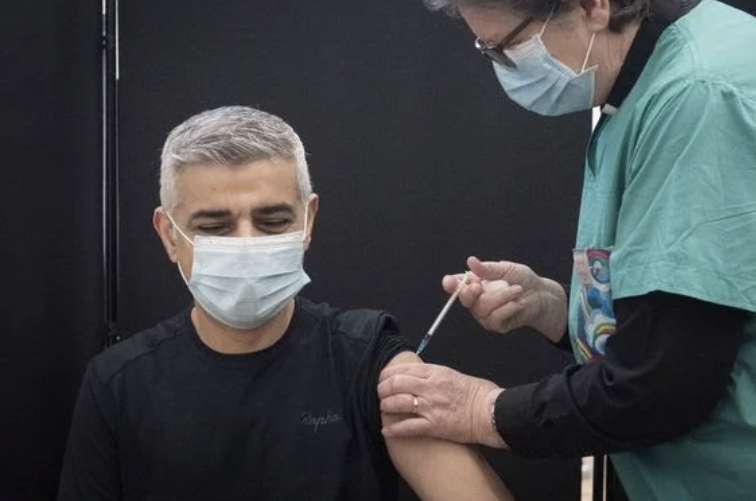 London — The Mayor of London, Sadiq Khan, has urged Londoners to accept their invitation to get vaccinated against COVID-19 as he received his first dose at a vaccine centre based in Mitcham Lane Baptist Church.
Mr Khan said, "I'm relieved and very grateful to have received the first dose of my COVID-19 vaccine today.
"I was asked by my GP to take the vaccine as I have severe asthma, and I urge everyone who is offered it to take it as soon as possible.
"These vaccines are a testament to the hard work of scientists around the world and we owe them, and the NHS staff and volunteers who are helping to deliver the jabs, a great deal of thanks.
"The widespread rollout of these vaccines will protect us from serious illness, will help us all to get back to the things we have missed and let us see the people we love.
"It's fantastic that more than 1.5m Londoners have already received their first dose and I again urge all Londoners to have the vaccine as soon as you are offered it. It is safe and it will save lives."
As of this week, people aged 16 to 65 with a range of health conditions that put them at risk from the virus are being invited to take the vaccine.
Dr Penny Osborne, of The Greyswood Practice GP surgery, which is running the clinic at Mitcham Lane Baptist Church, said, "Local roll out of the vaccine is progressing well. We have already been able to offer all of our community's most vulnerable patients the vaccine and are now focusing our efforts on inviting those aged 16-64 who are in at-risk clinical groups, which includes Sadiq.
"The speed of the roll out has been due to the fantastic level of community support we have received – our clinic is primarily staffed by trained volunteers as well as current and former NHS staff who have put extraordinary amounts of time and effort into ensuring the success of this endeavour."
Hannah Roberts, Church Manager of Mitcham Lane Baptist Church, said, "Mitcham Lane Baptist Church has been open as a Covid vaccine centre since the middle of January and in that time over 5,000 local residents have been able to receive their vaccination, including many of our own church family.'