Cllr Clifford urges British PM to abolish Naturalisation costs of Gurkha veterans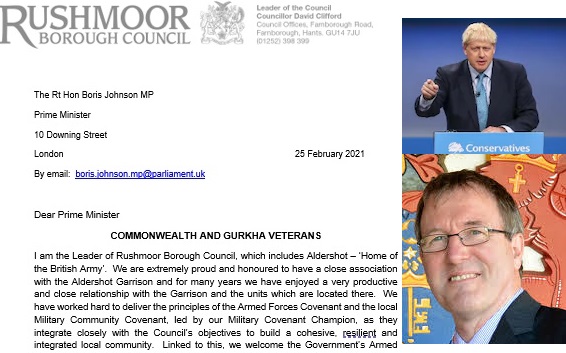 London — Leader of the Rushmoor Borough Council, Councillor David Clifford has urged the British government to waive the fee for Gurkha veterans while they apply for naturalisation.
In a letter to Prime Minister Borish Johnson, Mr. Clifford has requested the government to abolish the associated costs and fees when Commonwealth and Gurkha veterans apply to acquire a British citizenship.
"The Council applauds and celebrate the significant contribution they have made to the British Armed Forces and the local community and the close partnership we have developed to integrate them and their families. We hope and intend to support the extension of this long into the future," Mr. Clifford said in the letter.
Copy of the letter sent by Councillor David Clifford to the Prime Minister