London mayor Sadiq Khan joins 101-year-old Dabirul in his 'Global Walk Challenge'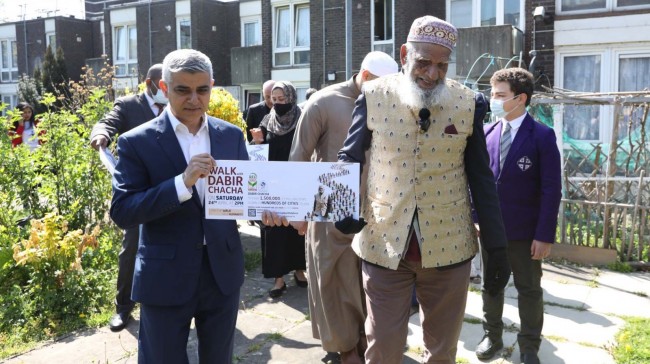 London — Mayor of London Sadiq Khan accompanied 101-year-old Dabirul Islam Choudhury OBE in his bid to lead a global challenge named 'Walk with Dabirul' to complete 1.5 million steps.
The challenge took place on April 24, aiming to raise funds for Covid-19 victims across the UK, Bangladesh and globally, the Dailystar writes.
At the event, Sadiq Khan remarked, "Dabirul is a true representation of London. As a Muslim, I understand how it feels fasting for 16/17 hours every day. And here we have a Londoner who is 101 years old, fasting, serving our communities in London and across the globe. I am honoured to accompany him in this historical walk and support his fundraising campaign".
Other notable individuals from various religions attended the walk with Dabirul and the Mayor to show solidarity.
Rajinder Singh, 73, another fundraiser widely known as 'Skipping Sikh' also attended the event representing the Sikh community. He said, "What a remarkable man Dabirul is. I attended the event to show my support and that of the Sikh community to Dabirul's campaign".
More than 180 cities around the world have signed up for participation from London to Paris, New York to Dhaka, and are preparing to accomplish the mission of Dabirul, to walk in their local park, open spaces and gardens.
In a recent interview with BBC London, Dabirul said, "I will not relax in my life.  I want to help people until my death".
The funds will help people in the UK, assisting with end-of-life support.  Globally, it will help people suffering in refugee camps in the Middle East and South Asia (for Rohingyas); and provide food, shelter, education to women, children, and Covid-19 stricken families of more than 50 countries via Ramadan Family Commitment (RFC), a UK based Bengali Channel S TV initiative.
Speaking with his father Dabirul, Atique Choudhury, 57, reflected, "My Father has always been a very active and giving person."  Explaining his Father's efforts to make life better for people in the UK and globally, Atique said, "My Father raised £420,000 in 2020 by walking in his communal garden during Ramadan. This year he wanted to make it global, and 10,000 people are set to join the campaign 'Walk with Dabirul' on 24th April."
Last year Dabirul was awarded an OBE (Order of the British Empire) in the Queen's Birthday Honours for raising funds for coronavirus charities during Ramadan. Dabirul raised the sum by walking 970 laps of his 80-metre garden in East London during the holy month of Ramadan.
Dabirul, lovingly called by the community "Dabir Chacha", is the oldest British Muslim and will lead the 1.5 million steps challenge while fasting during the 30 days of Ramadan. ( From the Dailystar )