After UK envoy tweet, Islamabad's Margalla Hills free of garbage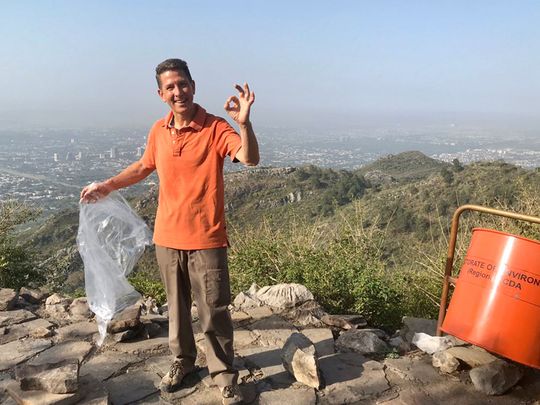 Islamabad —  The British High Commissioner's recent post on social media must have provided some relief to the Islamabad administration and the Islamabad Wildlife Management Board (IWMB) – in contrast to his one-month old tweet in which he had shown the hiking trails of the Margalla Hills littered with trash.
In his latest tweet on June 18, Dr Christian Turner, the British envoy to Pakistan, showed the hills are clean now, the hiking trails well-kept and the bag he had taken there to collect the trash during the Friday morning walk empty, the Gulf News writes.
In the picture, the UK High Commissioner can be seen pointing towards the cleaned-up hiking trails of the Margalla Hills observing: "What a difference a month makes!"
He also wrote in Urdu in the Roman script: Meira Kachra Meiri Zimadari or My Waste My Responsibility.
On May 7, the High commissioner had shown how filthy the trails were and posted pictures in which he could be seen carrying two litter-filled bags and trash lying all about the walking trails of the Margalla Hills.
He had written below the pictures: Another Friday morning walk, another two bags full of garbage.
Those pictures had put the IWMB and the Islamabad administration under immense pressure and they faced criticism.
As the tweet went viral, a clean-up drive was launched over the Margalla Hills in which the district administration, the IWMB, high commissioners and ambassadors of other countries and a large number of volunteers took part.
While talking to Gulf News, Dr Christian Turner said he was happy his tweet was noticed by the citizens and the city government officials.
"First and foremost, each one of us who goes to these hills for a walk or hiking etc, should be aware how important it is to keep the hills clean," said the UK envoy.
"I am thankful to the IWMB and the Islamabad Capital Territory (ICT) administration, the public and the volunteers for joining in the cleanup drive and making the Margalla Hills National Park (MHNP) clean and green."
The MNHP is the world's third largest national park with an area of 17,386 hectares (42,960 acres) or 173.9 sq.km.
Its hiking trails are popular with residents, hikers and the members of the diplomatic corps that come here particularly during the weekends.
Deputy Commissioner of Islamabad Hamza Shafqaat also shared the British High Commissioner's tweet