Railway service in the name of VC Tul Bahadur Pun launched in the UK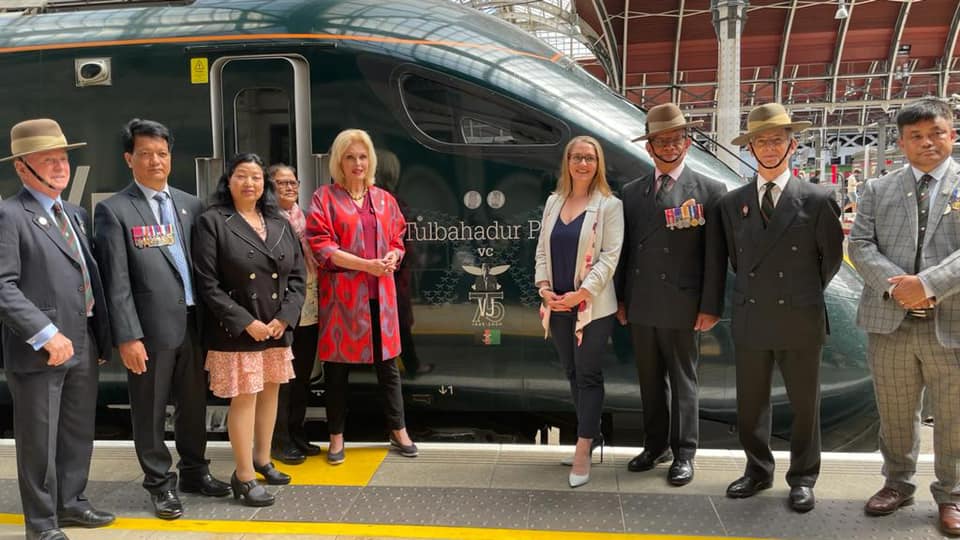 LONDON, RSS — The Great Western Railway in the UK has begun operation of railway service after the name of a former British Gurkha soldier decorated with the Victoria Cross (VC).
The railway service after the name of VC laureate Tul Bahadur Pun was operated from Paddington Railway Station in the British capital London amid a ceremony held on Wednesday morning.
The event was attended by British actress Joana Lumley. Lumley's father James Rutherford was working in the same battalion where Tul Bahadur Pun was serving in then Burma (now Myanmar) during World War II. Joana has long been championing for the cause of British Gurkhas.
Lumley, who lost her father during the line of service in the British Army, said that she shared emotional ties with the VC Pun's family. On the inaugural event, Lumley had reminisced how she was welcomed in Pun's family as daughter when she lost her father to a war, shared NRN-UK former President Yog Kumar Fagami.
Present on the occasion were VC Pun's son Arjun Tilija and her daughter Megh Kumari Pun as well as the representatives from Nepali diaspora in the UK.
The inaugural of railway service marked the day when Pun was decorated with the VC Award, one the prestigious awards conferred by the British Queen in recognition of the gallantry of the soldiers in the British Army. Pun was awarded with the VC medal for his valour in the Second World War when he was only 21 years old.
Fagami viewed that the inaugural of railway service in the name of VC Pun was not an honour to Pun alone but it was a matter of pride for all the Nepalis. It reflected British government's honour to Nepal.
Pun was born in Myagdi district of Nepal on 23 March 1923. He passed away on 20 April 2011 in Nepal.
Such a glorious event, however, missed the presence of representatives from Nepal's diplomatic mission in the UK and former Gurkha's organizations and Nepalis' organizations. "If the event could see their presence, it would add an extra edge to the event," opined Fagami.