Buddha Jayanti 2022 preparation meeting with the Embassy of Nepal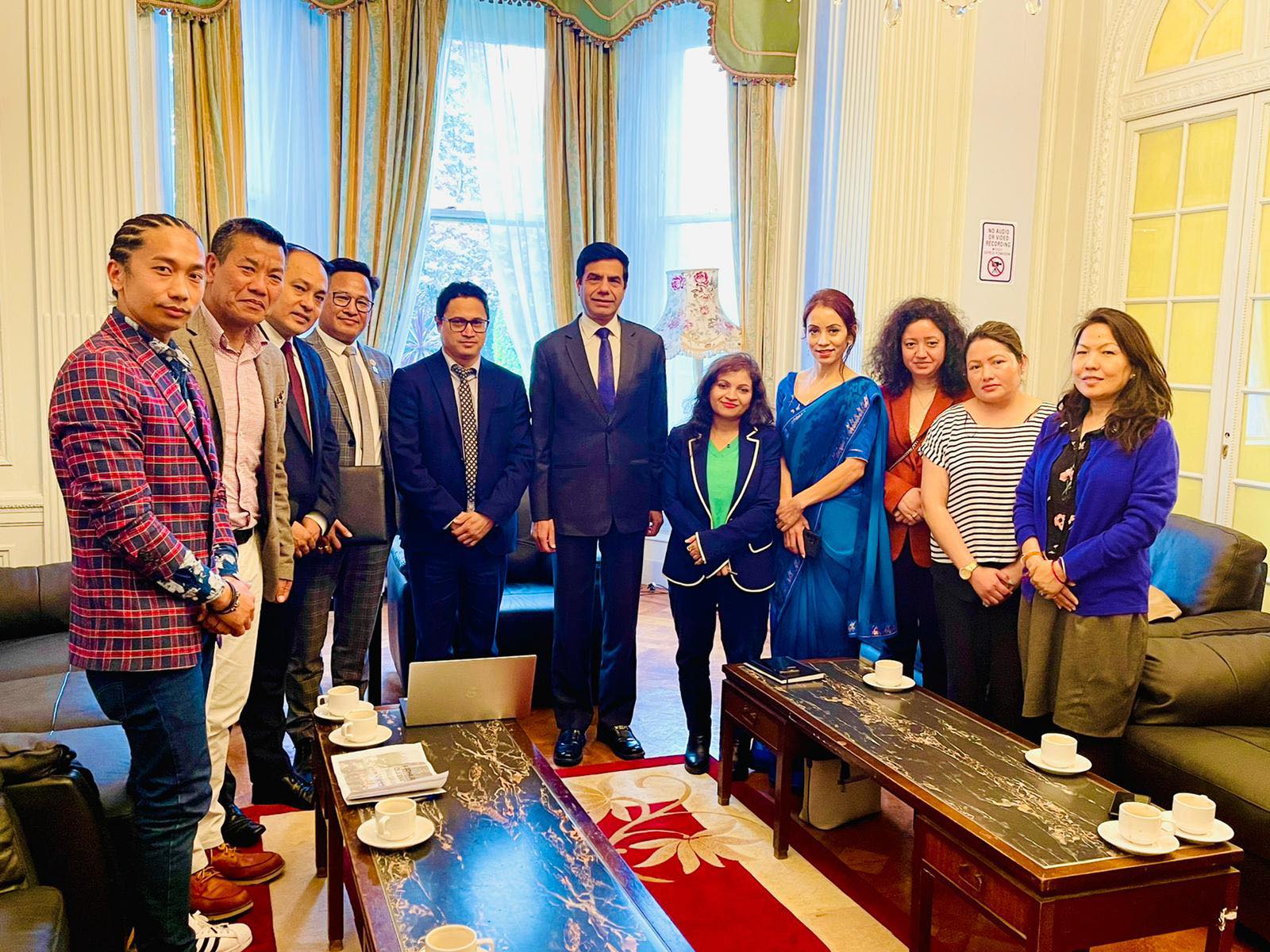 London — Buddha Foundation UK held its 1st Meeting with the Embassy of Nepal, London, in preparation for its upcoming annual event Buddha Jayanti Celebration 2022 to be held on 22nd May at the Trafalgar, London.
The meeting was held at the Embassy of Nepal, London, 12A Kensington Palace Gardens, London W8 4QU, UK on 12th April. Ambassador of Nepal to UK, H.E Gyan Chandra Acharya chaired the meeting along with DCM, Roshan Khanal and Second Secretary Ram Babu Nepal making representation for Embassy of Nepal.
Buddha Foundation UK team was led by President Mr. Deepak Shrestha and amongst the members present were Sachin Shrestha, Senior Vice President, Prasuna Kadel, Vice President, Laxmi Rai, General Secretary, Surya Gurung, Cultural Secretary, Santos Mandal, IT Coordinator, Deepak Maithane Magar, Social Media Coordinator, Archana Gurung, Member and Anjana Thapa, Member.
President Mr Deepak Shrestha presented the event progress report in the meeting. The meeting discussed various elements of the event and emphasised on the role it played in promoting, World Peace through Buddha's Philosophy, Tourism in Nepal and Nepal's rich tradition and culture.  The following were also discussed and agreed during the meeting.
Date of the event: – 22nd May 2022, Sunday, Time: – 3pm till 6PM, Chief Guest: – Mayor of London, Sadiq Khan has been invited, awaiting confirmation
UK Diplomats, UK University Professors' Buddhist Priest/ Rim poche from Nepal and all Nepalese & Non- Nepalese Organizations in the UK to be invited as special guest for the event.
Various itinerary and logistic were also discussed during the event.
Buddha Jayanti is celebrated on the full moon day of Nepalese calendar which usually falls under the month of Baisakh. Buddha Foundation UK has been organising Buddha Jayanti at the heart of London, Trafalgar on an annual basis. This is the third run of its annual event. The event aims to spread message of peace, love harmony which are the guiding principles of Lord Buddha.
Many delegates from around the world attend the event as special guest to mark this historical day of peace and harmony. Mayor of London, Mr Sadiq Khan has been invited and likely to attend this year's event.
This year's Buddha Jayanti is organized by Buddha Foundation UK in coordination with Nepal Tourism Board, Embassy of Nepal, London and NRNA with the theme to spread message of World Peace, Buddha Philosophy and promoting the rich Nepalese tourism, culture & hospitality. "It could not have been organized at any better time than this when the world is seeing so much devastation and loss of lives due to conflict in Ukraine and other parts of the world". said spokesperson Mr. Lachhuman Gurung.
Event Coordinator for Buddha Jayanti 2022, Mr. Harry Gurung has urged all UK Organizations, Businessman, Professionals, Community Leaders, Youth, Individuals & families, and sponsors to join hands together for Grand Celebration of Buddha Jayanti at Trafalgar Square London and spread the message of peace and love to the world.