Hari Budha Magar : First person without legs above the knee to reach at the Everest base camp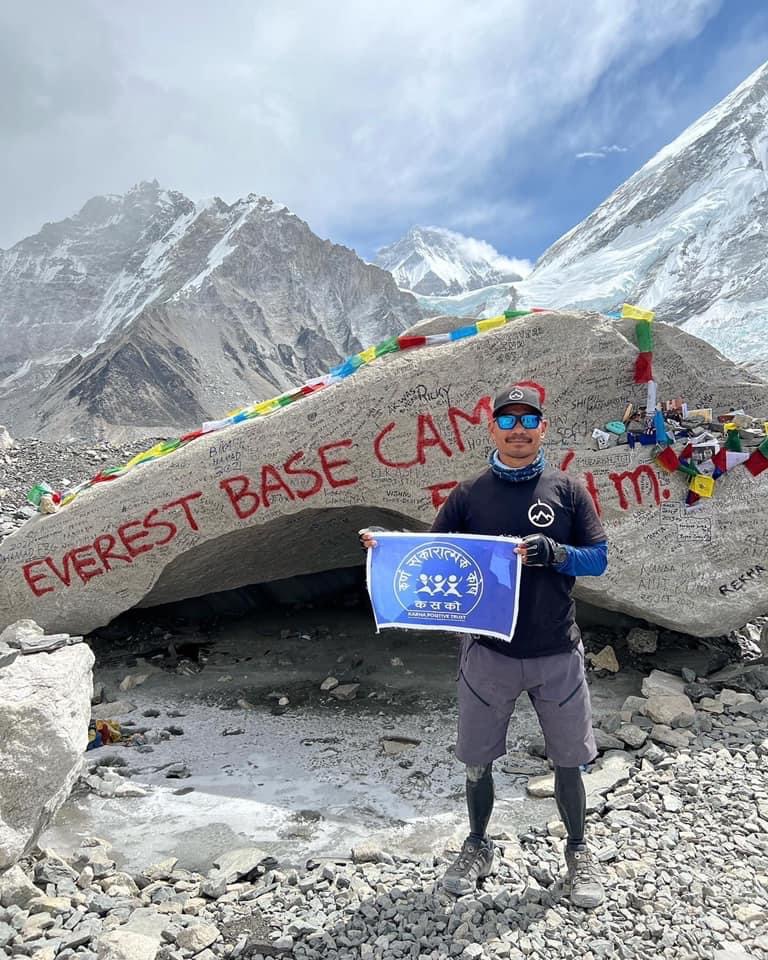 Jagan Karki , London — Former Gurkha soldier Mr Hari
Budha
Magar has successfully reached at the Everest base camp with the help of an artificial leg. Magar who has lost both of his legs during  the war in Afghanistan.
Writing in his social media, Magar has stated that he is  the first person without legs above the knee to reach at the Everest base camp.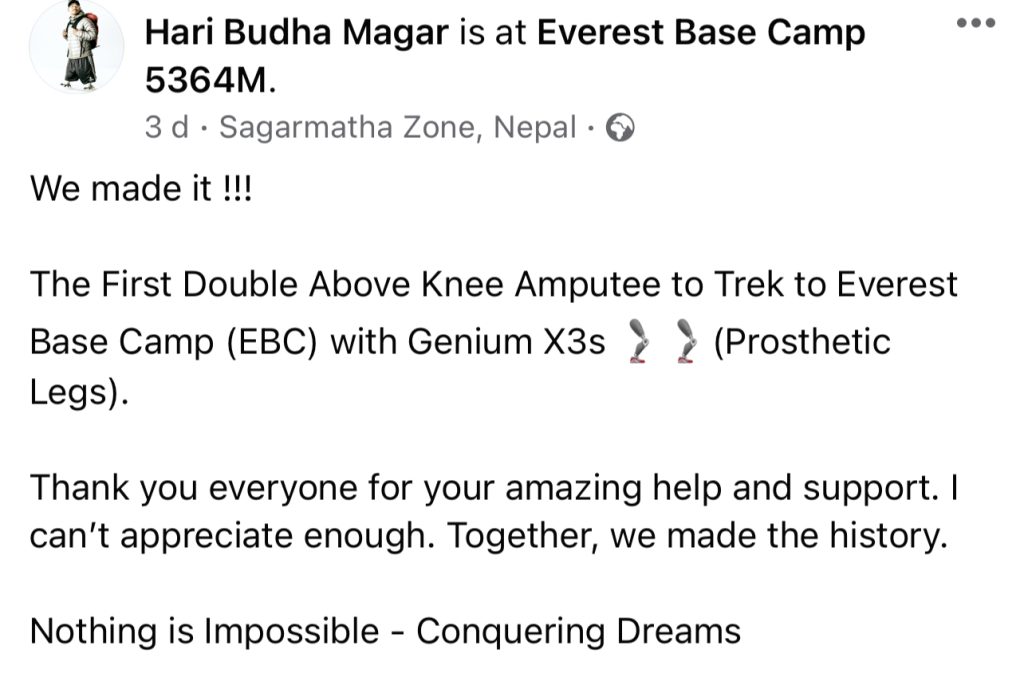 He has completed the trek with an artificial leg called Genium 3.
"Nothing is impossible," he has mentioned. He is also planning to climb Mt. Everest.
He has thanked all his supporters and helpers during the journey from the Everest base camp.
Mr Budha Magar who was  born in Rolpa Mirulma  lost his  both knees in an ambush while on duty in Helmand, Afghanistan in 2010.
Global Goodwill ambassador of Positive Thought movement Mr Magar has been active in the UK giving inspirational lectures, participating in adventure sports, and social and business activities.
Who is Hari Budha Magar ? 
Hari was born in a cowshed, in the foothills of the Himalayas in Nepal. He used to have to walk barefoot for many miles each day to get water and to go to school; at school, Hari learnt to write on a wooden plank with chalk stone. He was forced to marry at the age of 11, and during his teenage years, he was surrounded by a brutal civil war where more than 17,000 people lost their lives over 10 years.
Hari joined the British Army at the age of 19 and served with the Royal Gurkha Rifles for 15 years. During his service he saw some of the harshest environments in the world, along with some of the most beautiful.
"The Gurkhas are manned by Nepali soldiers & officers; and British officers, it is this blend of cultures that makes the RGR unique. Gurkhas are known for their professionalism, fighting prowess, humour and humility." The Gurkhas have been an integral part of the British Army, for over 205, they have been involved in all major conflicts as part of the British Army. The Gurkha motto is "It's better to die than to be a coward." Former Indian Army Chief of Staff Field Marshal Sam Manekshaw once stated that: "If a man says he is not afraid of dying, he is either lying or he is a Gurkha."
While on patrol in Afghanistan in 2010, Hari stepped on an improvised explosive device (IED), his life changed in a split second. He lost both of his legs above the knee, and sustained multiple other injuries.
Hari's first thought after the explosion was the safety of his men, his second thought was that he had somehow let them down. His mind raced with questions: "will I be in a wheelchair for the rest of my life? Will my wife leave me? Will I be able to put food on the table for my familly?" Hari was prepared to face death, but he had never considered the possibility that he would sustain life-changing injuries and live to tell the tale.
When Hari woke up in the hospital bed, he felt desolate and hopeless. He questioned what kind of life he would be able to lead in the future, and whether it would even be worth living. His mind full of negative thoughts, Hari struggled with the idea that he would never be able to run around and play football with his children again. He was ashamed to be seen in public, this was because he had grown up in a society where disabled people are commonly referred to as a "burden of the Earth", many people believed that those with disabilities  had "sinned in a former life" and the disability was a form of punishment or karma. Hari did not accept these discriminatory beliefs, so he decided to challenge them, and to change them.
With time and determination, Hari took control, regained his self-esteem, and challenged himself to exceed the limitations put on 'disabled' people by society. Since his injury, Hari has battled to rediscover his confidence through an array of sports and adventures. He has done everything from skydiving to kayaking, cycling to skiing, and golf to climbing. Hari was the first ever disabled person to ski in Nepal, he was one of the first amputees to kayak around the Isle of Wight, and he holds the world record for being the first ever DAK to summit a mountain over 6,000m.
Hari's main focus over the last 5 years has been on mountaineering…
Climbing a high mountain is a serious challenge for even the fittest and most in-shape of people. To help you get a feel for the scale of Hari's past achievements, and future challenges, try to imagine climbing these mountains ON YOUR KNEES!!
Hari has already summited Mont Blanc (4,810m), Kilimanjaro (5,895m), Chulu Far East (6,059m), and Mera Peak (6,476m), but he's not finished yet…
As a child, Hari read in textbooks that Everest was the tallest peak in the world, and that it was in Nepal; he was fascinated by the story of Sir Edmund Hilary and Tenzing Norgay. Hari grew up looking at the mountains every day, he always wanted to climb the tallest one: Mount Everest. Hari never had the opportunity  to climb Everest though, there was always something stopping him, whether it be lack of money, time, or something else.
Somehow, losing both legs above the knee actually galvinised Hari and gave him extra motivation to accomplish this superhuman feat. Aptly, the expedition is named CONQUERING DREAMS 
In 2017, Nepal banned solo, blind, and double amputee climbers from attempting to scale Mount Everest.
This was a huge blow to Hari, who was already planning his climb. He said he would climb the mountain regardless. Hari saw the ban as a door slamming in the face of everyone with a disability, and he wanted nothing more than to open it again. There are around one billion disabled people in the world today, that's around one billion people being told they cannot do something.  He called out the new regulations as discriminatory and was heavily involved in campaigning  and fighting the ban.
In 2018, Hari's campaigning paid off, with the help of the collective effort of disability organisations and people with disabilities, the ban was rightfully overturned.
Hari will be taking on new challenges to inspire people to conquer their dreams, and raise disability awareness.
Hari will give back to his country of birth by building a modern rehabilitation centre there, in Nepal disabled people are often forgotten about or ostracised; Hari will dedicate the rest of his life to change that. The centre will help people with disabilities overcome adversity and rebuild their lives.
Hari will inspire people to aim for the best, whilst helping them prepare for the worst. He will encourage others to accept who they are, take on new challenges and follow their dreams. He will campaign for 'universal accessibility', to make the world truly accessible for everyone. Hari will continue to champion awareness of disabilities around the world.
Hari says, "After reading or watching my story, if someone finds hope and a purpose to live before they give up, finds the courage to move forward when they are struggling, or finds the motivation to achieve something in their life; I would be happy that I made a difference."