Virendra Sharma MP joins cancer professionals outside Parliament to call for action to tackle record cancer waiting times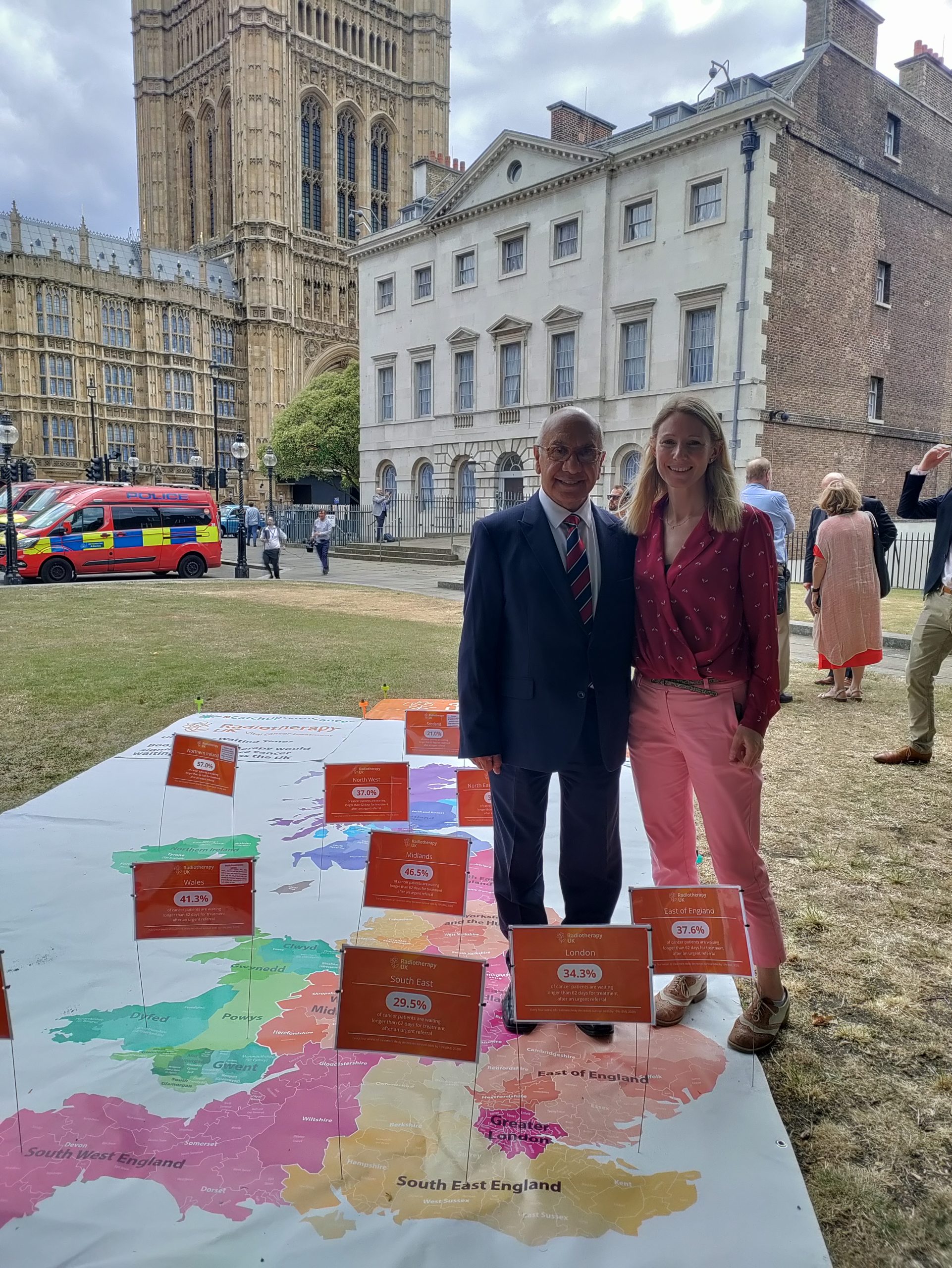 London — On Wednesday 6th July, Virendra Sharma MP joined a delegation of cancer professionals for an event highlighting the significant cancer backlog and record waiting times in cancer care. At the event, organised by the charity Radiotherapy UK and the #CatchUpWithCancer Campaign, a giant map was unveiled outside Parliament demonstrating waiting times in cancer care and the shocking scale of delay across the country.
The Government has set a target of no more than 15% of cancer patients waiting longer than the recommended 62 day wait between the date the hospital receives an urgent referral for suspected cancer and the start of the treatment. However, not one area across the country is meeting that target and, in some areas, cancer patients are waiting more than double the target wait time. In North West London, 31.6% of patients are having to wait longer than 62 days.
Whilst the Government is investing in diagnostic services, there are concerns that there are no plans to increase treatment capacity to deal with the inevitable rise in demand. The radiotherapy community are concerned that without expanding radiotherapy capacity, the cancer backlog and waiting times will continue to grow, and more people will die needlessly. They are calling for urgent Government action and investment to increase radiotherapy treatment services to catch up with the backlog and deliver world-class cancer care in the UK.
Professor Pat Price, leading oncologist, Chair of the charity Radiotherapy UK and co-founder of the #CatchUpWithCancer campaign said, "Right now, the Government is drawing up its 10-Year Cancer Plan. We are terrified that once again this much needed and overdue plan will be more of the same and offer too little too late.  We hope this visual manifestation of the scale of the problem will galvanise Ministers to see that radical action is needed. The cancer backlog numbers are horrific and are set to get even worse. It simply doesn't need to be this way.  In particular, a modest investment in radiotherapy will enable the sector to be a game changer in the battle against the backlog.  But instead of that, up until now the sector feels overlooked and burdened with the dead hand of bureaucracy."
Virendra Sharma MP said, "These waiting times are unacceptable and can lead to potentially devastating consequences for cancer patients. It is clear to me that urgent action is needed to address the backlog in cancer care and bring down waiting times. It is hugely important, therefore, that the Government expands treatment capacity in parallel with work to increase diagnosis capacity. Faster diagnosis will not make a difference to cancer outcomes unless patients can be treated. We must see the benefits of treatments such as radiotherapy fully utilised to get on top of the crisis in cancer care."