Thousands of expat Nepalese join the Nepali Mela in the UK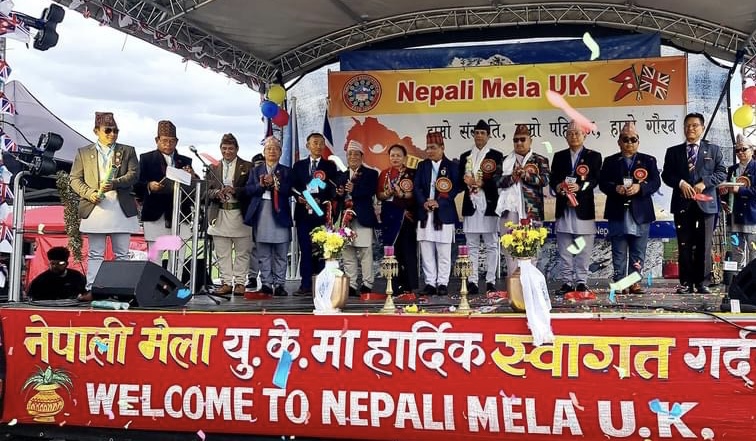 London — Thousands of Nepalese including Gurkha families living in the UK attended the Nepali Mela (Nepal Fair) on Sunday. The 13th episode of the annual fair was organised at Kempton Park Race Course on Sunday. Around three dozens Nepali ethnic and social organizations based in the UK showcased their art culture, costumes, lifestyle and traditions. The slogan of the fair was 'Our Culture, Our Identity, Our Pride'.
Chief guest, Ambassador of Nepal to the UK, Gyan Chandra Acharya, mentioned that  'whole Nepal' was reflected in Britain. Thanking the organisers for holding a big festival reflecting the diversity of Nepal, Ambassador Acharya said that despite being far away from Nepal, Nepali Mela has been playing an important role in bringing alive Nepalese art, culture, tradition, costumes and language. The embassy also supported the fair.
President of Tamudhee UK, Hitkaji Gurung, said that since 2009 Nepali Mela has become one of the most prominent events of the Nepali community in the UK. He said that the fair was successful with everyone's cooperation amid financial challenges. Tamudhee UK is the organiser of the event.
General Secretary of Tamudhee UK, Parashuram Gurung, Mela Coordinator and Tamudhee UK Vice President, Hari Gurung, thanked all for their support and encouragement. They hoped that the Fair would help the new generation growing up in the UK aware of their culture and heritage.
Ghandruk Samaj UK won this year's Ambassador Cup for being the best among the cultural tableaus and dances presented at the fair. Last year's winners Sikles Parche Society UK came second and Tamu Society UK became third.
Ghandruk Samaj UK, the winner of the 'Ambassador Cup' sponsored by the Nepali Embassy in London, received the cup along with 1,100 pounds in cash. Second place winner Sikles Parche Society UK received a cash prize of £700 and third place winner Tamu Society UK received a cash prize of £500.
Among the tableaus presented in the fair, Sikles Parche Samaj UK managed to get the first place. Similarly, Ghandruk Samaj UK and Kirant Rai Yaokkha managed to grab the second and third place respectively.
In the cultural dance competition, Tamu Samaj UK came first while Ghandruk Samaj UK became second.
Nearly 5,000 Nepalis, including diplomats from neighboring countries India, Pakistan and Bangladesh, attended the fair.