The Queen is dead. Long live the King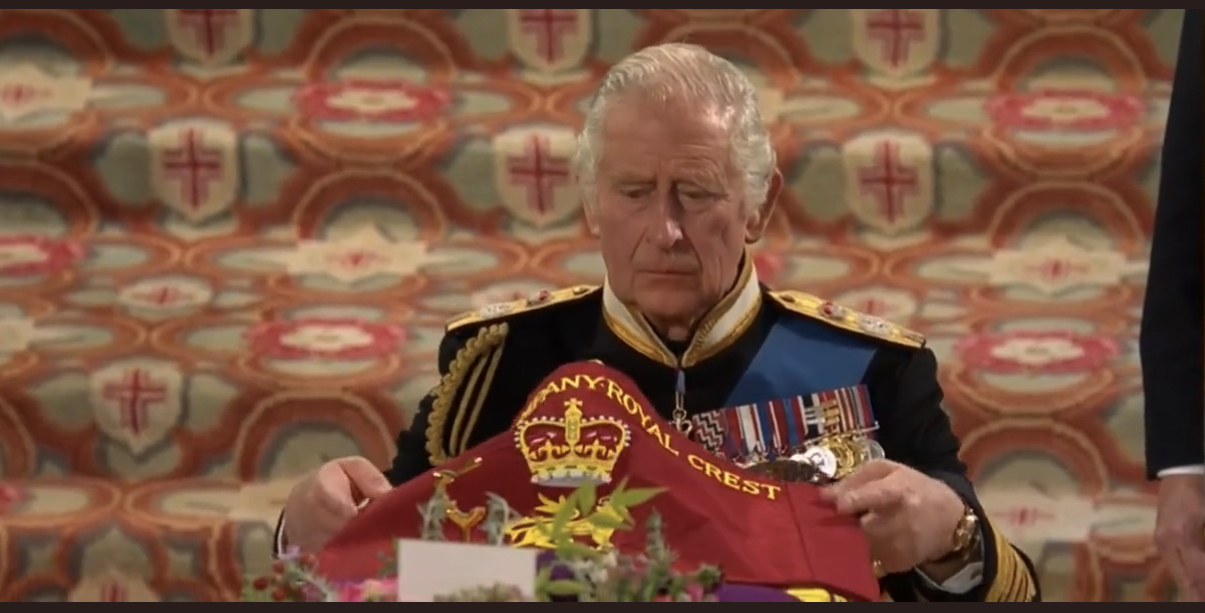 By Bhagirath Yogi in London
On Monday, 19th September, hundreds of global leaders including US President Joe Biden, French President Emmanuel Macron and Japanese Emperor Naruhito attendedthe state funeral of Queen Elizabeth II. Foreign Minister Dr Narayan Khadka was also present representing Nepal.
Queen Elizabeth's coffin was buried near the coffins of her late husband and other members of the royal family at St George's Chapel at Windsor Castle  amidst a private ceremony on Monday evening. She passed away peacefully on September 8th at the Balmoral Castle in Scotland. Prince Charles was promptly proclaimed as new King of the United Kingdom. Tens of thousands of people paid their respects as the body of late Queen was lying in state at the Westminster Hall in central London.
An era comes to an end
The death of the longest reigning monarch in the British history was bound to create a big void in the national psyche. Though the British got a new monarch without much hassle, the void left behind by the death of the 96-year-old monarch, who reigned for 70 years, will be difficult to fill in, if not impossible.
"To all the people of England, all the people of the United Kingdom, our hearts go out to you and you were fortunate to have had her for 70 years. We all were," said US President Joe Biden after arriving in London during the weekend.
Like the rest of the world, Britain has changed a lot over the last 70 years. When Queen Elizabeth II ascended the throne in 1952, Britain was the third largest economy in the world. But, lately its former colony, India, has superseded it by pushing the UK to the sixth position. According to The Economist,  in 1953, of 50.6 million people in Britain, only 8 million were 60 or older- a ratio of 2.7 to one. The population since has grown to 67 million, and aged. The ratio of young to old is 1.4 and falling.
"Britain is living through times of great change. After a succession of crises – Brexit, Covid-19, partygate, four prime ministers in six years – now one of the last symbols of stability is gone with the passing of Queen Elizabeth II," commented The Guardian newspaper.
For King Charles III, keeping the country with much more racial and cultural diversity unified would be one of the major challenges. But, Ravi Jung Lamichhane, a London-based businessman and philanthropist who queued for up to 13 hours on Sunday to pay his respect to the late Queen, said he saw people of all ages, colours, from all corners of the UK and abroad queuing up to pay their respect to the late monarch. "Even those who could not stand in the line for so long came to show their solidarity towards us. It was quite heartening,'' he added.
Queen Elizabeth's legacy
Analysts say Queen Elizabeth's main legacy has been her devotion to the nation and people and her sense of duty. She resumed her public duties days after her husband, Prince Philip, died last year. "Queen Elizabeth was a constitutional monarch, not a political leader with real powers, and one who was required to serve an ever-changing set of realms, peoples, institutions, and ideas that were no longer as obviously compatible as they had been when she ascended to the throne. The Queen's great achievement was to honor the commitment she made to an imperial nation and its empire as a princess even as it became a multiethnic state and a Commonwealth ," wrote Tom McTague in The Atlantic magazine.
Even in the late nineties, she would enjoy cutting ribbons, meeting people from all walks of life and chatting with them. "Not only people from the UK and Commonwealth, I have the feeling that people from across the world loved and respected her," said Lachhya Gurung, a former Gurkha and former Deputy Mayor of London Borough of Barnet.
Two Queen's Gurkha (QG) Captains always stood behind the Queen and her ADC during the investiture ceremonies. "She was so sympathetic and spoke with her subjects and visitors with love, warmth and empathy,' said a former QG, who has been promoted as a Gurkha Major and did not want to give his name. Tens of Thousands of Gurkhas fought for the Crown in theaters of war around the world, many of them winning VCs and other bravery awards. Thousands of them died.
Nepal-UK relations span for more than 200 years. The UK is one of the largest development partners of Nepal. From infrastructure to policing, energy and girls education, British aid has helped Nepal's development endeavours.
The secret of royal popularity
So, what is the secret of the popularity of a monarch who doesn't have any political powers? 'He who loses support of the people is king no longer,' wrote Aristotle more than two millennia ago. Making the institution relevant will be the greatest test of the British monarchy, which has been changing to a great extent along with the changing times.
'I have seen Queen Elizabeth II as the monarch since I arrived in the UK more than four decades ago," said Dr Raghav Dhital, OBE. "But, I have noted that the monarchy has always tried to feel the people's pulse and behave accordingly."
King Charles, the longest waiting monarch-to-be, knows where exactly the shoe pinches. Divorce with his first wife, Princes Diana, in 1996 and her death in a car crash in Paris a year later were one of the greatest challenges for the British monarchy in modern times. Wounds may not have healed completely as seen by the awkward relationship between Prince Harry, his wife Meghan and other royals. But besides keeping his family together, King Charles III would also need to keep the fabric of the nation together. As British politicians continue to spar among themselves to locate Britain's place in the world after Brexit, his job would be to keep nudging them from behind the curtain.  A tall order, indeed but not impossible. The Queen is dead, long live the King.