Mayor announces capital's Diwali on the Square celebrations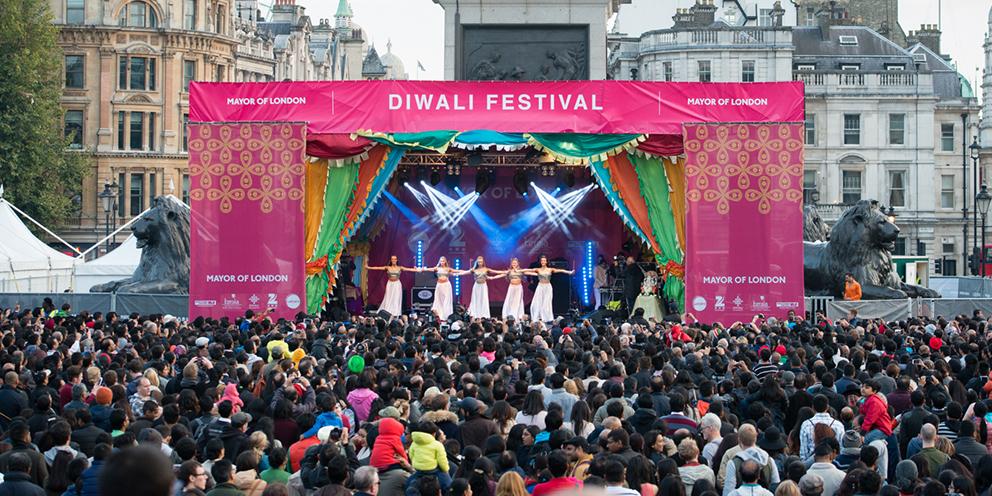 London — The Mayor of London, Sadiq Khan, has announced that Diwali on the Square will take place on Sunday 9 October with a host of entertainment on offer suitable for all ages in Trafalgar Square from 1 to 7 pm. 
The capital's celebration of the Festival of Lights will see Londoners and people from around the world come together at Trafalgar Square to enjoy a fantastic array of dance, music, activities and food.
The Mayor of London's free annual event is family-friendly and delivered in partnership with the Diwali in London committee. It will open with 200 colourfully dressed dancers in the main square followed by an exciting mix of performances from artists drawn from London's Hindu, Sikh and Jain communities.
From 1-7pm, there will be a host of activities to enjoy including Neasden Temple's Diwali Festival Experience, dance workshops, yoga and meditation, Glimpse of Goddesses, sari and turban tying, the Diwali Culture Zone, the Unity Marquee, Soho Theatre Comedy and a Children's marquee, plus henna and face painting.
An array of South Asian food stalls will be serving up delicious traditional and fusion, vegan and vegetarian cuisine.  
"Diwali on the Square is always special as Londoners and visitors of all ages come together to celebrate the Festival of Lights, with a glorious blend of music, culture, food, and art.
"Thanks to the generosity of the Hindu and Sikh neighbours I grew up alongside, I have been lucky enough to experience, on many occasions, the joy and unity that Diwali brings and I know Londoners across our city will be joining together with their families and friends to celebrate.
"I want to take this opportunity to wish all those celebrating a very happy Diwali." The Mayor of London, Sadiq Khan, said.