Nepalese living abroad should get voting rights as soon as possible: Chairman Timilsina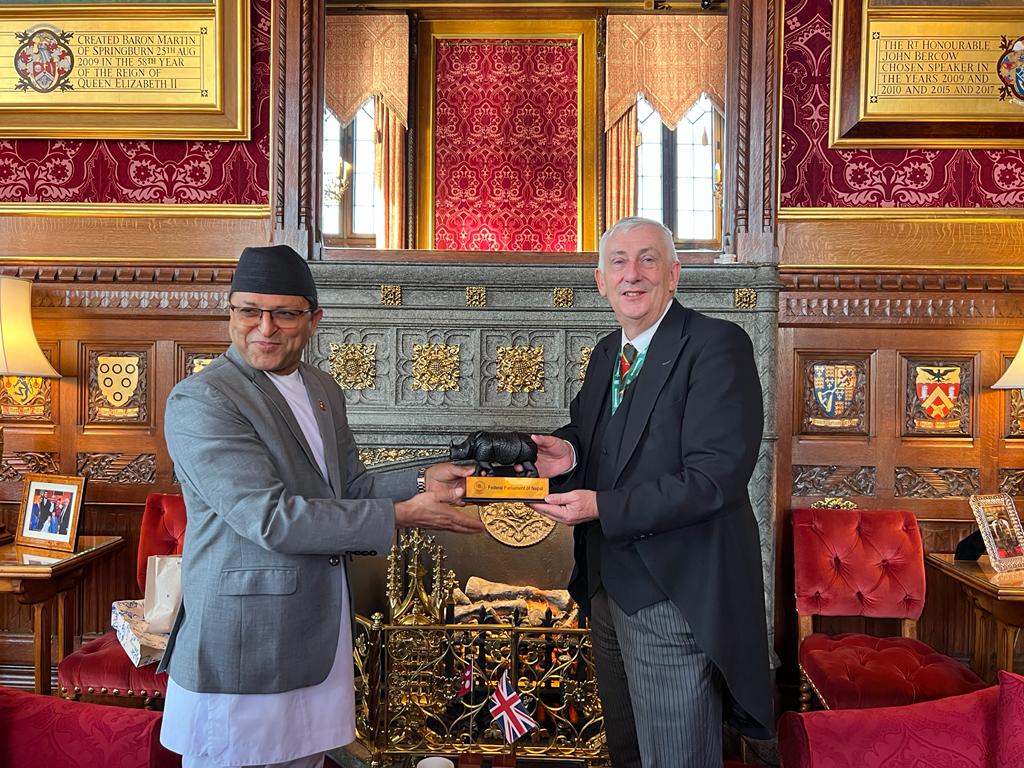 London — Chairman of National Assembly- the Upper House of the Nepali parliament – Mr. Ganesh Prashad Timilsina met with Sir Lindsay Hoyle, the Speaker of House of Commons of the UK.  During the meeting, varuous issues of historical relations between Nepal and the United Kingdom were discussed.
Similarly an exchange of experiences between the parliaments of the two countries and  exchange of views on Gurkha related issues were held. He was accompanied by the  Ambassador of Nepal to the United Kingdom, Mr. Gyan Chandra Acharya , Honorable Member of the Inclusion Commission, Mr Puspa Raj Timalsina and Deputy Head of the Embassy  in the meeting.
Sinilarly, the chairman of the UK-Nepal Friendship Group in the British Parliament, Honorable Mr. Birendra Sharma, organized a meeting in his honor. Attended lunch.
Chairman Sharma also attended other various program organised by British Nepalese community during his 1 week unofficial visit to the UK.
In a program organised by NRNA, he  stated that Nepali citizens living around the world should get an opportunity to cast their votes as soon as possible.
Addressing a program organised in his reception by Non Resident Nepali Association (NRNA) UK Chapter on Saturday,  Mr Timilsina said that Nepali political parties should come forward to provide the Non Resident Nepali citizenship to NRNs living abroad as enshrined in the country's constitution.
Member of the National Inclusion Commission, Mr Puspa Raj Timilsina, said that Nepalese should learn skills, earn resources and return to contribute to the motherland. 'It is possible to go back to Nepal at any age and time if you really wish to do so,' he added.