Sri Lankan officials asked to travel in economy class amid economic crisis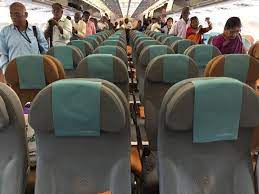 COLOMBO — Sri Lankan officials have been required to purchase economy class air tickets for official travel abroad to ensure that government resources are utilized efficiently, the President's Media Unit (PMD) said on Thursday.
President's Secretary Saman Ekanayake has issued the directive, which will take effect from March 1, on the instructions of President Ranil Wickremesinghe, according to the PMD.
Officials such as the chief justice, justices of the Supreme Court, chairman of the Court of Appeal and justices of the Court of Appeal are exempt from booking economy class tickets.
If an officer needs to travel in business class, they may do so at their own expense, paying the difference between an economy and business class ticket, according to the directive.
The measure aims to ensure that government funds are used only for essential purposes and that resources are utilized efficiently.
This directive comes amid the current economic and financial challenges facing the South Asian country, and it is expected to help alleviate some of the pressure on government funds, said the PMD.(Xinhua)