Staffordshire theatre invites local people with South Asian heritage to share family stories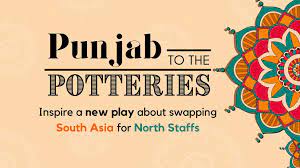 Staffordshire Theatre Invites South Asian Community to Share Their Migration Stories for New Plays
The New Vic Theatre in Staffordshire, England, is calling on the local South Asian community to share their family stories of migration for a chance to have them transformed into new plays. The project titled "Punjab to the Potteries" aims to capture the experiences of those who migrated from the Punjab region in India and Pakistan to the Stoke-on-Trent area. The New Vic Theatre and local arts company, Appetite, have commissioned two scriptwriters, playwright Shahid Iqbal Khan and writer and director Sarah Bedi, to write the plays.
The inspiration for the project came from Val Bansal, a local man who shared his family's migration story. Bansal's father, Baldev, was one of the first Sikh families to arrive in Stoke-on-Trent as a teenager in 1964, and his grandfather, Rattan, had moved from India to Kenya before settling in England. Members of the public are invited to an open storytelling event in Newcastle-under-Lyme on 28 April, where they can share their experiences and stories, BBC reported.
Gemma Thomas, director at Appetite, said that the project aims to capture and celebrate people's experiences of migrating to the Potteries, or being born and raised in a South Asian family. She added that the stories and memories of those who took similar journeys will be captured for future generations.