"U.N. Secretary-General Urges World to Wake Up to Looming Climate Disaster, Calls for Fossil Fuel Phase-Out"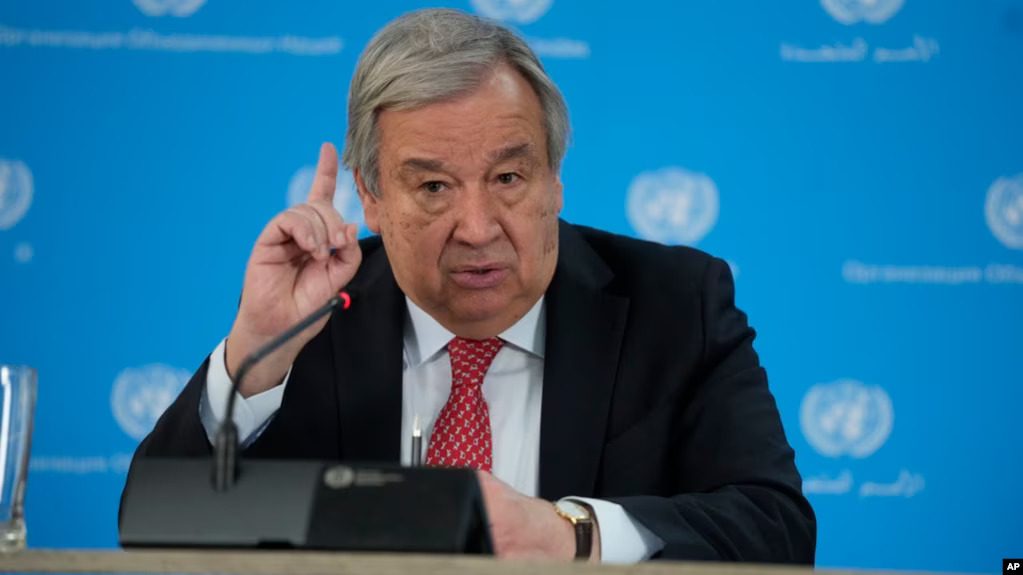 New York – In a strong statement, the U.N. Secretary-General, Antonio Guterres, has warned that the world is hurtling toward a climate catastrophe while refusing to acknowledge the urgency of the situation. Guterres pointedly criticized the fossil fuel industry, identifying it as the epicenter of the climate crisis.
Addressing reporters at the United Nations after meeting with civil society climate advocates, Guterres highlighted that current policies are projected to lead to a 2.8-degree Celsius temperature rise by the end of the century. This alarming scenario spells catastrophe, yet the collective response remains woefully inadequate.
Under the landmark 2015 Paris climate agreement, nations committed to limiting global temperature increase to 1.5 degrees Celsius above pre-industrial levels. To achieve this goal, U.N. climate scientists assert that greenhouse gas emissions must peak before 2025 and decline by 43% by 2030.
Guterres unequivocally stated, "Let's face facts. The problem is not simply fossil fuel emissions; it is fossil fuels—period." He outlined the clear solution of phasing out fossil fuels in a just and equitable manner, leaving oil, coal, and gas in the ground where they belong, and substantially increasing investments in renewable energy as part of a just transition.
The secretary-general emphasized that he was not launching an attack on oil and gas companies. Instead, he urged these companies to utilize their existing technologies, capacities, and resources to become leaders in the transition to renewable energy.
"I encourage fossil fuel companies that are currently reaping massive profits to utilize their financial resources and take the lead in investing in renewables and the green economy," Guterres urged. "This would enable them to navigate the transition and remain vital and relevant players in the global economy."
Guterres underscored that the oil and gas industry recorded a staggering $4 trillion net income in 2022. However, for every dollar spent on drilling and exploration, a mere 4 cents were allocated to clean energy and carbon capture initiatives.
While acknowledging that the transition away from fossil fuels will not happen overnight, the U.N. Secretary-General believes it is within reach if governments commit to key measures. These measures include a halt to new coal projects and a complete phase-out of coal by 2030 in the 38 countries comprising the Organization for Economic Cooperation and Development (OECD), and by 2040 worldwide. He also called for an end to licensing or funding new oil and gas projects, a cessation of expanding existing reserves, and a redirection of subsidies from fossil fuels to renewables.
With only five months remaining until the next U.N. climate review conference, COP28, to be held in Dubai, the U.N. chief is urging robust commitments, particularly from the G20 nations. As major global economies and significant emitters, the G20 countries have a crucial role to play in combating climate change and charting a sustainable future.