Dr Sanduk Ruit felicitated at Nepal embassy in London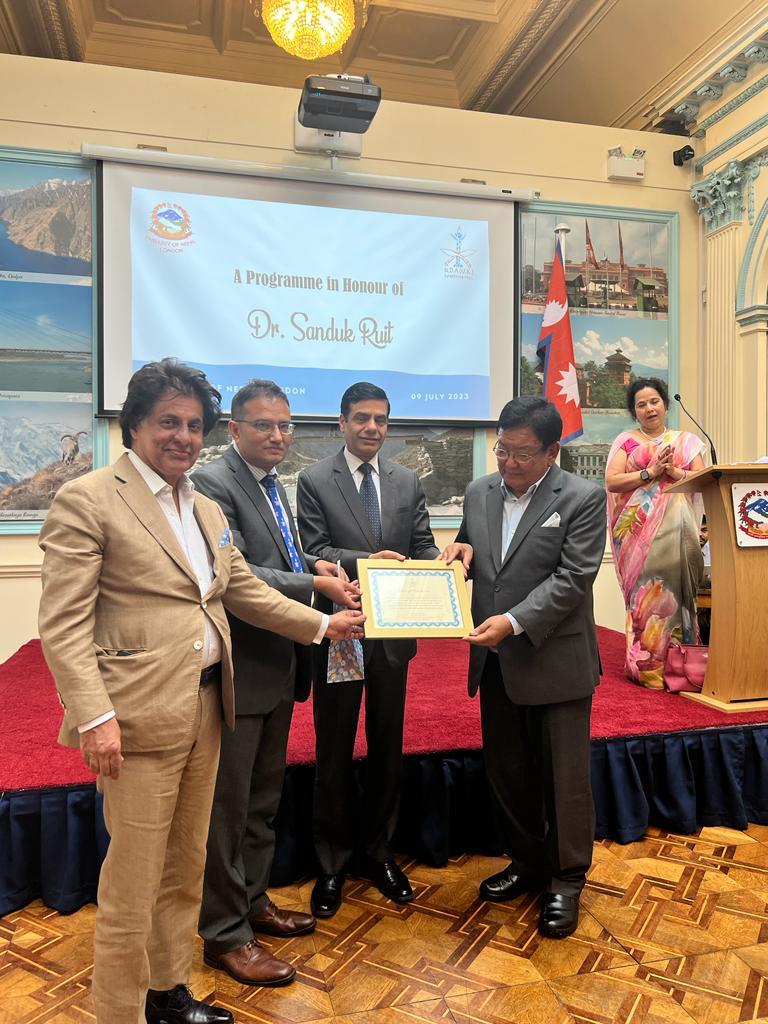 London – Nepalese Doctors Association (NDA) UK and Nepalese Embassy, London, organised a felicitation programme to honour senior ophthalmic surgeon, Dr Sanduk Ruit, at Nepali Embassy in London on Sunday. 
Ambassador of Nepal to the UK, Gyan Chandra Acharya, said this was time of pride and honour to all Nepalese to see Dr Ruit's many awards on transformational work he has been doing. He congratulated him on his forthcoming award of Doctors of Science (D Sc) being awarded by Anglia Ruskin University on 11th of July.
Chairman of NDA UK, Dr Kamal Aryal, recollected his emotional personal story on how he had been guided by Dr Ruit to get to the oldest medical school in South East Asia, Calcutta Medical College, and become a Doctor and how he felt to felicitate the 'God of sight'. He spoke about the work NDA UK had done over the last few years.
Mr Tej Kohli, a UK-based businessman and philanthropist, spoke about his partnership with Dr Ruit and their very impactful work on curing blindness on over 50,000 patients over the last couple of years. He said the Tej Kohli Foundation, in collaboration with Ruit Foundation, aim to screen one million eye patients and conduct cataract surgery of 300,000 to 500,000 people by 2030.
In a motivational speech, founder of Kathmandu-based Tilganga Institute of Ophthalmology, Dr Sanduk Ruit, said how cure of blindness improved not only eye health but also general heath, family relations and economic condition of the patient.
The event was conducted by Dr Arati Hamal, executive committee member of the NDA UK. She welcomed all and cited the works done by Dr Ruit. The proceeds raised from the registration of the delegates will go towards Dr Ruit's Charity.