Extreme Summer Weather Ravages Asia, Governments Warn of More to Come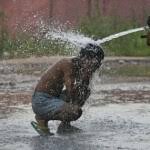 Hongkong— Asia, the world's largest and most populous continent, is currently grappling with the devastating effects of extreme summer weather. Several countries are experiencing scorching heatwaves and record-breaking monsoon rainfall, prompting governments to issue warnings to residents to brace themselves for further challenges.
In the past month, torrential rains have caused flash floods, landslides, and power outages in Japan, China, South Korea, and India, affecting millions of lives. Tragically, the heavy downpours have claimed numerous lives and resulted in the displacement of thousands of people. Vulnerable communities, especially the elderly, are particularly susceptible to heat-related illnesses exacerbated by record-breaking temperatures.
South Korea has been particularly hard-hit, with at least 41 deaths and thousands of evacuations reported in central and southern regions of the country. In response to the loss of life, South Korean President Yoon Suk Yeol has called for a fundamental shift in the country's approach to extreme weather, emphasizing the need to acknowledge and address climate change.
Neighboring Japan has also experienced record rainfall, leading to devastating flooding and several fatalities, with many individuals still missing. The Japanese Meteorological Agency has issued statements urging maximum vigilance from affected residents.
This pattern of extreme weather events is not limited to Japan and South Korea. Widespread flooding in the Philippines, Cambodia, and parts of India has disrupted transportation systems and daily life, while record rainfall in Delhi caused the city's wettest July day in over four decades. As a result, schools were closed, and many people were left without shelter.
While some areas are struggling with heavy rainfall, others are enduring blistering heat. China recorded a record high temperature of 52.2 degrees Celsius (125 Fahrenheit), and Japan saw temperatures rise to 39.7 degrees Celsius (103 Fahrenheit). These scorching temperatures are part of a broader trend in China, which has experienced intense downpours and flooding, primarily in the southern regions.
Scientists have repeatedly warned that the frequency and intensity of extreme weather events will continue to escalate due to human-caused climate change. The World Meteorological Organization has stated that the world is on track to surpass critical climate thresholds within the next five years. Asia, with its vast population of 4.4 billion people, remains particularly vulnerable, as water shortages, crop failures, and economic slowdowns become more common.
Last year, Pakistan experienced catastrophic flooding that resulted in numerous deaths and left millions homeless. Prime Minister Shehbaz Sharif warned that the effects of climate change would not spare any country and called for global cooperation to address the issue.
India, the world's most populous nation, is also expected to be severely affected by the climate crisis. Recent heatwaves followed by severe flooding have caused significant disruption, displacing thousands of people and resulting in loss of life. Monsoon season in India, which lasts from June to September, typically brings about severe flooding and landslides.
The impact of these extreme weather events is particularly harsh on the poor, who make up a substantial portion of the affected populations. Urban slums, where approximately 35% of India's population resides, are especially vulnerable to floods. Climate change is exposing the stark reality that the poor are often the most affected, despite not being the main contributors to the problem.
The recent extreme weather events in Asia serve as clear warnings of the future consequences of climate change. Urgent action and global cooperation are crucial to mitigate the devastating effects on human lives, economies, and the environment.(CNN )