Co-Founder of South Asian Heritage Month Calls for Celebration and Education to Challenge Stereotypes and Discrimination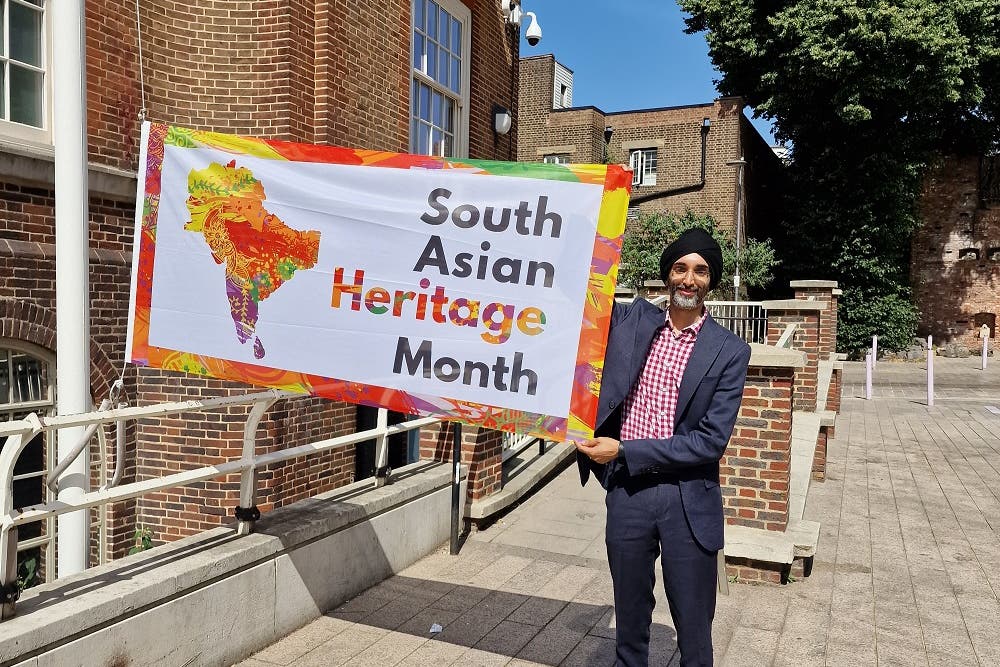 London, UK – Jasvir Singh, one of the co-founders of South Asian Heritage Month (SAHM), is hoping that the month-long celebration of South Asian identity will serve as a platform to challenge prevailing stereotypes, misogyny, racism, and other forms of discrimination within society. SAHM, organized in collaboration with the South Asian Heritage Trust, takes place annually from July 18 to August 17, focusing on the rich histories of countries such as India, Pakistan, Afghanistan, Nepal, Bangladesh, Sri Lanka, Bhutan, and the Maldives.
Describing SAHM as a "celebration of South Asian identity," Jasvir Singh, a 42-year-old barrister, emphasized the three key aspects of the month: celebration, commemoration, and education. Singh explained that the celebration aspect is self-evident, while the commemoration aspect is tied to significant historical dates. July 18 marks the day in 1947 when the Independence of India Act received Royal Ascent, and August 17, 1947, is the date when the Radcliffe Line, defining the border between India and newly formed Pakistan, was announced.
Singh stressed the importance of the education aspect, which allows for open discussions on what "South Asianness" means in the present day while also acknowledging the region's historical context. He expressed gratitude to existing monthly celebrations, such as Black History Month and Pride Month, which inspired the creation of SAHM. By using these as blueprints, SAHM aims to facilitate conversations about South Asian heritage and identity.
Reflecting on the establishment of SAHM in 2019, Singh recalled a pivotal moment shared with Binita Kane, a consultant respiratory physician in Manchester, over a cup of chai. The 70th anniversary of the events of 1947, including the independence of India, the creation of Pakistan, and Partition, sparked a desire among South Asians to reclaim their identity and understand their collective history. With this in mind, SAHM was conceived to sustain the momentum generated in 2017 and broaden the focus beyond Partition.
Each year, SAHM adopts a different theme, with this year's theme being "stories to tell." Singh explained that the theme is inclusive and encourages everyone to share their personal stories. He shared his own experiences as a married gay Sikh man but expressed curiosity about the stories of others, including their parents, grandparents, and friends. Submissions of stories will be featured on the Trust's website, and the enthusiastic response from many individuals already showcases the promising future of the initiative.
Growing up, Singh embraced his South Asian roots, which he described as an inherent part of his identity. He emphasized his dual identity as British and South Asian, highlighting the bilingualism of his family and his regular visits to the Gurdwara. Recognizing the importance of providing others with similar opportunities to appreciate their own identities, history, and culture, Singh stressed the need for broader societal understanding and acceptance.
When asked about notable advancements for the South Asian community, Singh acknowledged the significance of having the first non-white Prime Minister of South Asian heritage, although he also acknowledged that not everyone may share his political views. He also highlighted the groundbreaking moment when CBeebies, a British children's channel, featured a bedtime story narrated by the first British cricketer in a hijab, showcasing greater representation.
However, Singh acknowledged that there is still a long way to go in challenging stereotyping, misogyny, racism, and other forms of discrimination. He emphasized that not every South Asian individual aspires to become a lawyer, doctor, or accountant, and not every South Asian woman is disempowered by her family. While celebrating milestones, Singh urged against complacency and stressed the ongoing need for education and efforts to address systemic issues.
South Asian Heritage Month serves as a vital platform to celebrate, commemorate, and educate, contributing to a more inclusive and informed society. By promoting understanding and challenging stereotypes, SAHM aims to pave the way for a brighter future, where South Asian individuals and their stories are recognized and respected.