Sri Lanka repairs 175 discarded passenger buses for reuse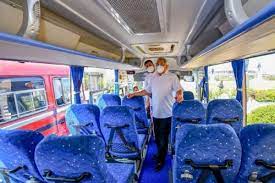 COLOMBO (Xinhua) — Sri Lanka has repaired 175 buses belonging to the state-run Sri Lanka Transport Board for reuse, a statement from the President's Media Division (PMD) said on Tuesday.
The PMD said these buses had been taken out of service due to the lack of spare parts as a result of the country's import restrictions.
According to the PMD, the 175 buses were restored to operation at a cost of nearly 300 million Sri Lankan rupees (912,000 U.S. dollars).
Out of the 175 buses, 15 will be allocated for the transportation of school children, with the remaining buses to be handed over to respective bus depots to fulfill passenger transportation needs.