India and Britain Close to Signing Free Trade Agreement, Aims to Boost Economic Growth and Jobs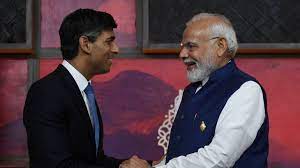 London — India and Britain are on the verge of finalizing a free trade agreement (FTA) as both nations have reached a consensus on the broad framework of the proposed deal. The agreement is aimed at enhancing economic growth and creating job opportunities in the two countries, according to a senior official from India's trade ministry.
Sunil Barthwal, India's commerce secretary, stated on Friday that negotiations on almost all contentious issues have been completed, and the deal could be signed "much before" the end of the year. This development comes after the conclusion of the 11th round of talks between the two nations in London during a visit by Barthwal and India's commerce and industry minister, Piyush Goyal.
The FTA holds significant importance for both India and Britain. For India, this would mark its first FTA with a developed country, building on its interim trade pact with Australia last year. India sees the FTA with Britain as a crucial step towards expanding its exports and solidifying its business-friendly image ahead of national elections next year.
On the other hand, for the United Kingdom, this agreement is part of its efforts to establish diversified global trade relationships after its exit from the European Union in 2020. The FTA would grant the UK wider access to markets for its premium cars, legal services, and renowned whisky.
Out of the 26 chapters in the FTA, discussions on 19 have been successfully concluded, including issues related to the sensitive automobile sector, as mentioned by Barthwal. However, some differences remain to be resolved concerning intellectual property rights, rules of origin, and an investment treaty.
While both countries have agreed in principle on the issue of investment rules, the specifics are still being worked out by the customs authorities of India and Britain. Barthwal emphasized that nothing is final until everything is agreed upon, and the next round of negotiations will be held shortly.
One of the crucial points of discussion revolves around India's push for a "zero tariff" policy for its textile, leather, and other labor-intensive manufacturing sectors. Conversely, Britain has sought tariff concessions in other areas.
Bilateral trade between India and the United Kingdom has seen a significant rise, increasing by 16.6 per cent year-on-year to reach $20.42 billion (£15.85 billion) in the fiscal year 2022/23, which ended in March.
The potential FTA signifies a landmark step in the economic cooperation between India and Britain, providing opportunities for growth and mutual benefits for both nations. As the negotiations enter the final stages, the agreement is expected to pave the way for stronger trade ties and enhanced economic collaboration in the years to come.