UK Prime Minister of Indian Heritage Makes Landmark Visit Amid High Hopes for UK-India Trade Deal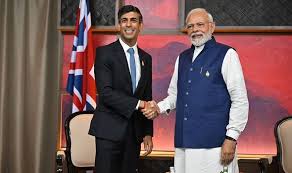 New Delhi – In a momentous occasion, Rishi Sunak, the Prime Minister of the United Kingdom, and the first-ever UK Prime Minister of Indian heritage, has arrived in New Delhi to attend the G20 summit, marking a historic homecoming for the leader.
The "Living Bridge" Between Nations:
Downing Street has hailed Sunak's visit as a "powerful reminder of the living bridge between the two countries," emphasizing the strong cultural and economic ties that bind India and the UK. Accompanying him on this significant journey is his wife, Akshata Murty, who, born and raised in India, is the daughter of one of India's wealthiest individuals.
G20 Summit:
The primary reason for Prime Minister Sunak's visit is the G20 summit, which brings together leaders from the 19 largest global economies and the European Union. The G20's purpose is to facilitate discussions among nations that collectively drive the world's economy.
Diplomatic Dynamics:
However, the summit is not without its diplomatic intricacies. Notably, Russia's President Vladimir Putin is absent for the second consecutive year, drawing criticism from Sunak, who accused Putin of isolating himself diplomatically. Additionally, China's President Xi Jinping is also notably absent, raising questions about the dynamics within the G20.
UK-India Trade Talks:
During his visit, Prime Minister Sunak is expected to meet with Indian Prime Minister Narendra Modi, and discussions are likely to focus on a UK-India free trade agreement. There is growing optimism that a deal may be reached soon, with India's Finance Minister expressing hope for an agreement by the end of the year. However, the issue of visas and business mobility remains a potential sticking point.
Historical Significance:
Beyond the politics and diplomacy, this visit carries profound historical significance. It is a moment when a British Prime Minister of Indian heritage is visiting a former British colony that is now hosting a significant portion of the global economy through the G20 summit.
As the world watches, all eyes are on the outcome of the UK-India trade talks and the potential for strengthened ties between these two nations, grounded in shared history and a vision for a prosperous future.