Nepali embassy in London marks Nepal's National Day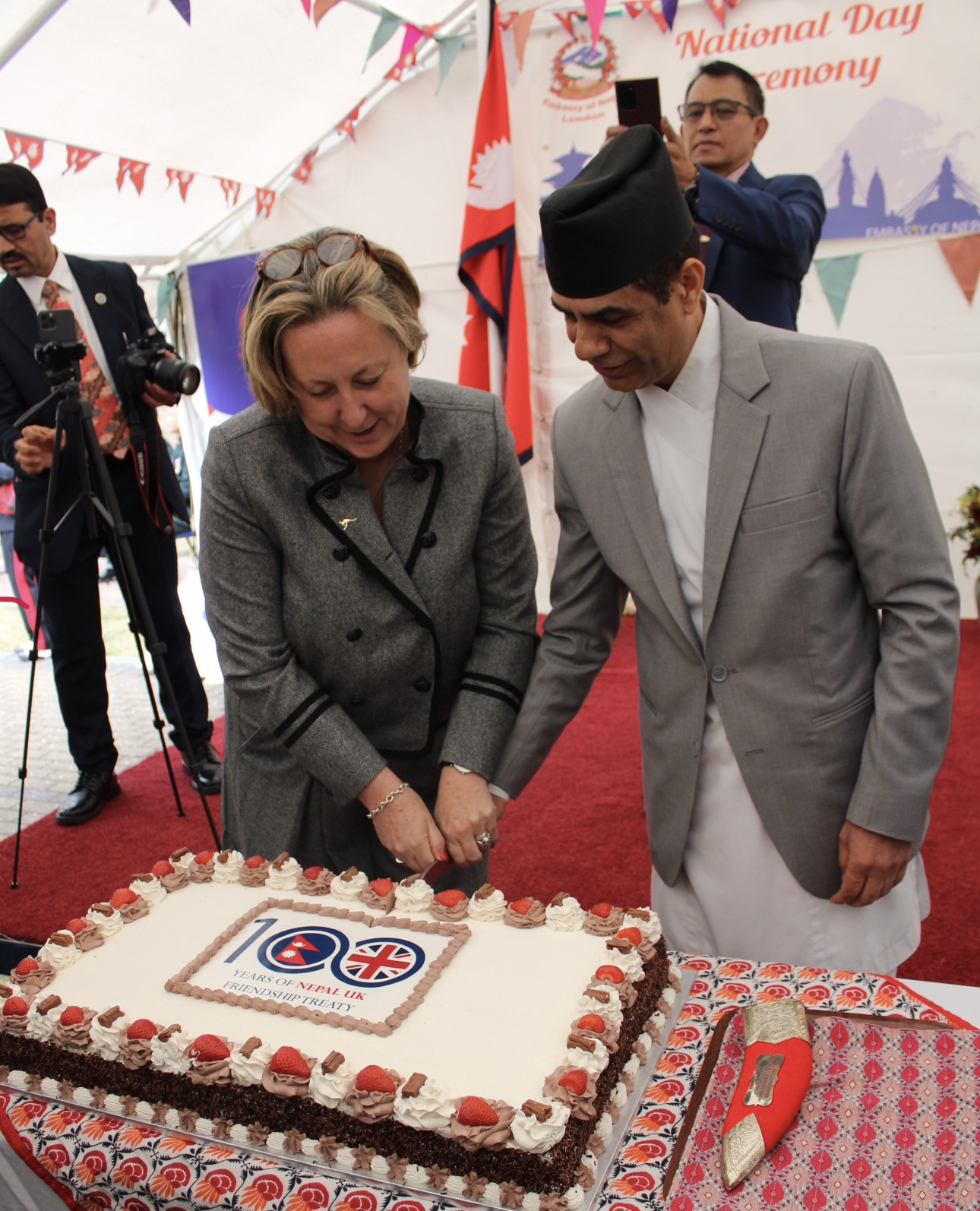 London – On the occasion of the National Day of Nepal, a Special Ceremony was organised at the Embassy premises on Wednesday.
In his welcome remarks, Ambassador of Nepal to the UK, Gyan Chandra Acharya highlighted the importance of the current Constitution, its salient features and the foreign policy of Nepal. Sharing the progress made by Nepal in various areas over the decades, he stated that the government's efforts are now focused on achieving the solemn objectives of the Constitution, including through the restructuring of the economy and further enhancing the quality of life of people. He also informed about Nepal's contributions in promoting regional cooperation, and the world peace including through the UN peacekeeping operations around the world. "Nepal is now the second highest contributor to the UN Peacekeeping Force in the world," he said.
Ambassador Acharya highlighted the historic nature of the bilateral relationship between Nepal and the UK, with the foundational link of the British Gurkhas. He outlined that this relationship now covers many different areas including political, economic, commercial, investment, educational, people to people interactions and a growing presence of the Nepali diaspora. Highlighting the fact that this year is the centenary of the signing of the Nepal-UK Friendship Treaty of 1923, he underscored the significance of the treaty in ushering in a new era in modern diplomatic engagements. He also underlined the importance of the 70th anniversary of the first ascent of Mt. Everest.
In her speech as the Chief Guest, Anne-Marie Trevelyan, Minister of State in Foreign, Commonwealth and Development Office (FCDO), extended her best wishes on the constitution day of Nepal. Minister Trevelyan applauded the depth and warmth of Nepal-UK relationship, which has the potential to expand further into many different areas including trade, investment and collaboration on the issues of global concerns such as climate change. Recalling her visit to Nepal in March this year, she appreciated the cordiality of the people and the mutually beneficial relationship between the two countries. She expressed happiness over the important milestones in Nepal-UK bilateral relations including the centenary of the Friendship Treaty and the 70th anniversary of the first expedition of Mount Everest, which was led by the British team. She also highlighted the contributions of the British Gurkhas in expanding people to people ties between the two countries.
On the occasion, some Nepali cultural dances were performed by Nepali children artists in the UK. Nepali cuisines were served to the guests. The ceremony was attended by members of the British Parliament, senior government officials, British friends of Nepal, Ambassadors, High Commissioners based in the UK and leaders and representatives of the Nepalese community in the UK.