Health Exchange Nepal UK (HExN) Marks 15th Anniversary with Charity Ball in the UK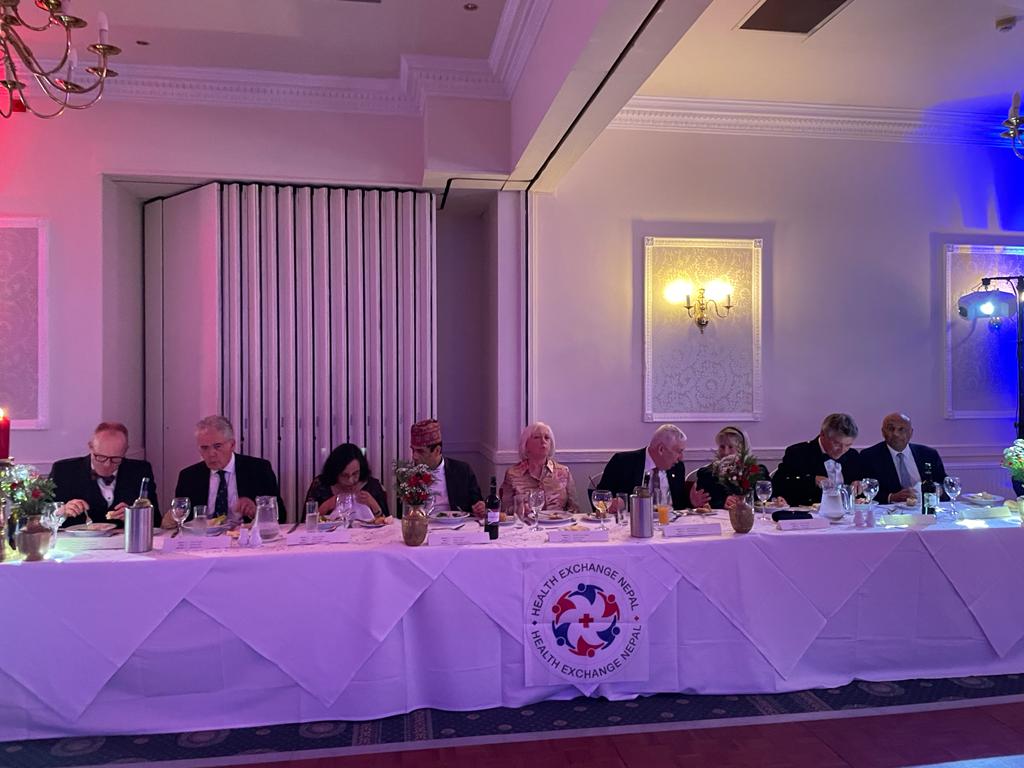 London — North-West England, September 23, 2023 – Health Exchange Nepal UK (HExN), a charitable organization dedicated to supporting healthcare initiatives in Nepal, celebrated its 15th anniversary with a grand charity ball. The event, held at the prestigious Shaw Hill Golf Course in North-West England, was attended by prominent figures, including Speaker of the House Sir Lindsay Hoyle and the Ambassador of Nepal, HE Gyan Chandra Acharya.
The guest list also featured renowned medical professionals, including President of the Royal College of Physicians of Edinburgh, Prof Andrew Elder, Immediate past President of the Royal College of Surgeons of Edinburgh, Prof Michael Griffin, and Member of Parliament Sir Mark Hendrick. A total of 170 attendees, primarily doctors from the UK and Nepal, graced the occasion.
In his address, Speaker of the House Sir Lindsay Hoyle expressed his deep gratitude to Nepali doctors for saving his life. He highlighted his commitment to supporting Nepal, referencing a recent event held at the Palace of Westminster to introduce the Kathmandu Institute of Child Health, a vital initiative backed by HExN.
The two Presidents, Prof Andrew Elder and Prof Michael Griffin, shared their close ties to Nepal through HExN and discussed various initiatives aimed at enhancing clinical training standards in Nepal. Prof Elder also revealed that the MRCP PACES examination will soon be conducted in Nepal, a significant development for medical education in the country.
Prof Satyan Rajbhandari, General Secretary of HExN, emphasized that the organization has been providing invaluable clinical and educational support to Nepal since its establishment in 2008. HExN has been involved in numerous training programs, disaster relief efforts during earthquakes and the COVID-19 pandemic, and has played a pivotal role in training doctors and nurses in the UK. The charity continues to grow in strength, providing a platform for the Nepalese diaspora to contribute to their homeland's well-being.
The evening's festivities included the serving of Nepali Beer called 'Khukuri' and captivating Nepalese dance performances by 11-year-old Mishika Thapa, Ms. Prasuan Kandel, and the couple Ramesh and Pramita Khoju. The night concluded with a lively disco featuring Nepali songs, thoroughly enjoyed by all the guests.
HExN's 15th-anniversary charity ball not only celebrated its significant accomplishments over the years but also reaffirmed its commitment to improving healthcare and medical education in Nepal. The event served as a testament to the enduring bond between the UK and Nepal in the field of healthcare.