Nepal underesells itself, British investors say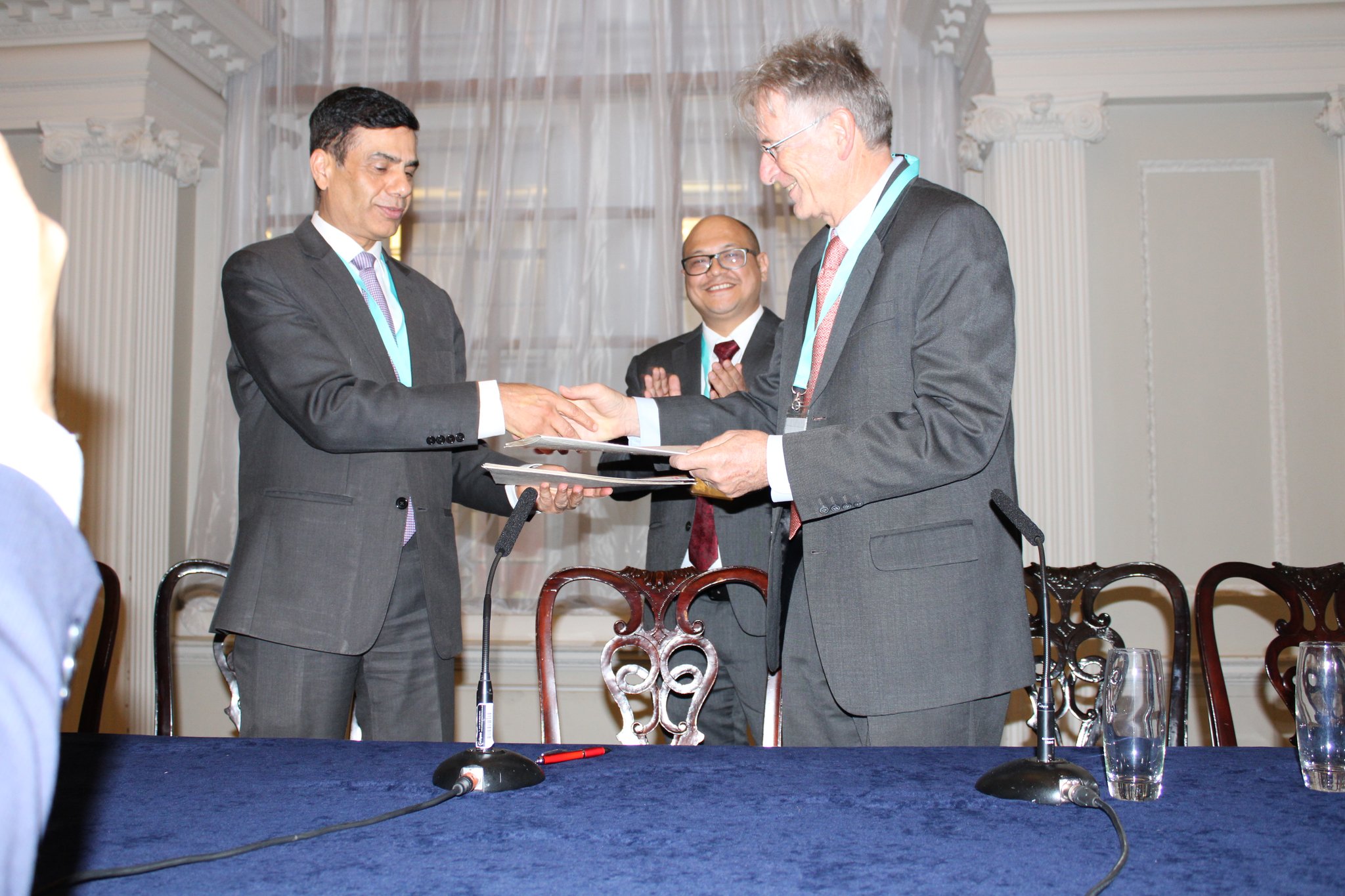 London – British investors have said that Nepal is underselling itself while trying to attract foreign direct investment.
Addressing a conference entitled "Emerging Nepal: Opportunities for impact investment and trade" at the Mansion House in London on Tuesday, Tim Gocher, founder and CEO of Dolma Impact Fund, said that Nepal is underselling itself.
"Nepal does what it says and has a rules-based system. We have USD 200 million worth of projects, two of them listed on Nepal Stock Exchange. Nepal Electricity Authority (NEA) pays quarterly bills to private power producers absolutely on time. It's a very open political economy. We had great experience of working with government agencies," said Gocher.
President of Federation of Nepalese Chambers of Commerce and Industry (FNCCI), Chandra P Dhakal, said that Nepal offered a lot of opportunities fo investment and trade. "Nepali products enjoy duty free market access to India, China, UK and EU, among others. International investors can produce in Nepal and export to the world. We invite British investors for collaboration in energy sector in Nepal, said Dhakal adding, "Nepal a popular destination for British tourists. Nepal is beocming a popular destination for wedding, MICE tourism, digital economy and ecommerce. The FDI help desk at FNCCI will facilitate you."
Ambassador of Nepal to the UK, Gyan Chandra Acharya, said that this was high time to look at Nepal as an emrging investment destination. "There is a willingness and desirability – really to go to the next stage – to attract investment in Nepal," he added.
Invest in Nepal
Finance Minister Dr Prakash Sharan Mahat, too, urged the British investors to invest in Nepal. "Examples from India, China, Korea and other economies show that FDI can serves as a catalyst for the growth of Small and Medium Enterprises (SMEs)," said Dr Mahat adding, "Nepal offers 100 percent foreign ownership in almost all sectors and 100 percent repatriation of profits for investors. There is huge investment opportunity in energy, transport, agri business, ICT, health, mines and minerals, education, health, construction, banking and finance, among others."
Chair of All-Party Parliamentary Group (APPG) on Nepal, Virendra Sharma, said that Nepal was located at the crossroads of Asia. "There is a need for both the development assistance as well as the private capital. Investment in the future we all want. Sustainable business has to be part of the sustainable development . Businesses want to work together, politicians should help that," he added.
Joint Secretary at the Investment Board of Nepal, Amrit Lamsal , said that Nepal was not landlocked but a landlinked country between two emerging economies. "Thanks to its strategic location, Nepal has access to two of the largest markets in the world – India and China. We are members of regional groupings and interantional organisations including SAFTA, BIMSTEC and WTO."
Deputy Governor of Nepal Rastra Bank, Bam Bahadur Mishra, said that Nepal welcomes investors. "No permission is required to bring funds to Nepal. For investments over Rs 6 billion you have to go to Nepal Investment Board and repatriation is very easy."
Colin Buckley, Managing Director at the British International Investment (BII), UK's development finance institution- said that Nepal is a perfect example of where development finance works. Nepal is a country with enormous resources. "The BII has invested over USD 100 million in the ICT and banking sectors," said Mr Buckley adding, "We provided capital to the WorldLink and NMB Bank to help sustain Nepal's economic growth. Nepal deserves a prosperous future. In partnership with the Nepal government we will work towards that."
Tim Reid, CEO of UK Export Finance, said that his Department has up to 1.5 billion Pounds available to support Nepal in trade finance. He urged British companies to go and invest in Nepal in areas including clean energy.
President of Independent Power Producers' Association of Nepal, Ganesh Karki (IPPAN), said that there was huge potential for hydropower development in Nepal. Some 3,000 MW of hydropower is already connected to the grid while nearly 5,000 MW of power is under construction. Out of that, 70 percnet of the projects are being developed by the private sector," said Karki adding, "The main issue is the capacity of Nepali banks to finance projects bigger than 100 MW. We need finance either in terms of loan or equity and we need funds to build bigger projects."
Chief Executive Officer of Invest for Impact Nepal, Bibek Shrestha, said that his company was trying to facilitate Development Financial Institutions (DFIs) in Nepal market. "We provide financial advislory to compankies so that they should be ready for investment from DFIs and impact investors," said Shrestha adding, "Information gap is huge in Nepal. We collect information and share with investors."
Former Swiss Ambassador to Nepal, Jorg Frieden, said that invsetment has to be socially responsible and environmentally positive. "Nepal will not grow unless it develops hydropower. But Nepal also needs SMEs to create jobs – from services to processing industries. Too much money is going into land, we need more productive investment," he said.
Managing Director of The Kandel Group, Rajen Kandel, said that his group runs eight educational institutions in Nepal where nearly 4,000 students are studying at the moment. "There is huge opportunity in Nepal in higher and vocational educatkional sector. Nepali students are spending approximately USD 600 million in overseas education per year. Higher education can offer a 19 million pound opportunity for UK service providers," he added.
A Memorandum of Understanding (MoU) was also signed between six DFIs – BII (UK), FMO (The Netherlands), Bio (Belgium), Finfund (Finland), Proparco (France) and Saifem (Switzerland- and the Ministry of Finace, Nepal with a view to faciliate invesetment in Nepal.
The conference was attended by representatives of leading British businesses, banks, insurance sector as well as officials, entrepreneurs and private sector leaders from Nepal.
(Photos credit: Embassy of Nepal, London)