Annual Bull fighting festival observed in Nepal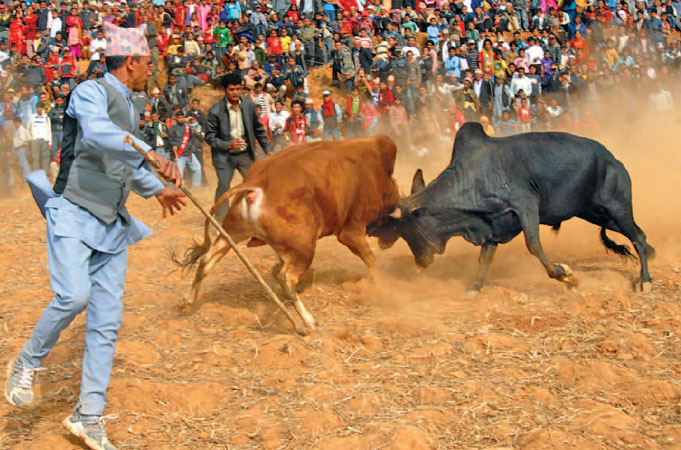 Kathmandu : Nepal  hosted a bull fighting festival on the occasion of  the Maghe Sankranti festival on Tuesday.
The annual winter celebrations as per the lunar calendar Maggie sankranti is one of the biggest festival in Nepal.
According to Hindu rituals this day is considered as the end of winter and the beginning of the summer season.
In order to make the day more special and fill with entertain Bull fighting festival has been annual event in Nuwakot and Dhading, districts that adjoin the Kathmandu valley.
Hundreds of people gathered in Taruka village of Nuwakot district, some 75 km from the capital city, to witness the fun-filled bull fight.
The event was inaugurated by Nepali Minister for Youth and Sports Jagat Bahadur Bishwakarma, who said it is important to preserve such fiesta carrying rich history and culture.
The bull fighting is believed to have been started in Taruka village some 200 years ago for entertainment purpose.
Unlike in other parts of the world, Nepali bull fighting includes both bulls and oxen in the field from different owners.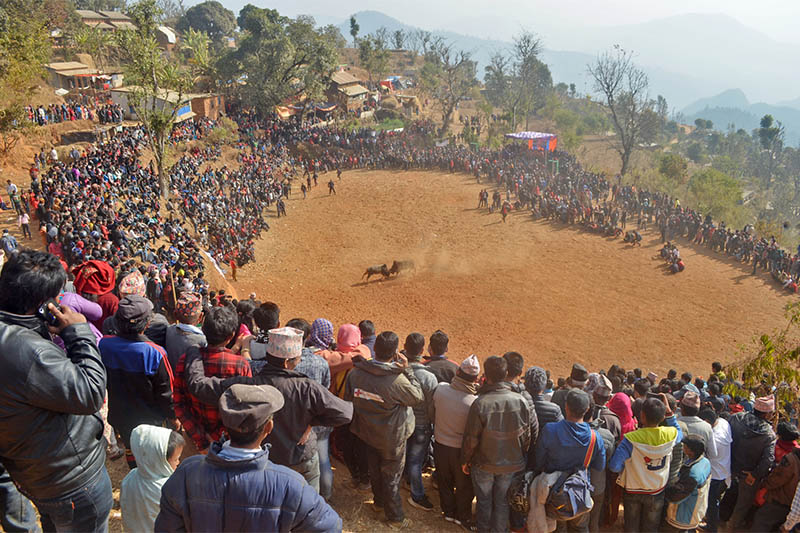 At least 22 pairs of bull competed this year in Taruka, where the bulls continuously fought for over an hour in the dusty playground.
According to locals, the competing bulls were selected on the basis of their physical fitness including length, height and age.
The bulls used for tilling lands are set free on this particular day for the event.
When the bulls went wild and rowdy during the warm winter afternoon, people screamed and cheered for their favorites.