Nepal has got political stability and policy improvement, it is 100% secure to Invest in Nepal: PM Oli in Switzerland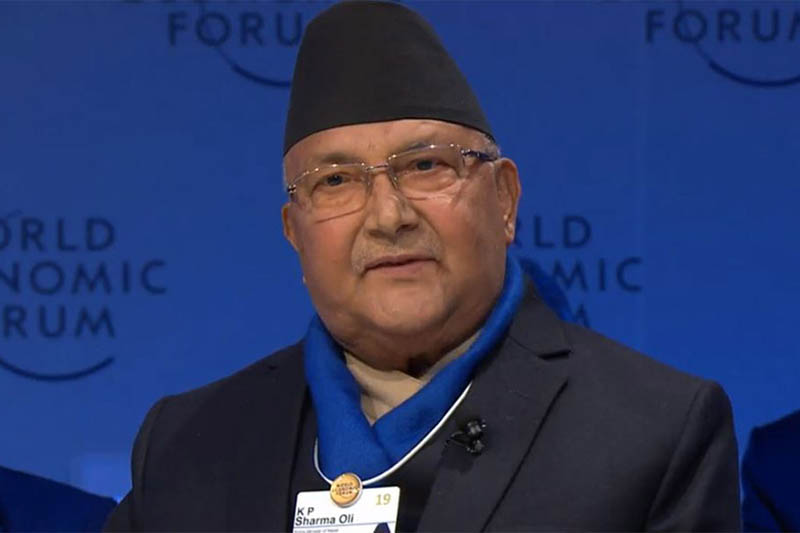 KATHMANDU: Prime Minister KP Sharma Oli has said that Nepal was moving towards stability in terms of politics and policies while speaking as a panellist in World Economic Forum's session titled 'Strategic Outlook on Sout Asia' in Davos of Switzerland on Tuesday.
PM Oli further said that Nepal now has clear and stable policies and is giving priority to the public as well as the private sector to create more job opportunities for young people.
"Nepal is trying to attract investments from outside in the productive sector to increase productions and create more jobs," PM Oli shared.
PM Oli reiterated that Nepal's railway and other connectivity to India and China are on the progress. "We are trying our best to develop understanding between the member states in the region. Trust is important to enhance regional cooperation."
Likewise, Prime Minister Oli said Nepal is giving due consideration to environmental conservation. "60 per cent of our land is allocated to climate conservation including 15 per cent to mountains and 45 per cent to forests. We are committed for sustainable development," the Prime Minister said in a question concerning climate change.
"Our motto is prosperous Nepal and Happy Nepalis, and we are concentrating all our efforts in order to realize this national desire," PM Oli said referring to attaining the sustainable development goal.
On a different note, PM Oli said, "We are also speeding up our collaboration with neighbours India, China and Bangladesh, doing due agreements and implementing them, and making policies internally to achieve the goal of development, control corruption and good governance."
As the chair of the SAARC, Prime Minister Oli said, Nepal is trying to increase cooperation among SAARC member countries and also hold the SAARC summit in the near future with the development of all-round ties between the members in the region.
Prime Minister Oli was joined in the session as co-panellists by Chief Executive of Afghanistan Abdullah Abdullah, former governor of India's Central Reserve Bank Prof Raghuram G. Rajan and President and CEO of Telenor Group, Norway Sigve Brekke.
On the occasion, Foreign Minister Pradip Gyawali was also present.
Rastriya Samachar Samiti