Guinness World Records awarded four awards to Nepali mountaineer Nirmal Purja MBE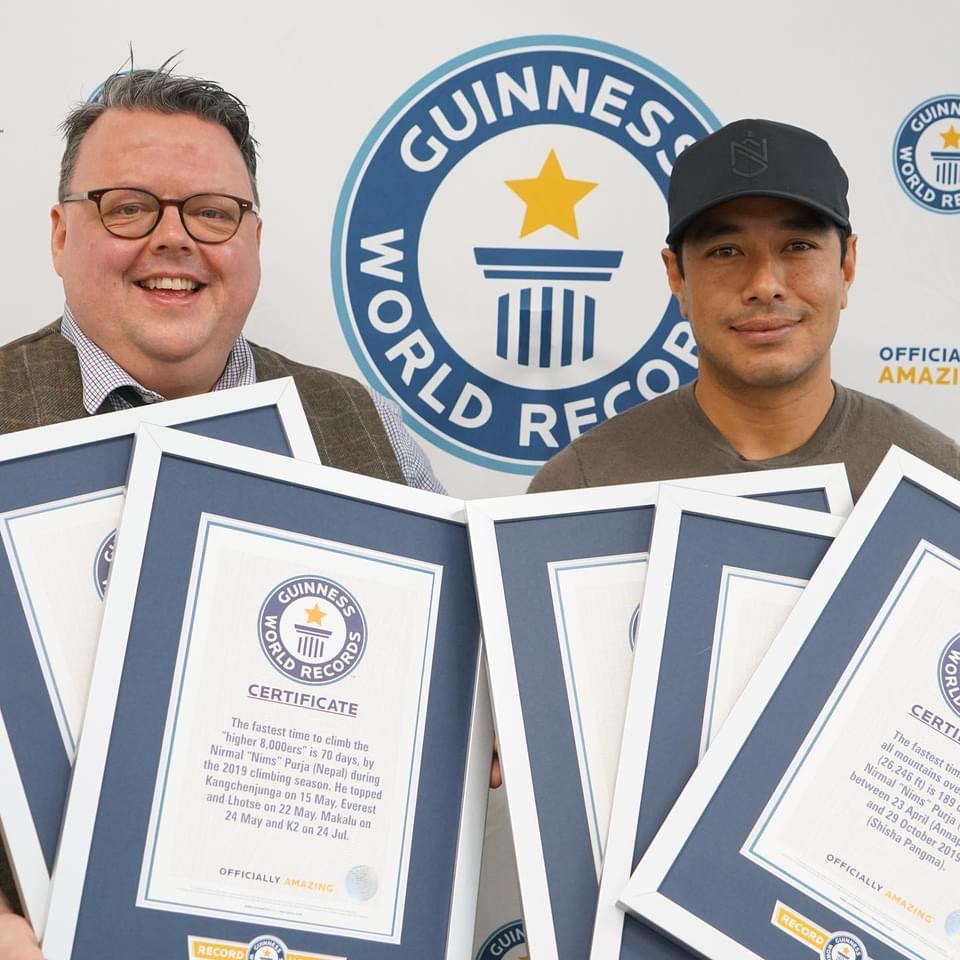 London —- The Guinness Book of World Records has awarded four different awards to the veteran Nepali mountaineer Nirmal Purja MBE.
Guinness welcomed Mr. Purja  in London for an interview and certificate presentation.
Ex-British Gurkha Nims is also the star of the hit Netflix documentary '14 Peaks: Nothing Is Impossible' and a World Goodwill Ambassador for Nepal's Tourism.
He now holds the record for the fastest ascent of all mountains over 8,000 meters in 189 days and the fastest time to climb the top five 8,000ers and the fastest time to climb 8,000ers without bottled oxygen in 70 days and the fastest triple-header of the Higher 8,000ers in 5 days, three hours, and 35 minutes.
Earlier this week Mr Purja was accorded high honors by the Eastleigh Borough Council of the United Kingdom.
Documentary 14 peaks – nothing is impossible on Netflix
After the release of the documentary 14 peaks – nothing is impossible on Netflix, Nirmal Purja aka Nims Dai has become the source of inspiration to many youths. Indeed he has created a new history by climbing 14 eight -thousander deadly peaks within seven months. If you want to know in detail about Nims Dai, then keep reading.
Who is Nirmal Purja aka Nims Dai?
Nirmal Purja is an ex-British army and a passionate mountain climber who broke different world records on Mountain climbing. Back to back, he held Guinness World records by climbing 14 death peaks just in 6 months six days by breaking the previous record of 8 years. Besides, he was the only Nepalese to join the special British Royal Navy.
Purja was born in a small village of Myagdi districts Nepal on July 25 1983. When he was four years old, his family moved to the Chitwan district, where he spent the rest of his childhood. He was a very energetic and hard-working kid who always followed his passion.
As his parents were of different castes, his family was abandoned by society. His father was a Gurkha soldier. Therefore, he was very clear about what he wanted to become in life. To pursue his aim to become a British army, he worked hard even in his school life.
Besides studies, he was good at kickboxing during his school.
Nirmal Purja – Career and achievements
Nirmal joined the Gurkha army when he was 20 years in 2003. After serving six years, he applied for the Royal Navy force; which is the most prestigious and elite British unit, in 2009 .Where Nims served as a cold-weather warfare specialist.
Despite his incredible career, he resigned from the special air service (SAS) unit to focus on his passion for mountain climbing. Moreover, he didn't care for the huge pension he could get if he had served six years more to the air force. Similarly, his Family's income was the sole earning, but he chose to be a mountaineer.
While serving in the army, he got an opportunity to climb Mount Everest in 2012. Since then, he developed his interest in mountain climbing.
After resigning from special force, Nirmal's mission was to show the world you can achieve anything if you have willpower and strong determination. So, he comes up with the project possible to climb 14 death peaks of the world in just seven months due to his love and passion for mountain climbing.
Along with his team, Nirmal Purja finished his first eight-thousander (death peak) summit on 2019 April 23. Moreover, he completed Nepal's six death peaks (Mount Everest, Lhotse, Makalu, Dhaulagiri, Annapurna, and Kanchenjunga) summit just in a month.  
Further, he completed all 14 eight-thousander peaks before the targeted date, i.e. in 6 months six days. Thus, he was able to break the previous record of 8 years to climb the 14 summits.