Bhutan: Wangsel Institute, Khotokha Primary School win National Innovation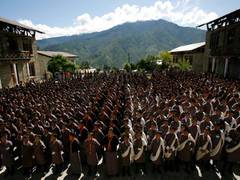 The Wangsel Institutefor the Deaf in Paro and the Khotokha Primary School from Wangdue Phodrang won the National Innovation Challenge held in Thimphu. A total of 12 participants from various schools, institutes, and youth centres across the country took part in the challenge, BhutanLive reported.
The program was initiated by the Education and Skills Development ministry in partnership with Bhutan Youth Development Fund, Loden Foundation, and UNICEF Bhutan.
The National Innovation Challenge selected the top six social innovation ideas for implementation from the 12 that were shortlisted for the national challenge. The shortlisting was done from 65 schools and 10 youth centres, Bhutan Live reported.
According to an official from the Education and Skills Development ministry, the objective of the challenge is to encourage adolescents and young people to apply the skills and knowledge learned through the Adolescent Skills and Employability (ASE) Bhutan Project, BhutanLive reported.
The ASE project was launched last year to equip adolescents and young people with life skills that would empower them to seize opportunities, confront challenges and access meaningful employment.
"Children are made to go through a series of upshift tools where they get a chance to learn lots of social innovation challenges. They try to understand and identify problems existing in their schools, community, and nation at large. They can put these skills creatively and innovatively into a project where they try to solve community issues and challenges," said Dorji Wangchuk, Deputy Chief Planning Officer of MoESD.
The winners were awarded a fund of Nu 120,000 each. The first and second runners-up were awarded Nu 100,000 and Nu 80,000 respectively.
Wangsel Institute for the Deaf pitched their ideas on the Deaf Employment Hub and showcased wood carvings and traditional arts. Likewise, Khotokha Primary School presented their idea of an Eco-Dust Collector which would vacuum dust from their classrooms, Bhutan Live reported.
The participants said that they intend to work on their ideas with the fund. They also said that such programs are important for boosting self-esteem.
"A platform like national innovative challenge provides the deaf youth with an opportunity where they can interact with other general students, learn from each other, and create awareness about deaf culture and deaf identity. It also provides them with a platform where they can showcase their skills and talents. It also helps them boost their confidence and self-esteem," said Tshering Dolkar, a teacher at Wangsel Institute for the Deaf.
"This is the first time we got an opportunity to compete with other students. I feel lucky to have gotten this opportunity. We hope to be able to establish Deaf Employment Hub to support youth with deafness and heart of hearing," said Soma Devi, a student of the institute, Bhutan Live reported.
"We plan to take it to other schools if we can make more of it. If we can't, we will make it for other classes in our school. We will discuss it and find the materials required to make it and make enough of it to suffice every school in our school," said Sangay Khandu, a student of Khotokha Primary School.
The ASE Bhutan Project has helped empower more than 4,000 youths with a new set of 21st-century skills such as communication skills, problem-solving and decision-making among others to address social issues in communities. (ANI)