Warnings of a 'domino effect' of protectionism as Asian leaders meet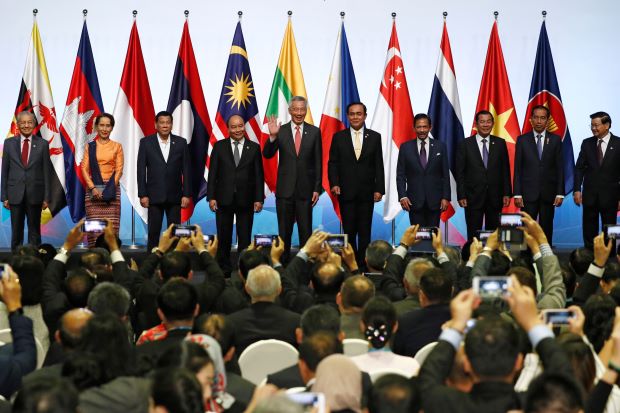 SINGAPORE (Reuters) – Asian leaders gathered for a summit on Tuesday amid warnings that the post-World War Two international order is in jeopardy and trade tensions between Washington and Beijing could trigger a "domino effect" of protectionist measures by other countries.
Malaysian Prime Mahathir Mohamad told a business forum ahead of the summit in Singapore that other developed countries would take a cue from the United States and China if their tit-for-tat tariff war is allowed to spiral.
"The trade tension between the two world powers is bound to create a domino effect that will affect trade reactions and will be a reason for other developed countries to adopt protective measures against developing countries, including the ASEAN countries," Mahathir said, referring to the 10-nation Association of Southeast Asian Nations (ASEAN).
Chinese Premier Li Keqiang – for a second day – struck a conciliatory note on the trade spat, saying he was hopeful that the two sides will find a way to prevent it escalating further.
"I still hope we can hold talks based on mutual respect, balance and mutual benefits to resolve the issue. There are no winners in a trade war," Li said before his meeting with the ASEAN leaders.
U.S. Vice President Mike Pence will attend the Singapore meetings instead of President Donald Trump, who has repeatedly panned existing multilateral trade pacts as unfair and has railed against China over intellectual property theft, entry barriers to American businesses and a yawning U.S. trade gap.
It was not clear if Li and Pence would meet separately on the sidelines in Singapore, which would be a prelude to a summit scheduled between Trump and Chinese President Xi Jinping at the end of the month in Buenos Aires.
Before he arrived in Singapore on Monday, Li said China would further open its economy in the face of rising protectionism, though he did not refer directly to China's bruising trade war with the United States.
"RIVAL BLOCS"
Mahathir, a veteran strongman of the region who in May returned to the prime minister's office he had occupied for 22 years, told reporters that the United States is "a colonial power" that uses "economic pressure to cow people".
In his speech, he said "the rise of trade protectionism, resurgent nationalistic movements and inward-looking policies" seemed to be emerging even among ASEAN nations.
That was echoed by summit host Singaporean Prime Lee Hsien Loong, who told a welcome ceremony for his ASEAN counterparts that "the international order is at a turning point".
"The existing free, open and rules-based multilateral system which has underpinned ASEAN's growth and stability has come under stress," he said, adding that it was unclear if the international order would break up into rival blocs.
Returning to the theme as the leaders sat down to dinner, he said: "Countries are becoming insular, retreating from multilateralism and globalization, which has been the cornerstone of ASEAN peace and stability."