Gurkhas escalate their protests, Demand an end to Gurkha recruitment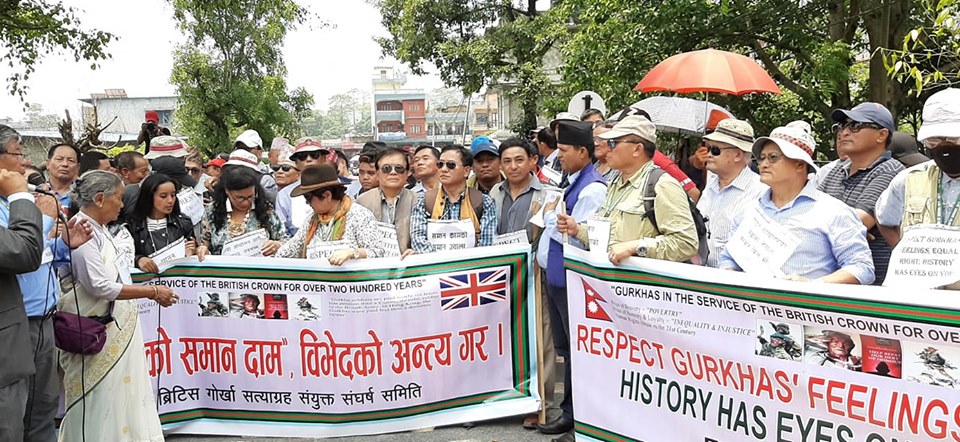 Jagan Karki, London– In what seems to be escalating their protest against the British government, ex- British Gurkhas have demanded an end to the over 200-year-old tradition of Gurkha recruitment in the British Army.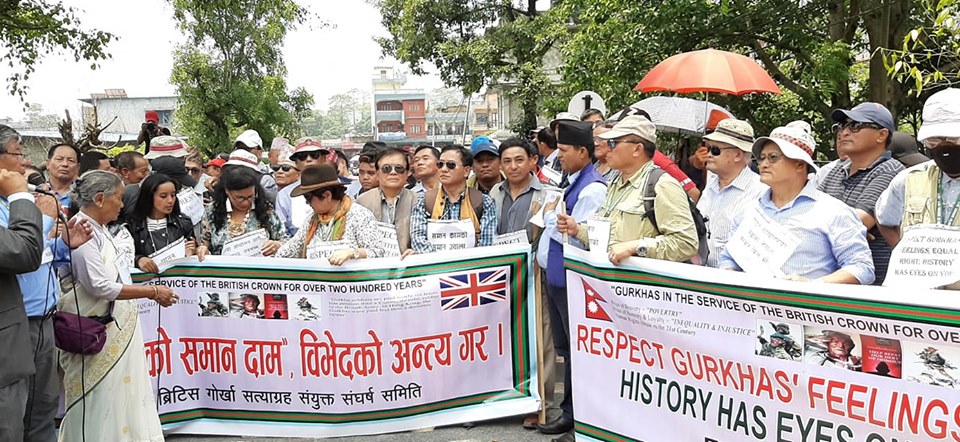 The British Gurkha Satyagraha Unified Protest committee UK-Nepal organised a protest rally in Pokhara, Nepal, last week demanding an end to the recruitment of Gurkhas.  Krishna Bahadur Rai, Coordinator of the movement, said, "Until the demand of ex-Gurkhas is addressed, we will stop the recruitment of the Gurkhas.  We will also close the door of dialogue if the demands of the Gurkhas are not listened to by all concerned authorities by the 1st of July."
The British government announced a hike in pension to ex-Gurkhas ranging from 10 to 34 percent in March this year, but Gurkha organisations have said the decision fails to address their key demands including equal pension and allowing their over 18-year-old son or daughter to join them in the UK, among others.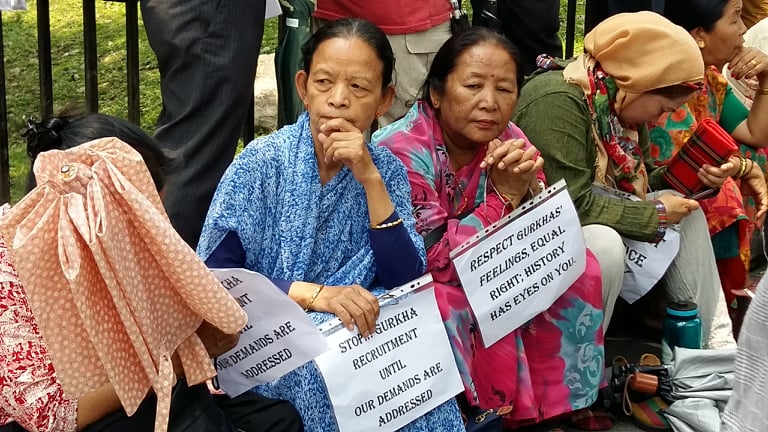 On 1st of May, 2019, the Gurkha Satyagraha Samiti organised a protest march at Trafalgar Square in London.  A huge number of ex-Gurkhas marched peacefully carrying placards and flyers demanding equal pension and other rights.
Nepali officials, however, have asked Gurkhas to give up their strategy of street protests and give some more time for diplomatic talks between the two governments.
Addressing a programme organised by the 24newspress.com at Aldershot on 25th of May, Ambassador of Nepal to the UK, Dr. Durga Bahadur Subedi, urged Gurkhas to sit down on the table of dialogue and give up the language of protests. "I firmly believe that your concerns can be addressed fully through dialogue and diplomatic channels," he added.
Few Gurkha leaders are, however, not happy with Nepali envoy's approach. Talking to South Asia Time, Coordinator of the Gurkha Satyagraha Committee, Gyan Raj Rai, said,  "Ambassador (Dr Subedi) told us to be loyal to the British in return for the salary and pensions they are providing us. But we have already given them blood and sweat what else can we sacrifice now?"
"There have been historic injustice towards the Gurkhas which British courts have also recognised. We will continue to raise our voice against such injustices and for justice and inequality," Rai added.
In response to a high-profile campaign launched by British actress Joanna Lumley, the Labour government in May 2009 agreed to give ex-Gurkhas, who had served for at least four years in the British Army, right to settle in the UK. Since then thousands of Gurkhas and their families have arrived in the UK and are living in towns like Aldershot, Farnborough, and Reading.
Gurkha organisations, however, are insisting that pension and benefits of those Gurkhas who retired before 1997 is just one-third of their British comrades.