MasterChef finalist Santosh Shah's debut book to be published next year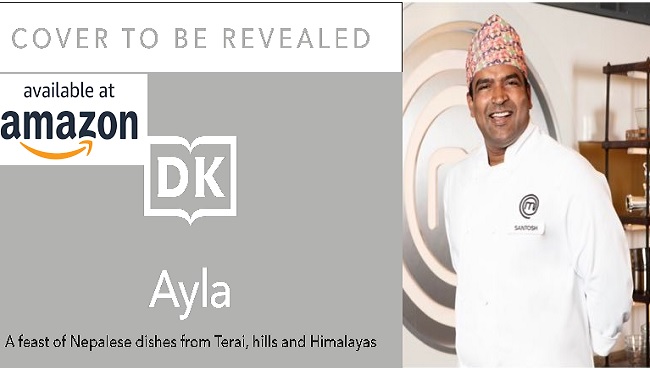 London — MasterChef finalist Santosh Shah's debut book is scheduled to be published in February 2022. Shah has recently signed a contract with the renowned publisher DK, Penguin Random House.
DK has acquired Shah's book titled Ayla: A Feast of Nepalese Dishes from Terai, Hills and Himalayas, the debut cookbook from Nepali chef and "MasterChef: The Professionals" finalist Santosh Shah.
The debut cookbook is billed as a "true exploration and celebration of the unique spices and vibrant flavours of Nepalese food". It will feature 60 "easy to follow and flavoursome recipes" that will enable home cooks to experience the foods of Kathmandu and other parts of Nepal in their own kitchens.
Shah spent four months in Nepal researching at the beginning of this year and the recipes include "zingy chutneys and traditional chicken momos to mouth watering wild mushroom soup".
On the meaning of the title, Ayla, Shah said: "Ayla has many meanings, but to me it means celebration. It is technically a traditional Nepali spirit, made from fermented sugarcane molasses with malt or grains. Ayla is served as a Sagoon (a token of love) at joyous occasions such as festivals, events and celebrations. I wanted to bring this feeling of sharing celebrations to my cookbook!"
Shah grew up in Nepal and is an experienced chef who has worked in London restaurants including Cinnamon Kitchen and Michelin-starred Benares. He was a finalist on 2020's "MasterChef: The Professionals" and plans to open his own Nepali restaurant in London this autumn.
Mr Shah said, "It is a dream come true to publish my first cookbook and to share the unique and beautiful flavours of Nepali food with the world. Until my time on BBC's UK 'MasterChef: The Professionals', not many people knew what Nepali cuisine was and I am really excited to be able to shine a light on one-of-a-kind ingredients and Nepali cooking techniques so that you can experience the cuisine for yourself in the comfort of your own homes. I have been in Nepal for several months doing research for the book and have so many amazing recipes I hope you all love as much as I do."
World rights were acquired by DK Life senior acquisitions editor Stephanie Milner from Cru Communications. Publication is scheduled for 3rd February 2022.
Milner said: "Having rooted for Santosh in the 'MasterChef' kitchen, I just knew we had to publish his story of Nepali cooking, one that is as much about geo-diversity as it is about the people. I'm honoured that he has trusted us to tell the world about this undocumented cuisine."