Do you cook – it is not all about good food, it is more than that

Dr Nirmal Kandel (@kandelnirmal)
I do not remember when I first started cooking. My mother says that I used to cook when she was not well, and my father was either busy or on duty travel since my childhood. However, I remember cooking when I was in high school to support my mother. I am not an exception, and I am sure many did it. Many of us cooked regular meals as we did not have common practices of going out for food. Eating Momo and Samosa in local shops after watching movies or shopping, Dal Bhat in highway restaurants like those in Mugling and some fast food after the arrival of Nirula's were the few occasional opportunities to eat out in the past.
Soon after college, I went to study medicine. In our medical college, a group of Nepali students had a kitchen in the hostel. Each of us had to manage shopping every week by rotation. We had a local cook, who used to cook three meals per day. Whenever my turn was, I tried my best to have great meals. I often used to go to the Kitchen and guide the cook to make different kinds of Nepali food. Once, she told me how I could remember all these recipes. She used to make Chukawani, Khasi ko Masu and Katahar ko Tarkari. We even got a complaint when we cooked Tama (bamboo shoot), and the locals requested not to cook in the future. They didn't like the smell that we loved the most. Whenever I was back home for vacations, I always cooked barbeque (Sekuwa) at home. I even designed a BBQ table myself and used skewers sticks from Bangladesh. I still use them for BBQ in Kathmandu. Most Dashain, Tihars or other festivals, cooking non-vegetarian items, are in my portfolio. I started cooking full-time in Nepalgunj (2005-06), and I was alone. Since then, I have been cooking regularly. Sometimes 4-5 years back, I started posting my dishes on Facebook using the #KandelKitchen hashtag. These days I post them on Twitter too. I sometimes get messages from Chefs who are looking for vacancies in Kandel Kitchen as they think that it is a restaurant.
I do not see cooking as one of my hobbies; it is my routine, it is fun, a lot of learning opportunities and contributes to family welfare. Let me start with something that I experienced from cooking. I was in Indonesia for almost five years for work. Once, I explained the program's result chain to one of my counterparts (inputs, process, outputs, outcomes and impact). Unfortunately, I was not able to make him understand adequately. The same evening, while cooking, I thought I could use an example of cooking to explain the result chain. Anybody who cooks food can understand it easily. Then I created the table below, and the next day I used the table to explain him. It didn't take much time for him to understand. I loved his reaction when he said that this is the simplest way of understanding the result chain. I have been using it in most of my monitoring and evaluation slides, and it is a valuable reference for M&E training. Apply this reference to your area of work. I promise it helps.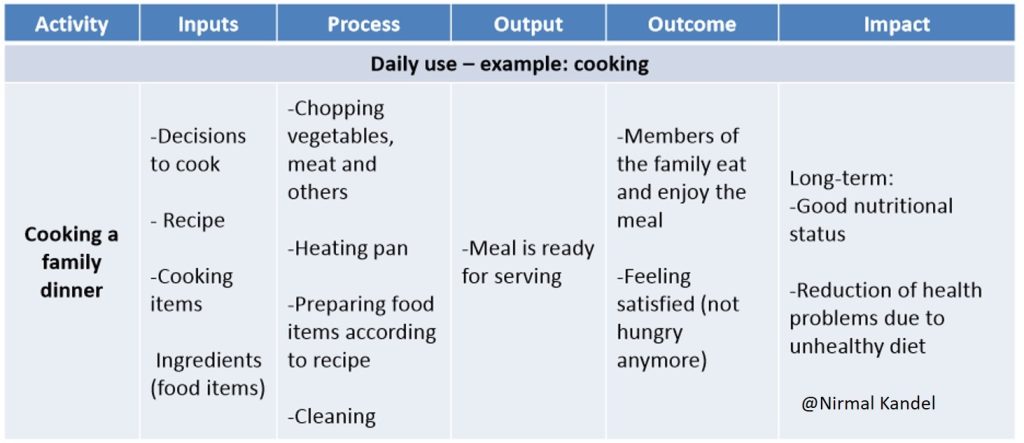 Cooking is a means of strengthening the family support system and changing cultural and social practices and taboos. Our patriarchal society never imagined a male regularly going to the Kitchen, chopping opinions and tomatoes, griding garlic and ginger and cooking varieties of food. Some may argue that I am abroad and there is no choice as we work full-time. But I used to cook even I had a cook and helping hands in our house. When those helping hands are around, it is a lot easier as they can support to prepare but cooking for your taste every day, I do not think even a Michelin Star Chef can do. Therefore, it depends on the taste you and your family enjoy and love the most. Remember, our mother is the best cook in the world for all of us as our taste buds always preferred her food. I get utmost satisfaction when my kids look for their dad for delicious food. When my daughter was in primary school in Jakarta, she promised to bring chicken drumsticks to her class, mentioning that her dad is a good cook. Sometimes some of my compatriots complained that "Nirmal le garo banayo," and I know it is because of #KandelKitchen on Facebook. One even told me that every household has Kitchen naming his Kitchen using his family name. My simple reply was to post their food on Facebook so that I could learn from his cooking. I have never seen a picture from that Kitchen, though.
I called cooking is a stone that hits three birds. It is a stress buster, ensures division of labour and brings happiness to the family. After a tiring day, preparing and cooking food relieve stress like the air going out of tense ballon. We divide our work in the Kitchen and help each other. Mostly I cook non-vegetarian items, and my wife cooks vegetarian food. We enjoy non-vegetarian food in almost every meal. My kids, including my ten-year-old son, would like to cook chicken noodle soup and be part of cooking. They know and understand that cooking is a habit that one has to practice regularly. Savouring those foods with family is another level of happiness and tranquillity. Sometimes we are too tired to cook, and Wai Wai is a saviour.
My Kitchen is my lab, and I often use the phrase, "Kandel Kitchen is a place where the East meets the West". I love to experiment, and I often said that I could cook whatever I ate or tasted. I left that pride, but I am a person who hardly uses recipe books or YouTube for cooking, with a few exceptions. Therefore, I experiment a lot. For instance, it took me two and half years to get the taste of Momo King's achar, but I never gave up. Making Dal Pasta (#DalPasta) is an improvisation that I am proud of. I am privileged to taste different kinds of food as I used to travel a lot. Wherever I travelled, I always tried local dishes. For instance, goat meat of Addis Ababa, Soto Ayam of Java island, Babi Guling of Bali, Khubz and Mandi of Arab, Big sandwiches of  American streets, Papaya Salad from Bangkok street, Pizza of the village of Milan, a list is long. It helped me to mix food of different cultures in Kandel Kitchen. There is not a single week when I have not tried a new or improvised dish.
Another thing that I learned from cooking is the importance of marketing or how you present. We had invited a few families for dinner. While cooking, I got engaged in something, and the chicken dish was burned. My wife started to worry about not having enough time to cook another dish. Perhaps she is worried because of the hashtag too. I tasted the chicken, and it had a smoky flavour. I got an idea of marketing the chicken dish differently. I did some treatment and garnished it. While serving dinner, I announced that I cooked chicken differently, which is smoky. If you do not like smoky food, please do not take it. To our surprise, not a single piece was left, and two families even asked for the recipe. Since then, I have realized that it is all about presenting and marketing. But for that, you need to build trust, which we have built over time as we both used to organize many parties. Once, one of our compatriots mentioned that we would not let go of any Fridays without parties. Managing parties at home is not an easy endeavour when there are no helping hands, but they are rewarding. The COVID19 pandemic has broken that legacy. I still cook smoky chicken regularly, though I use different methods. Do you know that adding mustard oil-soaked two pieces of charcoal in the oven gives a flavour of charcoal BBQ?
Not to forget, good food regularly means, risk of gaining some weight. However, that should not stop enjoying food but at the same time enjoy physical activities regularly. Cooking is the support system of our life and family, and it is not necessary that females in the house have to cook always. So help your spouse and see the difference; you can bust your stress, learn a lot, and earn a happy family.
Dr Kandel is a medical epidemiologist and anthropologist based in Geneva, Switzerland