India PM Modi pays tribute to fallen soldiers at National War Memorial on Republic Day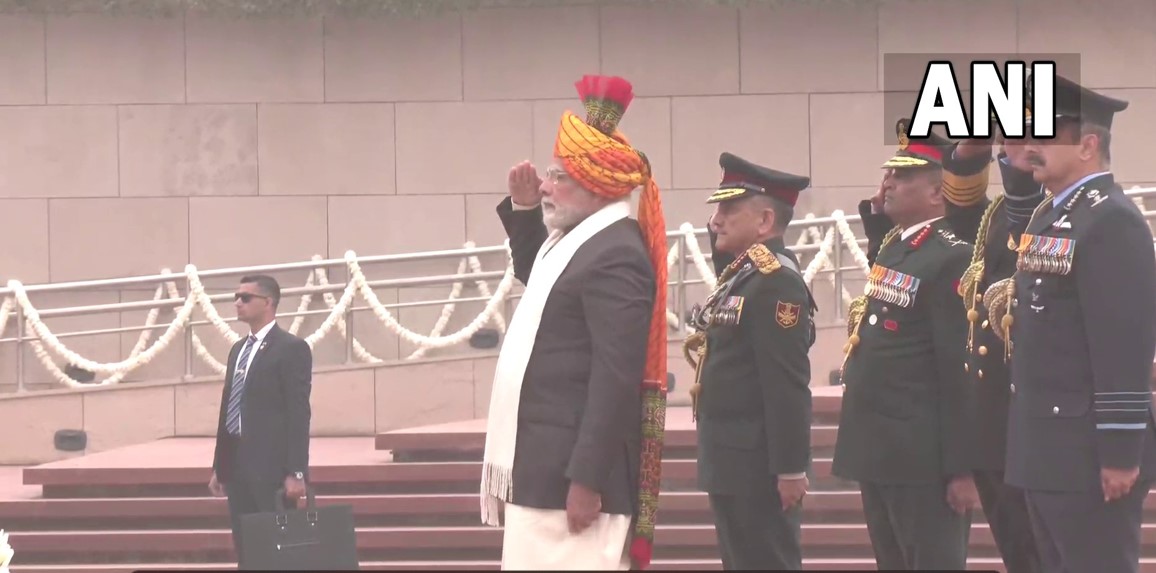 NEW DELHI: India Prime Minister Narendra Modi on Thursday paid floral tributes to fallen heroes at the National War Memorial on the occasion of the 74th Republic Day celebrations.
He led the nation in paying solemn tributes to the fallen heroes by laying a wreath.
The Republic Day celebrations commenced with the homage ceremony at the National War Memorial.
PM Modi was received by Defence Minister Rajnath Singh on his arrival at the National War Memorial.
The Inter-Services Guards were founded by 7 Soldiers from each service.
This year, the guards will be commanded by an Air Force Officer, Sqn Ldr Akash Ganghas. When the Prime Minister laid the wreath, the Inter-Services Guards presented `Salami Shastra' followed by 'Shok Shastra'.
Simultaneously, the buglers sounded the 'Last Post'. Thereafter, 'two minutes silence' was observed, after which the buglers played 'Rouse' and the guards presented 'Salami Shastra' again.
The Prime Minister then endorsed his remarks in the digital Visitor's Book of the National War Memorial.
Later, PM Modi and other dignitaries headed to the saluting dais at Rajpath to witness the Republic Day parade.
President Droupadi Murmu will lead the nation in celebrating Republic Day from Kartavya Path, formerly the Raj Path.
Egyptian President Abdel Fattah El-Sisi is the Chief Guest at the parade, the first Egyptian premier to be invited to the occasion.
Earlier, Prime Minister Modi extended greetings to the nation on the occasion of the 74th Republic Day.
"We wish to move ahead unitedly to make the dreams of the great freedom fighters of the country come true."
The week-long celebrations commenced on January 23, the birth anniversary of Netaji Subhas Chandra Bose.
(ANI)