South East Asia's online market is booming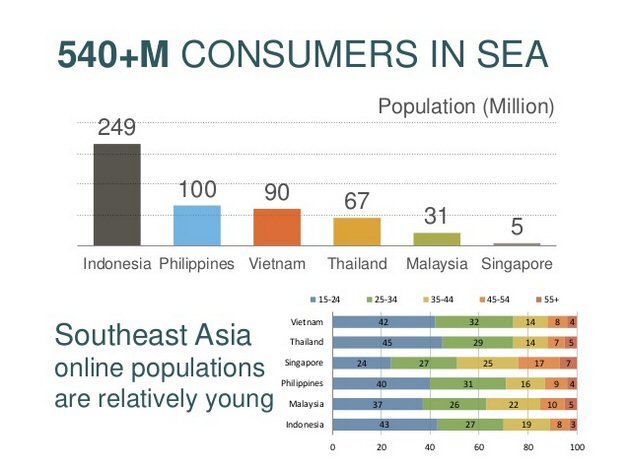 By Abigel Opeah
The study, first published in 2016, encompasses ride-hailing, e-commerce, online travel and online media. The latest report released on Monday adds new sectors such as online food delivery, as well as subscription to music and video on demand.
The annually published report predicted that the online economy will hit $72bn by the end of 2018, an increase from the $50bn of 2017 and $19.1bn in 2015.
This means it is "surpassing the gross domestic product of more than 100 countries in the world in just three years," the report stated.
The report, which was written by Google's South East Asia Vice President Rajan Anandan and Temasek's co-head of portfolio strategy and risk group, Rohit Sipahimalani, said: "It's hard to keep up with Southeast Asia's internet economy because it keeps blowing expectations out of the water.
"The region is taking much less time to get there than earlier expected. With eight years still left to go, Southeast Asia is already more than a third of the way to the target. And Southeast Asian tech companies have already raised half of the $40-$50bn in funds we expected them to attract."
Of the growth, online travel accounted for $30bn, ecommerce $23bn, online advertising, gaming and music and video-on-demand totalled $11bn and online transport and food delivery came to $8bn.
The Indonesian internet economy is forecast to grow to 100 billion dollars by 2025, accounting for four dollars of every 10 dollars spent in the region, the report said.
The research covers Southeast Asia's six largest economies – Indonesia, Malaysia, Philippines, Singapore, Thailand, and Vietnam.
The report said the increasing availability of affordable smartphones and the roll out of faster and more reliable mobile telecommunication services were supporting Southeast Asia's growing internet user base.
Connections in both Hong Kong and Singapore make it easier for customers to get deeper internet access in Asia and globally.