US-China Trade war and oil market in Asia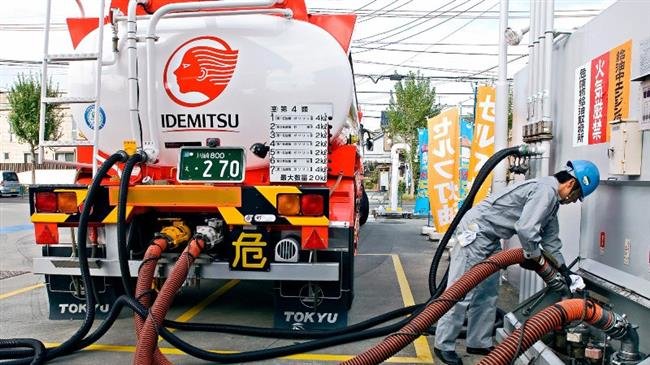 Japan and South Korea will resume imports of Iranian crude oil as of next month or so after halting shipments ahead of new US sanctions on the Islamic Republic.
In Japan, largest refiner JXTG Holdings plans to resume Iranian oil loadings from December, while Fuji Oil Co is set to resume Iran crude and condensate liftings from January.
South Korean refiners will be loading Iranian oil shipments in January because most tankers are booked until December, Reuters quoted what it called a source with direct knowledge of the matter as saying.
Asian buyers have the option of taking delivery from Iranian oil storage in the Chinese port of Dalian, which has been replenished after some customers decided to halt purchases ahead of new sanctions imposed early this month.
Renewed buying comes after the US went back on its pledge to zero Iran's oil exports and give waivers to eight major clients of the country.
The United States gave the exemptions for another 180 days but President Hassan Rouhani reiterated on Monday that Iran will continue to export oil, saying US sanctions are part of a psychological war doomed to failure.
"They have failed to stop our oil exports. We will keep exporting it," he said in the northwestern Iranian city of Khoy, stating that Washington lacks the necessary international support for its sanctions.
Iran is currently awaiting the EU to launch a clearing house that would help match Iranian oil and gas exports against purchases of EU goods, bypassing dollar-based US financial vehicles.
On Monday, Iran's Deputy Minister of Petroleum Amirhossein Zamaninia said France is likely to host the special purpose vehicle.
The mechanism was due to get up and running by November in time for the new US sanctions but Iran's senior diplomat Abbas Araqchi on Monday complained that the Europeans, whether unable for unwilling, were failing to create it.
Meanwhile, the leadership of Iran's main state oil companies is going through a reshuffle, with former finance minister Masoud Karbasian replacing Ali Kardor as managing director of National Iranian Oil Company (NIOC).
Karbasian previously served as deputy oil minister for commercial affairs in the late 1990s and his new term at the helm of NIOC comes as Iran's oil exports are set to pick up.
On Monday, media reports said China had turned its back on US crude oil imports for the second month in a row.
"The trade war between the US and China is now impacting trade in both tariffed and some untariffed goods with both countries looking elsewhere for alternative buyers and sellers," BIMCO's chief shipping analyst Peter Sand said.
From Press TV Asia