USIP Report Urges Continuation of Humanitarian Aid to Afghanistan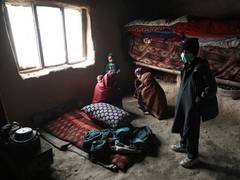 Kabul — A recent report titled 'Afghanistan's Dire Humanitarian Situation,' released by the United States Institute of Peace (USIP), has recommended the continuation of humanitarian aid to Afghanistan, according to Khaama Press. The report highlights the severe economic crisis that has unfolded in the country since the Taliban took control and emphasizes the urgent need for assistance to address the dire circumstances faced by the Afghan people.
The report emphasizes that since the Taliban seized power, the Afghan economy and financial system have largely collapsed, and the international community has unanimously decided not to recognize the Taliban-led government. This has resulted in donors and non-governmental organizations (NGOs) facing significant challenges in providing for the population's needs in the current dire circumstances.
The humanitarian crisis in Afghanistan has worsened since the Taliban took control in August 2021, with the situation of the Afghan people, especially women, deteriorating significantly. The report states that donors and NGOs are now confronted with the immense challenge of meeting the needs of the Afghan people under these dire conditions.
The United Nations estimates that nearly 29 million people in Afghanistan require immediate humanitarian assistance due to a lack of financing. However, providing aid has become more complex due to cautious involvement with an unrecognized government.
The report also highlights the increased restrictions imposed by the Taliban on Afghan women working for NGOs, exacerbating the humanitarian situation. The crisis facing the country is severe, and addressing it requires a clear and efficient response.
Over time, the situation for people in Afghanistan has become increasingly dire. Food shortages and the lack of basic amenities for survival have become widespread. The situation for women in the country has also worsened, with restrictions on their rights and opportunities. Afghan women are prohibited from holding leadership positions, working, or traveling without a male companion.
The report sheds light on the urgent need for continued humanitarian aid to address the dire circumstances faced by the Afghan people. The international community plays a crucial role in supporting and providing relief to those in need, particularly in the face of the ongoing crisis in Afghanistan.