Afghanistan earthquake : Over 2,000 Dead, Villagers and Aid Workers Scramble to Find Survivors Amidst Rubble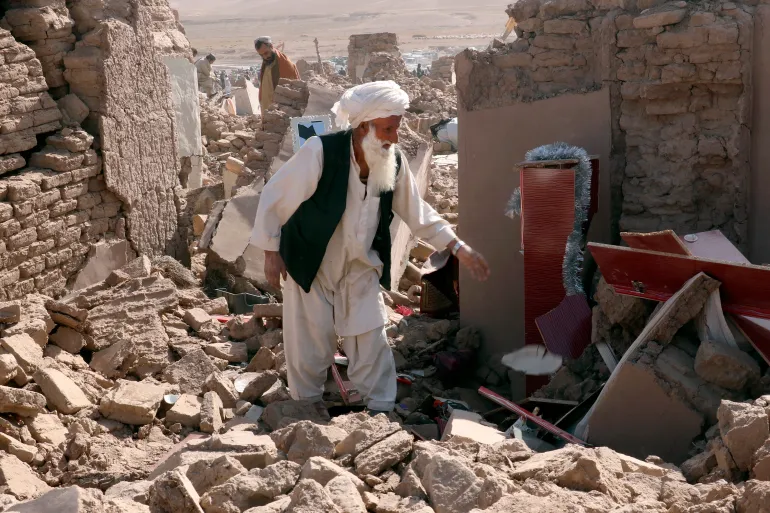 Herat, Afghanistan — The aftermath of one of the deadliest earthquakes in Afghanistan's history continues to grip the nation as rescuers and villagers persistently dig through the rubble in western Herat province, desperately clinging to hope that survivors may still be found, three days after the devastating 6.3 magnitude quake struck the region.
In the city of Herat and across the province, people are grappling with the heartbreaking task of digging graves for loved ones who perished in the earthquake. In the Zinda Jan district, a bulldozer clears earth to create space for a long row of graves as volunteers join forces with locals to help in any way they can.
Mir Agha, a resident of Herat, expressed the emotional toll of the situation, stating, "It is very difficult to find a family member from a destroyed house and a few minutes later bury him or her in a nearby grave, again under the ground."
The earthquake's epicenter was approximately 40 kilometers northwest of Herat's provincial capital. While the exact number of casualties remains difficult to ascertain, Afghan Taliban government's national disaster authority spokesman Janan Sayiq acknowledged that the quake killed and injured thousands. Earlier reports from Taliban officials indicated more than 2,000 casualties across Herat.
The United Nations reports that the Zinda Jan district suffered the most severe devastation, with 1,294 fatalities and 1,688 injuries. Additionally, 485 individuals, including 191 men and 294 women, remain unaccounted for. The disaster also led to the destruction of six schools in the region.
Nearly 2,000 houses in 20 villages have been reduced to rubble, leaving the affected area with just one government-run hospital. As winter approaches, the situation is expected to worsen, making it even more challenging for people to access basic necessities, including shelter, food, and medicine, as aid organizations have warned.
Foreign aid has been slow to arrive in Herat, possibly due to international reservations regarding the Taliban-led government. However, Pakistan has pledged support in the form of blankets, tents, and medicines, and China is reported to have offered cash and other emergency humanitarian assistance.
Despite global distractions, such as the ongoing Israeli-Palestinian conflict, foreign governments have pledged to work with local aid agencies to assist with rescue and recovery efforts. Afghan citizens have also launched fundraising campaigns to provide aid.
In a statement, the International Federation of Red Cross and Red Crescent Societies called on the media to focus attention on Afghanistan's plight. The statement emphasized the importance of highlighting the Afghan people's untold stories of resilience and need. The organization's spokesperson, Tommaso Della Longa, stated, "Afghanistan needs you now, more than ever. Please, let's not add 'forgotten' to the long list of tragedies that this resilient nation has already endured."
The Taliban's justice ministry has called upon national and international charity foundations, businesses, and the Afghan community to unite and gather aid for the province as the nation rallies to support those affected by this devastating earthquake.