Drought gives rise to dust storms in Afghanistan, analysts blame Taliban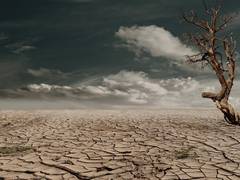 Kabul(ANI): Severe drought has given rise to massive dust storms in Afghanistan and analysts believed that it is the de-facto authorities of the country that are to be blamed as they are unable to take serious actions to prevent any of it, TOLOnews reported.
"1.5 per cent of the country is forest, we cannot reduce the air pollution. Also, the government has also been unable to take serious actions to prevent air pollution," said Sayed Mohammad Sulaimankhail, an environmental issue analyst.
"…There were 32 projects in Afghanistan with practical implementation but they were suspended by the Global Environment Facility due to political issues," the analyst added.
According to the National Environmental Protection Agency (NEPA), recent dust storms in the nation are a result of global warming and droughts in Afghanistan.
NEPA claimed that in order to combat the effects of such natural events in Afghanistan, it needs assistance from international organisations, as the country is under a severe humanitarian.
"The dust and foggy weather is due to external issues such as back-to-back droughts," said Rohullah Ameen, head of the climate change section of the NEPA, according to TOLOnews.
Since the Taliban took control of Afghanistan in August 2021, the situation of people, especially women in Afghanistan has only deteriorated as the country is under a massive humanitarian crisis.
In a recent report titled 'Afghanistan's Dire Humanitarian Situation', the United States Institute of Peace (USIP) recommended the continuation of humanitarian aid to Afghanistan, Khaama Press reported.
The recently released report underlined that since the Taliban seized power in Afghanistan, the country's economy has only crumbled.
"Since the Taliban took control of the country, the Afghan economy and financial system have largely collapsed, and the international community has decided unanimously not to recognize the Taliban. Donors also have difficulty providing for the population's needs in these dire circumstances," Khaama Press cited the USIP report as stating.
With time, the situation of people in Afghanistan has become miserable. People continue to face food shortages, and the basic amenities to live have become a far cry for all. Moreover, the situation of women in the country has only got worse.